Chad Ochocinco hoping for a Miami return
Chad Ochocinco, a South Florida native, isn't in a position to call his shots as an aging free agent, but those close to him say finishing his career with the Dolphins would be a dream come true.
• 2 min read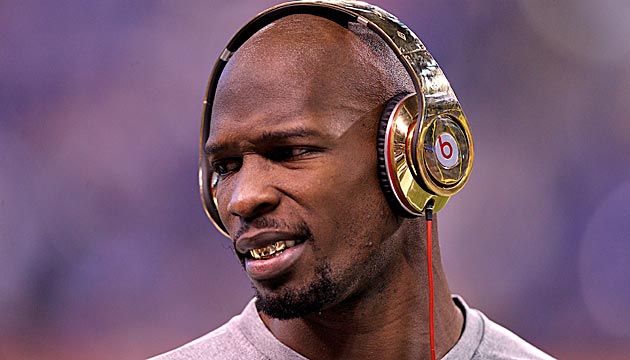 Ochocinco would bring some needed star power to Miami. (Getty Images)
Chad Ochocinco will work out for the Miami Dolphins this week, according to a league source. And he couldn't be more excited.
Ochocinco is a South Florida native and at this time of his career it's only natural he would covet a return to his roots. The move would make sense on several fronts. Miami, as we long know, has been starved for star power and owner Steve Ross has been looking to raise the profile of the dormant franchise trying to compete in an increasingly challenge pro sports market in that region. He has swung and missed at enough big name coaches and players, and while Ochocinco's on-field impact could be minimal at this point (scant even, perhaps), he will draw attention and as we saw in New England, he can draw attention without being any sort of serious distraction.
Call him a diva, sure. And he hasn't always been the most mature teammate. But in this day and age Chad's transgressions ar4e minimal. No issues with the law, ever. He's not a party animal (doesn't even drink). He's been in great shape for several years now since a drop off a while back. To me he's worth the risk on a one-year deal, especially for Miami, which isn't exactly loaded with receivers and offensive weapons.
And this much is for sure - the Dolphins could learn a thing or two from Ochocinco's branding and marketing abilities. In that realm, as well as social media, he is nothing short of a genius. He inherently gets it. It's part of his DNA.
He also knows this is the last stop for him, and will be motivated to fit in and find a way to contribute. No matter which QB is under center for Miami -- David Garrard or Ryan Tannehill or Matt Moore -- he is going to need help. Again, I'm not sure how quickly Ochocinco would pick up the offense or how much production he will provide, but lesser people have been given veteran minimal deals and an invite to camp.
For this franchise in particular, I say why not.
Football people I chatted with expect him to get a gig somewhere. The teams, however, that GMs mention as logical landing sports due to need, etc, are by and large not interesting according to sources with many of those clubs. St. Louis, Carolina, Dallas, Baltimore, Oakland and Jacksonville have been brought up by many as possibilities, but I was told no way by team sources in those organizations. Buffalo could fit the need category as well, but the Bills went down that road with T.O. with negligible results (not saying that Chad and T.O. are one in the same. There can be teams that come out of nowhere, but the sense I got from personnel people was that there was little expectation he could provide much now.
Chad is savvy enough to know that any locale can't be turned away at this point, but if it was his choice, Miami would be home both in-season and during the offseason. And while he certainly didn't master the Patriots' playbook, he may have picked up a thing or two to pass along about the AFC East rival.
The Raiders are reportedly planning on partnering Beast Mode with Muscle Hamster

The Buccaneers bolster their defensive line by adding a proven talent in Curry

Keep up with the latest moves in free agency as teams try to build a Super Bowl contender
After only one season, Johnathan Hankins is on his way out of Indianapolis

The Seahawks quarterback has his eyes on a certain wide receiver

An avalanche of free-agent signings around the league has altered draft plans for most tea...