Charles Woodson on female official: 'It's probably about time'
When Shannon Eastin helps officiate Thursdays' Chargers-Packers preseason game, Green Bay safety Charles Woodson will be supporting her.
• 2 min read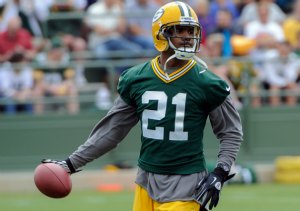 Woodson feels good about a female field official. (US Presswire)
Though the replacement officials that were used in last Sunday's Hall of Fame game didn't get such great reviews (unless you consider players mocking refs a good thing), a woman named Shannon Eastin will work on an NFL officiating crew for the first time in league history.
She'll work the Packers-Chargers game Thursday, and it will be a momentous occasion. For her part, she's expecting to perform her job well and to be a role model.
"I want to encourage women: Don't be afraid," Eastin said on a conference call Tuesday. "Pursue and have dreams. This is my dream. With [every] step I hope to show it really doesn't matter if you are male or female."
And you know who's cool with a female official? Packers safety Charles Woodson.
"What do I think about it? It's probably about time," Woodson said, via ESPN Milwaukee. "I'm sure women have probably tried [to become NFL officials] at some point along the way leading up to this point, so I would assume it's somebody qualified out there that we won't have to jump over for making bad calls.
"We look forward to it. That's just the way things are and the way I think it should be. So hats off to her and whoever decided to make it happen."
Which, of course, is a fantastic attitude to have. But it doesn't sound like Eastin needs any encouragement. The former MEAC crew chief said Tuesday she's coming into the game "with my eyes wide open" and that she's used to facing sexism in what has been, up until now, an exclusively-male club.
"I am sure everyone knows there will be some of that along the way," she said. "I try to stick with people who want me to succeed, not the people who don't want a woman to succeed."
Well, at least one relevant player believes in her.
"It may take some people by surprise, but I think once the game starts flowing, the only way you're going to notice her is if she makes a bad call," Woodson said. "She's got to get it like everybody else. I don't think we'll really worry about it too much once the game begins."

For more NFL news, rumors and analysis, follow @EyeOnNFL on Twitter, and subscribe to our Pick-6 Podcast and NFL newsletter. You can follow Josh Katzowitz on Twitter here: @joshkatzowitz.
Warren Sapp was one of several players named in a lawsuit against NFL Network

Check out the uniforms that Denver and Indianapolis will be wearing on Thursday

The Cowboys are going to need a few things to go their way to get into the postseason
Rudolph will be put under the microscope in Mobile by clubs looking for a quarterback early...

This fan is taking the Saints to court for using 'football games as a platform for protest...

Can Aaron Rodgers get the Packers to the postseason? Even if they win out, they'll need he...