Within the Colts' headquarters and among those closest to coach Chuck Pagano, it's being viewed as a foregone conclusion that he will coach elsewhere next year despite three highly successful seasons in Indianapolis.
There has been growing friction between Pagano and Ryan Grigson, the Colts' general manager. While the two are not constantly feuding or at each other's throats, their ability to coexist long-term was greatly compromised by how Colts owner Jim Irsay handled contract talks during the offseason and there is little chance these two are working together beyond this season.
Sources said Pagano was "insulted" by the one-year extension Irsay offered after last season -- which included a salary virtually identical to what the coach is making in 2015. Under Pagano the Colts have reached the postseason three straights years, including a trip to the AFC Championship Game in January. Pagano's meeting with Irsay was very brief -- Irsay intimated he was insulted by the coach's response to his offer -- and talks never progressed, with the owner later publically exclaiming he would not be doing new deals in 2015 for his head coach or his franchise quarterback, Andrew Luck.
The working relationship between Pagano and Grigson was already deteriorating to that point -- Pagano has no say over personnel and did not get final say on his staff either, with Grigson hiring offensive coordinator Pep Hamilton. Pagano had pushed Rob Chudzinski for the job -- and the offer -- which read like a vote of no, or minimal, confidence from ownership, has only ramped up the friction.
Furthermore, Irsay has also proclaimed the team is more or less in "Super Bowl or bust mode," only heightening the tension within the building. Given their differences of opinion on staff matters, personnel issues, a growing inter-personal strain and the minimal attempt made to extend Pagano, it's created a culture where any coach would feel as if his future is elsewhere. For example, many coaches were shocked the Colts -- with glaring needs on offensive and defensive line -- took another wide receiver in the first round once pass rusher Shane Ray  went off the board to Denver.
Those closest to Pagano view it as an eventuality he's gone; if the team does not reach or win the Super Bowl, he's out of contract and the likeliest fall guy. And if he does win it all, Pagano's outside leverage with other teams will never be higher. It's also nearly impossible for them to imagine a scenario in which he and Grigson are still both there together even if the coach did opt to stay in Indianapolis on a lucrative new deal.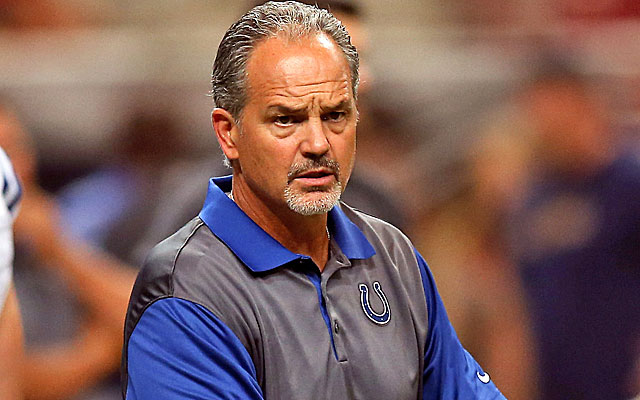 Some have likened it to the situation between the 49ers and then-coach Jim Harbaugh last year, after their inability to get anywhere on an extension became common knowledge and the coach neared lame-duck status. Harbaugh eventually departed with a year left on his deal.
Irsay has allowed this to fester to a point which many believe there is no chance of keeping both parties. The team's surge the past few years, the presence of Luck, and the fact it plays in one of the weakest divisions in football would make this a very attractive job. However, perceived instability from Irsay would scare off some top candidates, sources said. It's a position Pagano, who overcame cancer to return to the team in time for its dramatic 2012 playoff run, hoped to be able to retain for years to come.
Now it would come as a shock if that's actually the case.
With the Colts still lacking young difference-makers on defense for the most part, and that being Pagano's specialty, pressure is high to make improvements there. Losing anchor defensive tackle Art Jones for the season only complicates matters. Sources said it's likely Pagano devotes even more daily attention to overseeing that side of the ball, including likely on Sundays, while the offense under Luck is already prolific.