Darren Sproles finds out on Twitter that Saints want to trade him
Darren Sproles didn't know the Saints were trying to trade him until he logged onto Twitter on Tuesday.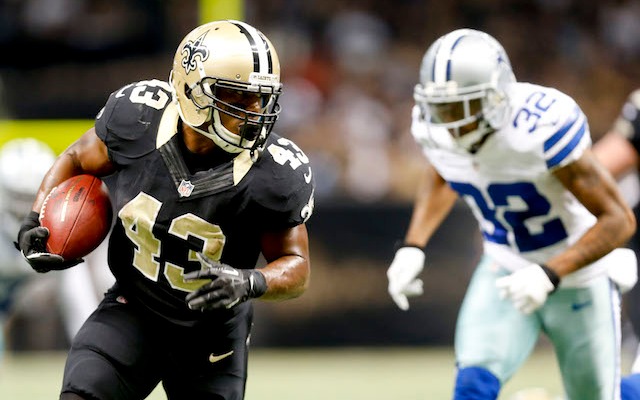 More NFL offseason: Mock Drafts | Prospect Rankings | Pro Days | Top free agents
If Darren Sproles' agent is reading this, you might want to give him a call and let him know everything's going to be OK. Or at least let him know that the Saints might trade him. Actually, you don't have to tell him that because he found out on Twitter. 
WOW! "@ESPNNFL: THIS JUST IN: Saints now plan to trade RB Darren Sproles due to heavy interest. He will not be released.

— Darren Sproles (@DarrenSproles) March 11, 2014
Judging by all of the capital letters and the exclamation point, you can tell Sproles is surprised. Then he added this tweet, just for good measure.
The stuff u find out on twitter

— Darren Sproles (@DarrenSproles) March 11, 2014
Why was Sproles surprised? Probably because he thought he was going to be released on Tuesday when free agency began. There were multiple reports that the Saints would cut Sproles if they couldn't find a trading partner by Tuesday. Sproles EVEN TWEETED GOOD BYE TO NEW ORLEANS on Friday night. 
Thank you New Orleans for your support over the past 3 years! I will always be forever grateful. #WhoDat

— Darren Sproles (@DarrenSproles) March 8, 2014
However, Sproles likely won't be released now. ESPN.com reported on Tuesday that there's a lot of interest in him and instead of cutting Sproles, the Saints are going to trade him. Lets hope that news also breaks on Twitter and lets hope Sproles reacts accordingly. 
No one wants to give the Eagles any respect

Here's a look at the NFL's entire postseason schedule for 2018

Here's everything you need to know about Super Bowl LII
Philadelphia will try to prevent New England from winning back-to-back Super Bowls

The world is mad at the refs for giving the Patriots calls

Tom Brady had to get 12 stitches on his hand, and here's what it looked like