DeMaurice Smith: 'I continue to be in touch with players in Miami'
We didn't learn much from the latest released NFLPA statement, but we know that the union director is staying in touch.
• 1 min read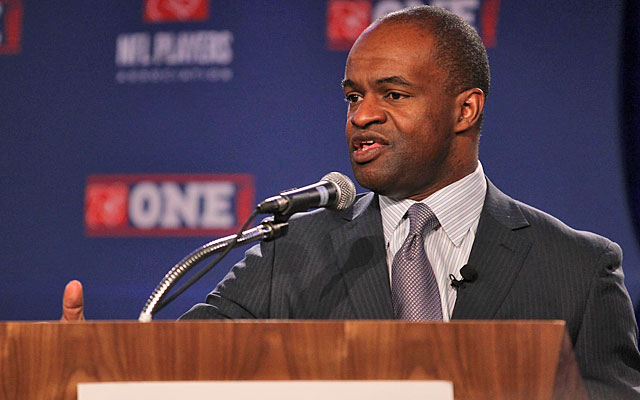 As new reports about the Dolphins, guard Richie Incognito and Jonathan Martin seem to emerge every hour on the hour, the NFLPA hasn't said much. Perhaps because the players union will have an interesting path to traverse as, we assume, it defends both players against the team and/or the league.
No matter the black and blue marks to the reputation of Martin and Incognito that they both encounter as the process and investigation continue, the NFLPA most likely will take on defending both of them.
Anyway, here's the statement released by NFLPA executive director DeMaurice Smith on Thursday:
"I continue to be in touch with players in Miami, their representatives and player leadership, and I look forward to information that defines the full scope of the NFL's investigation. Every NFL player should expect safe and professional working conditions. The NFLPA has taken steps to ensure that every one of our affected members is represented. It is our duty as a union to learn the full facts, protect the interests of players involved and hold management accountable to the highest standards of fairness and transparency."

Just in case you've forgotten, here's the statement the NFLPA made two days ago:
We expect that the NFL and its clubs create a safe and professional workplace for all players and that owners, executives, coaches and players should set the best standards and examples. It is the duty of this union to hold the clubs and teams accountable for safety and professionalism in the workplace.  

As the representative organization of all players, the NFLPA will insist on a fair investigation for all involved. We will continue to remain in contact with the impacted players, their representatives and player leadership.
On Wednesday, the league announced that big-name attorney Ted Wells will lead the NFL's independent investigation into the Dolphins' work-place conditions.
Follow Josh Katzowitz on Google+
It certainly seems like the Eagles will be hanging onto Carson Wentz's backup

Keep up with the latest moves in free agency as teams try to build a Super Bowl contender

Manziel called Kaepernick's charity 'legendary' and thinks Kap is unsigned for non-football...
Gronk sure knows how to have fun, over 13 1/2 feet of it in this case

The All-Pro safety addresses trade rumors and admits that even he doesn't know what'll happen...

The Patriots are aware of the incident and acknowledged that Harmon is back in the U.S.