It's been 13 months since Chris Borland retired. And while NFL players retire every offseason, Borland's case was special because he was 24, in good health, and and just finished an impressive rookie season.
But fears of CTE, and the realization that "your health is a little more important" made Borland's decision easy, even if it meant returning his signing bonus.
Last week, Husain Abdullah announced that he was retiring after seven NFL seasons, in part because of the concussions he suffered during his career. Now more than a year after Borland left the game, he thinks the trend of early retirement will continue.
"Well, I think an old adage is that you play till the wheels fall off," Borland told the Detroit Free Press recently. "You play till you can't anymore. You have to be carried off the field. I think that'll change.
"I think historically, Jim Brown and Barry Sanders are viewed as early retirements. I think whenever a guy decides to walk away is when he and his family decides he's not going to play a game anymore. And even if you play for 20 years and are a Hall-of-Famer, you still have a life to live after football. So I think that's always been a cliché, but that's starting to get real, tangible results."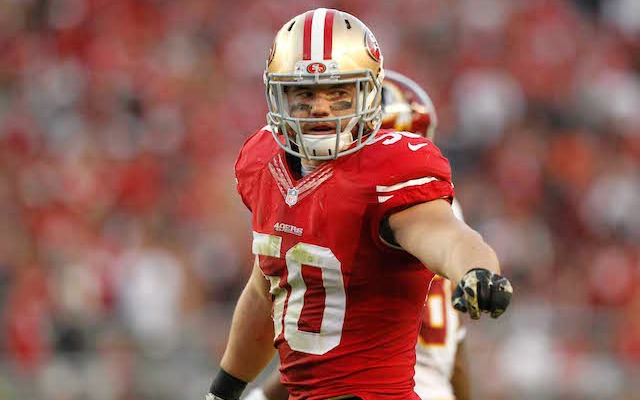 Borland also said he was troubled by the death of Tyler Sash, the former Giants player who was diagnosed with CTE.
"To see a guy who's probably taken less hits to the head than me to have a stage of CTE similar to Junior Seau was eye-opening," Borland said.
The Free Press spoke with the Borland after the former 49ers linebacker had taken part in a panel discussion for Requiem For A Running Back, a documentary about former Packers running back Lew Carpenter's struggles with life after football. Carpenter was diagnosed with CTE after his death.
During that panel discussion, Borland said he doesn't think football will be banned, but he does think there should be less hitting in youth leagues.
"It makes no sense to me that in the pros you hit 14 times a year once the season starts but in high school we hit three times a week, in college we hit three times a week," he said. "I think kids should hit less than the pros if they're playing football. I think that's a good step. ...
"It could be the greatest game in the world, but simultaneously maybe the worst," Borland continued. "And the crux of the issue for me, I think, is that what makes it so great is also what makes it detrimental and scary and everything, the violence. So I don't regret my decision. Miss the game, but that time was going to come at a certain point anyway, so moved on with my life."