Five OCs for top NFL Draft quarterbacks give parting words
College offensive coordinators for Bortles, Manziel, Bridgewater and more discuss why they feel their QB will be great in five years.
• 8 min read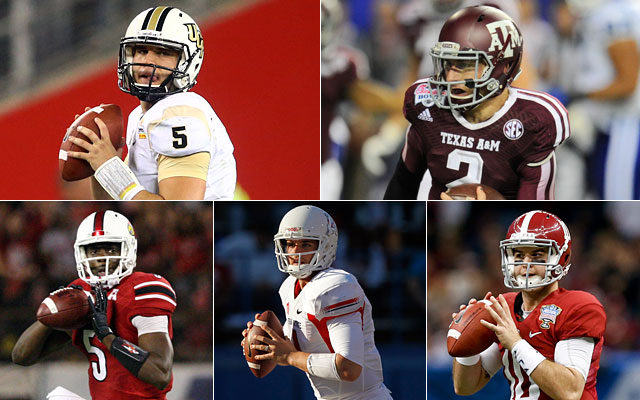 The evaluations are over, the draft is here and, after more media misdirection than an Oregon handoff, the batch of potential first-round quarterbacks seemed muddled at best.
Is there a clear-cut top quarterback? The answer might be more elusive now than four months ago -- maybe not for general managers, but there's no denying the volatility of a quarterback market with promise and imperfection.
That's why this is a good time to circle back with the coaches that know quarterbacks well: college offensive coordinators.
CBSSports.com caught up with the coordinators that worked with five of the top quarterback prospects – UCF's Charlie Taaffe (Blake Bortles), Texas A&M's Jake Spavital (Johnny Manziel), Texas' Shawn Watson (Teddy Bridgewater, Watson's quarterback at Louisville), Fresno State's Dave Schramm (Derek Carr) and Michigan's Doug Nussmeier (A.J. McCarron, Nussmeier's quarterback at Alabama).
These coordinators were asked why, when this draft is judged in five years, their quarterback will be considered the best of the group.
Of course, these coaches want to stump for their guys. But they also know the prospects better than most and can offer unique insights into their play.
Would have liked to talk with coordinators for Zach Mettenberger, Aaron Murray, Jimmy Garoppolo but these five made a good start.
With the draft less than three full days away, consider these parting words (or shots, in some cases).
The case for Blake Bortles – as told by UCF offensive coordinator Charlie Taaffe
* "All I know is a year ago at this time nobody knew who Blake was. He's probably made the largest leap of any of the guys that have been identified by whoever does that. If he continues to progress at that same level, he'll make quantum leaps in the next few years."
* "I think he has durability, prototypical size, athleticism and a great work ethic. He's gone from a spread offense to being under center where he has to check plays, not from the sideline where you have to look over. I read these things saying he's never been under center. They must not be watching film. Back to 2012, we had fullbacks in our system and he was under center about 50 percent of the time. I think he's got the best raw ability of the guys in the draft quarterback wise. He's smart and he works."
* "He kind of welcomed competition, He said 'I'm going to go to the combine to show I'm a pro quarterback,' and he did everything he was asked to do… None of these guys are cut out of a cookie cutter. They all have strengths. They are all good. They are all talented. But I think Blake has the tangibles and I think he has the intangibles. He understands the commitment it takes. I think he's pretty well grounded."
* "Five years from now, I would think he'd be an upper-echelon quarterback in the NFL. I'll be surprised if he's not."
The case for Johnny Manziel – as told by Texas A&M OC Jake Spavital
* "Johnny will be the most successful because of his competitive nature. It's how exciting of a player he is, of course, and the things he does are unique and fun to watch and all that, but his competitive nature in everything he does is what sets him apart. He's a winner. His goal is to win at anything, on and off the field. He'll play you in golf or in chess and he's ultra competitive."
* "When it comes to Johnny adapting to offenses (an alleged point of concern in draft evaluations), what is considered an NFL offense these days? Chip Kelly is having success in the NFL. You have Russell Wilson with the playaction game, Peyton Manning throwing the ball all over the place, the Packers throw the ball a lot. There's enough diversity in the NFL now where a guy like Manziel can thrive. A good offense will utilize his skill set. It's all about fit and being put in the right place to be successful."
* "He can make all the throws you need. He certainly made all the throws we needed. He's been getting ridiculed in the draft process by the base of his footwork and being unconventional, but just look at the bowl game (against Duke). He was deadly accurate. He threw corners. He threw fades. He threw back shoulder. I thought that was the best example of how Johnny can make the throws a team needs."
The case for Teddy Bridgewater – as told by former Louisville OC Shawn Watson (now with Texas)
* "In five years Teddy will be a franchise quarterback. It's character and work ethic. I know it to be true that the game truly slows down for him on the field, with a million things going on. He's got it. He works every day like he's got something to prove. Slowing the game down can be developed but it's a skill and it comes from being a gym rat."
* "He has a photogenic mind. He sees things and never forgets. I've never had to tell him anything twice. He's always a quick study. He's played in an NFL system and is an NFL-ready player. I've never been able to go this far with a kid on the field as far as the responsibility, getting us into the right play and commanding the line of scrimmage. He understand the little things, situational management, led the country in third down management."
* "He knows how to handle the full-field-read passing game. He's not throwing a bunch of bubble screens. He was in an offense that's meant to be aggressive. His eyes are a weapon. He'll move defenders and throw the opposite."
* "He's done amazingly well in (NFL) team meetings with studying install and being quizzed on that install. He's enjoyed all of it because he loves the game so much. That will help him at the next level."
The case for Derek Carr – as told by Fresno OC Dave Schramm
* "With all young quarterbacks, hopefully they succeed because they weren't thrown into the fire too early with a team that couldn't protect or without players that can get open. It's all about the situation and the fit and getting with the right coaches. That said, if Derek can stay healthy, his Football IQ and his quick release will be what makes him the most successful. As far as the way he throws the ball and his velocity and his recognition of defenses and the way he can command an offense, being able to change angles with his arm, Derek has all of that with no issues."
* "The knocks on Derek about getting rattled in the pocket are a little overblown. All quarterbacks get a little rattled when they are getting hit. There are plenty of examples of Derek staying in a collapsing pocket and delivering."
* "Considering what we asked him to do – he threw the ball 50 times a game for us – his accuracy is at an elite level. He might be the most accurate passer in this draft. I always told Derek, as a quarterback, you don't have to do everything. You just have to put your team in a position to make plays. And he does that so well."
* "He's motivated by his brother's past but knows he can be the best Derek Carr he can be. That's his plan, and that's ultimately why I think he'll be a successful NFL quarterback."
The case for A.J. McCarron – as told by former Alabama OC Doug Nussmeier (now Michigan's OC)
* "His accuracy and his anticipation are stellar. The big thing about him is he plays his best when he's needed the most. When you look at his best games in the college game and the stakes of those games, it was really good."
* "He's a tremendous leader. He relates to all the guys in the locker room very well. They respect him, the way he plays, the way he competes day in and day out."
* "People look at arm strength on all the quarterbacks, but if you watch the great ones, the ability to anticipate and throw with timing is a lot more important in the NFL game. He has a great feel for the game and that allows him to anticipate. With that he's very accurate."
* "He's been exposed to a pro style offense. He's going to relate well to things that are going to happen at the next level, which should allow him to contribute earlier. The way our offense was at Alabama, you can translate that to the NFL. The terminology will be different, the reads, the protections will all be the same. He'll be used to making all the checks at the next level he'll need to."
* "With all guys and footwork, you've got to be so good at that level to be successful. He's worked hard on it, getting those feet right and making sure they are patterned so that he consistency in the drops and the footwork is the same. It felt like he got better and better every year at that."
Everything you need to know about the Redskins-Saints matchup this weekend

Here's every official injury designation for each NFL team for Week 11

The Dolphins took another blow amid a rough stretch of football
Our computer model simulated every Week 11 NFL game 10,000 times with very surprising resu...

The NFL on CBS broadcaster also broke down the differences between Dak, Goff and Wentz

The Legion of Boom is getting older and injuries are taking their toll