Former Jets GM Mike Tannenbaum: Trading for Tim Tebow was mistake
Former Jets general manager Mike Tannebaum said on Wednesday that he made a few mistakes during his time in New York and one of those mistakes was trading for Tim Tebow.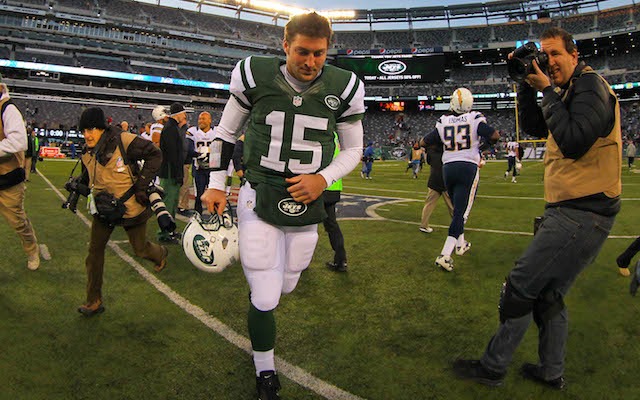 Former New York Jets general manager Mike Tannebaum was fired by the team following the 2012 season after the Jets finished the year 6-10. Tannenbaum, who had been with the team since 1997 and had served as the Jets general manager since 2006, talked on Wednesday about some of the mistakes he made in New York -- and he said one of those mistakes was acquiring Tim Tebow.  
"Obviously we made a couple mistakes -- trading for Tim Tebow most notably. But I would say beyond that, but we [could have done a better job with the bottom of our roster], especially toward the end," Tannenbaum said on CBS Sports Radio's Damon Amendolara Show.
The Jets traded a fourth- and sixth-round pick to the Broncos for Tebow in March 2012. Don't worry though Tebow fans, Tannenbaum didn't blame everything on the quarterback who ended up only throwing eight passes in his Jets career.
"I think some of the mistakes made were from the bottom end of our roster up," Tannenbaum said. "So when you lose guys like Jim Leonhard or Danny Woodhead or Jerricho Cotchery, it affects a lot of things -- not just what they do on the field, but what they do in the locker room."
Anyway, let's get back to Tebow. Even though Tannebaum called his acquisition a mistake, the former Jets general manager said he could envision Tebow making his way back into the NFL. 
"Tim obviously didn't play well in the preseason with New England, but he's a guy (who's) incredibly passionate about his career," Tannenbaum said. "I would never bet against Tim. We used to have an expression that Tim's the type of guy who's either going to be successful or die trying. His relentlessness and passion -- I would think he'll get another opportunity."
Tebow seems to feel the same way. When he was hired by ESPN in December to serve as a college football analyst for the SEC Network, Tebow made it clear that he was going to "continue to pursue his dream of playing quarterback in the NFL."
If any general manager out there is thinking about signing him, just remember, Tebow only wins: he has as many playoff wins with the Broncos as Peyton Manning does, although that could change on Sunday.
Everything you need to know about the Packers-Panthers game on Sunday afternoon

The Lions will be wearing their Color Rush uniforms for the first time on Thursday

The Lions look to maintain playoff positioning while the Bears attempt to play spoiler
The Panthers have hired an outside law firm to conduct the investigation

Here's every official injury designation for each NFL team for Week 15

Bennett was one of the few players who escaped punishment after Sunday's melee in Jacksonv...