Having seen it all, Josh McCown ready to be leader for young Bucs
Josh McCown has been around, even coaching high school ball at one point, but at 35, on his seventh NFL team, the veteran QB looks primed to shine in Tampa.
• 5 min read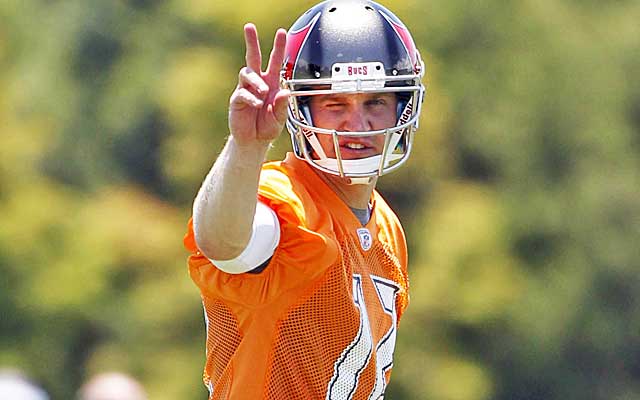 More NFL: Photos |   Videos & GIFs |  Stories | Training Camps |  Manziel watch 
I'm not sure there was a better feel-good story in the NFL than the late-career renaissance of quarterback Josh McCown. A great guy and a beloved teammate who not too long ago was coaching high school football, McCown saved the Bears season after Jay Cutler went down, was one of the most efficient passers in the entire NFL and nearly rallied the team to the postseason.
I don't anticipate him being a one-year wonder and I wouldn't be shocked if McCown becomes another version of CBS's own Rich Gannon. As we know, Gannon became an elite quarterback late in his career with the Raiders, finally shedding that journeyman label. I'm not saying McCown has an MVP in his future -- I would hardly go that far -- but at age 35, playing a position in which we are saying contemporaries flourish until they push 40, he very well may have several very good years as a starting QB still in him.
I suspect he will be precisely just what a young and transitioning Tampa Bay Buccaneers team needs, in the huddle, during practice, in the offensive meeting rooms, at team meetings the night before games. He will set an exemplary example for the Bucs. He already has a strong relationship with new coach Lovie Smith dating back to their time together in Chicago, and he is anything but content to allow his 2013 success -- a sterling 109 rating in eight games with 13 touchdowns and only one interception -- serve as the pinnacle of his career. He is driven to build off that resurgence and make his 12th NFL season his best.
To that end, he has remained vigilant in his study and preparation work during summer vacation, remaining focused on the start of camp while trying to master ever nuance of coordinator Jeff Tedford's system, which is a departure from much of what he toiled in recently.
  "You've got to keep your mind around it," McCown said, "so I'm constantly either looking over stuff or working through plays in my head. The beauty of it is we really laid a solid foundation in the spring, and now we can kind of play everything out and see what sticks, and we'll learn more through training camp.
"But my brain is always churning about the things we can do, and the plays that were given to us and how I can execute them better. And as a competitor, your brain can't shut off too much. You can't take too much time off away, to then turn around and want to be at a peak level. So I absolutely try to stay on top of everything, and there are days where you give yourself a break, for sure, but you don't want to let a bunch of days go by without at least thinking through the offense and studying."
If McCown fails to recreate last season's magic, it won't be for lack of effort. Or a lack of weapons. The feel of the personnel is similar to what he enjoyed in Chicago, with a duo of hulking receivers -- one a relative novice and the other an established Pro Bowler. In this case, now in Tampa, it's Vincent Jackson and 2014 first-round pick Mike Evans, both able to use their bodies like a power forward to box out, create space, and play pitch-and-catch by going up and high-pointing the football in traffic.
Evans already has started to win over his quarterback, and build some chemistry. "It's been really good connecting with him and watching him make plays all through the spring, and seeing him grow," McCown said. "He's going to be a fun guy to watch for a long time and I believe he has the right mindset to work hard. I'm really excited about his future."
Also similar to his time in Chicago, McCown has an explosive back to create space for the passing game -- this time in the person of Doug Martin, who is coming off injury. Should rookie second-round pick Austin Seferian-Jenkins tap into his potential and prove to be anything of a consistent target himself (and at 6-foot-6, there is no lack of size in his game, either), then McCown just might continue on this renewed career trajectory.
McCown, a third-round pick by Arizona in 2002, is nothing but a pragmatist, which is to be expected when you've pretty much seen it all. He's savvy enough to realize no matter how crisp things may have looked during OTAs, a very different challenge awaits in the regular season. But I wouldn't bet against McCown proving the naysayers wrong again, shining in Tampa, and making some fantasy football owners quite happy along the way.
But first there is much more work to be done.
"I definitely have a very good comfort level with what we've been given so far, and I feel really good about that," McCown said. "But there are two components of that. You can learn a system but then you start seeing different coverages when you run certain plays -- you see press and cover and we'll see those things in camp. But you could learn 10 plays and then five of those are not what we thought we'd be getting against certain coverages, and that's a very different learning process.
"I feel good about where I am, but now we'll see who we are going to become and our playmakers will start to emerge and we figure out which guys can win on this type of coverage and who its best to throw to in this situation or that situation. I feel really good about not only myself, but all the quarterbacks in our room and our knowledge of the system. But now we've got to figure out who we're going to be and go out and get it done on the field."
Receivers dulling enthusiasm on Jags
My enthusiasm about the Jags season has waned some given the inability of their young receivers to avoid suspensions. It now looks like they well could be without Ace Sanders and Justin Blackmon for all of 2014 (I can't help but wonder if Blackmon ever plays there again), there is not enough talent depth to overcome these kinds of setbacks. At this point it's Cecil Shorts and keep your fingers crossed regarding pass-catching options in this offense, and with two quarterbacks who will need lots of help, that's a scary proposition. Add Shorts going on IR each of the past two Decembers, and his durability could be an issue as well. Second-round receivers Marqise Lee and Allen Robinson are going to have to make significant impact right away, and that might be too much to ask so soon.
For all of the gains I anticipate Gus Bradley's group making on defense this season, I'm not sure a Toby Gerhart-led offense is going to scare anyone. They could end up being severely limited on that side of the ball.
SportsLine's top NFL experts give their top picks for Patiots-Jaguars and Eagles-Vikings

Campbell was already talking about a potential Super Bowl berth shortly after his signing

The study, published on Thursday, found that even at younger levels football can be danger...
The Eagles and Vikings have two of the best defensive fronts in the NFL

Starting left guard Stefen Wisniewski says the Eagles' success is about more than just one...

Kaepernick made the pledge in October 2016 in the middle of his campaign for social equali...