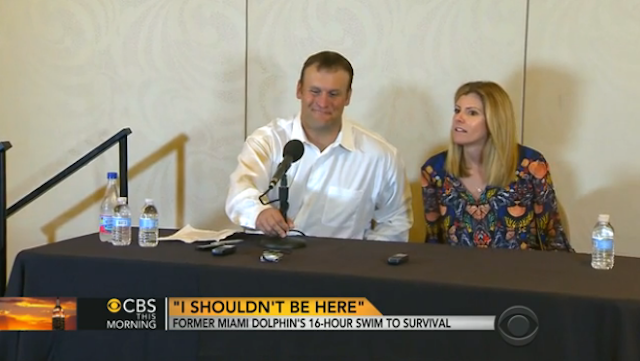 Former Miami Dolphins fullback Rob Konrad wasn't exaggerating when he said he was stranded in the ocean for 16 hours after falling overboard last month.
The Florida Fish and Wildlife Conservation Commission confirmed Konrad's account of what happened after investigating the incident that occurred Jan. 7.
According to the review, which was obtained by the Miami Herald on Wednesday, Konrad was "thrown overboard when a wave hit the side of the vessel" around 12:30 p.m. ET on Jan. 7.
Konrad tried to swim back to his boat, but the boat was on auto pilot and moving away from him at a rate of about 5 mph. At that point, Konrad decided that swimming west would be his best hope to reach land.
After 16 hours and 12 minutes at sea, Konrad finally reached land at 4:42 a.m. on Jan. 8 after swimming nine miles. The former Dolphins fullback ended up on the shores of Riviera Beach in Palm Beach County, Fla. 
Konrad was eventually taken to the hospital, where he was treated for hypothermia, dehydration and Rhabdomyolysis. Rhabdomyolysis is a condition where your muscle fibers begin to break down.
On Jan. 12, Konrad described his harrowing experience during a press conference, "I shouldn't be here," Konrad said at the time.
However, the 38-year-old did add that he had plenty of motivation to live, "I have two beautiful daughters," Konrad said. "I was hitting that shore."
One of the biggest mysteries after Konrad survived was: What happened to his boat?
Well, there's an answer for that. The Bahamian government called up the U.S. Coast Guard on Jan. 9 to let them know that Konrad's boat ended up near the Grand Bahama Island,  about 90 miles from where Konrad reached shore.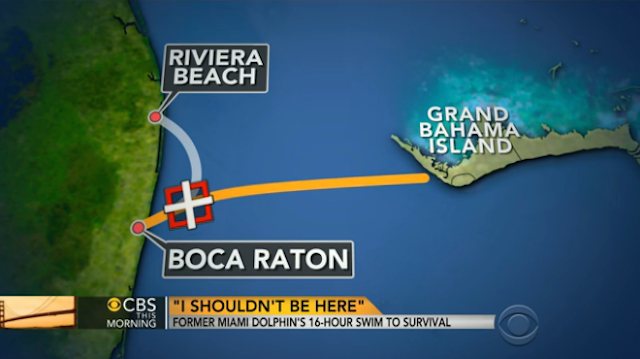 In the photo above, the "X" is where Konrad is believed to have gone overboard and Grand Bahama Island is where his boat ended up.
When authorities found the vessel, there was an estimated $70,000 in damage done to the 30-foot fiberglass motorboat.
A picture of some of the damage to front of Rob Konrad's boat. Estimate for all damage $70,000. pic.twitter.com/EyFCzJYrJO

— Will Manso (@WillManso) February 18, 2015