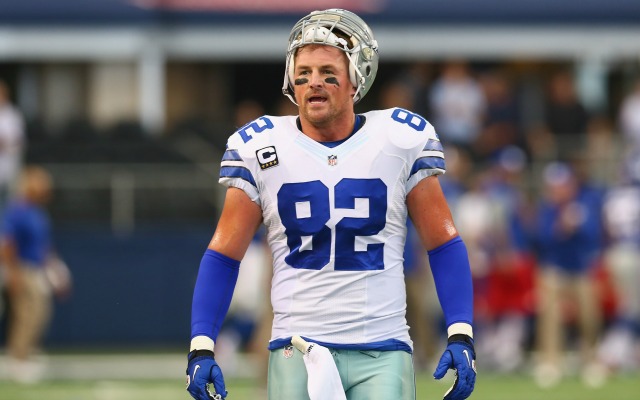 Dallas Cowboys tight end Jason Witten has a long history with domestic violence. Witten grew up in an abusive household, one that he had to leave along with his mother and brothers when he was 11 years old in order to escape from his father. His childhood and how it influences his fatherhood was the subject of a powerful E:60 feature on ESPN last year.
Witten has obviously gone on to have great success in his life since those days, and not just on the field. Witten is one of the best tight ends in NFL history, and he's been widely considered one of the toughest players in the league for the entirety of his career; but he's also one of the NFL's most respected players, having won the Walter Payton Man of the Year Award in both 2007 and 2012. He's also helped other domestic abuse survivors with Jason Witten's SCORE Foundation.
So his voice is often sought on when it comes to important matters that pertain to the team. The Cowboys signing defensive end Greg Hardy -- who has an altogether different history with domestic violence than Witten does -- qualifies as an important matter.
"I think more than anything I think everybody knows (I'm against) domestic violence," Witten said when asked about Hardy's history, according to ESPN.com. "That's unwavering. That's something that I lived, my family lived. But that guy is a teammate of mine, so I think you have to look at it from that standpoint. As coach (Jason) Garrett says, it's our job to invite those guys in and create a standard of how we do things. I think he's done a great job since he's been here. It's not my job to decide who comes in. I'm a tight end. But I've been really pleased how he's approached it and how he goes to work and what kind of teammate he's been. The day he got suspended, the next day he's in there working out, so I think that's kind of the mentality he has, what kind of work ethic (he has) and what he's trying to prove in Dallas."
The praise of Hardy's work ethic is in line with what has been coming out of Dallas all offseason. Jerry and Stephen Jones, Jason Garrett and Rod Marinelli have all noted how hard Hardy works, and how infectious that hard work can be. The Cowboys almost certainly expected Hardy to be suspended when they signed him, but not many thought his suspension would be for 10 games. Still, even after that suspension, Hardy has continued to work hard, and Witten's taken notice.
"I think when you add the guy like that and then he gets suspended and you never know how it's going to come out," Witten said. "The guy works his tail off. Our job is to welcome him and show him the way we do things and embrace him as a teammate, and he's done everything that you want. He's a hard worker. Obviously he's a talented player. I think he's learned a lot from what he's gone through in the last year. He's had a good offseason."
The Cowboys used to have a locker room that notoriously lacked leadership, but over the last few years as Witten (who teammates call the Senator, according to the Cowboys blog Blogging the Boys), Tony Romo, Dez Bryant and Orlando Scandrick have stepped into larger leadership roles, it's become much different. Given some of the players the Cowboys acquired this offseason -- Hardy, Randy Gregory, La'El Collins -- the front office is obviously placing a lot of trust in the ability of those leaders to keep control of the environment.