Johnny Manziel throws first NFL TD against Redskins
It took two games, but Johnny Football finally threw a touchdown pass.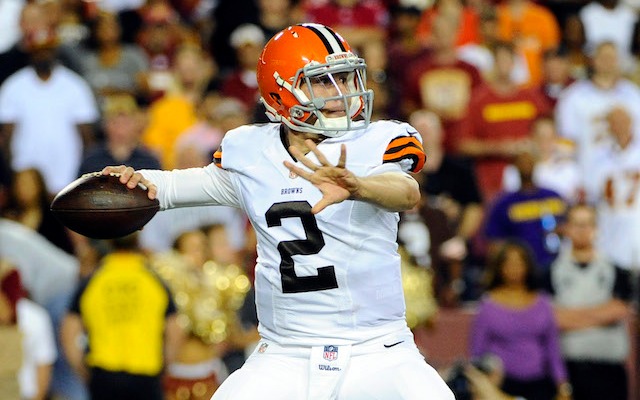 More NFL: Photos |  Videos & GIFs |  Training Camp updates | Manziel watch
Johnny Manziel didn't do much against the Redskins first-team defense, but once Washington's second team went in, Johnny Football took over.
The Browns quarterback threw the first touchdown pass of his career. Johnny Football didn't really have to do any work on the play. Manziel flipped a shovel pass to Dion Lewis, who barged his way 8 yards downfield for a touchdown. 
The score cut the Redskins' lead down to 14-10. 
Johnny Football's touchdown pass capped a 16-play, 68-yard drive that chewed up 8:15 on the clock. The pass also ended Manziel's night with a line of 7 of 16 for 65 yards and a TD.
Eight plays before his first preseason touchdown pass, Manziel also showed off another preseason first: His first time flipping the bird to the opponent's bench. 
Johnny Manziel flipping the bird at the Redskins bench https://t.co/Q2Bz2LEOJr

— gifdsports (@gifdsports) August 19, 2014
The ending to New England-Pittsburgh was wild, and one play appeared to change the game at...

The Steelers' best player is expected back but not until the postseason

The Panthers owner announced he would sell the team after the year concludes
All of the best highlights from Week 15 are right here

Week 15 provided a lot of clarity to the NFL postseason

Here are the Week 15 grades for every team that played Sunday