Just Because: Six things you should know about Dan Dierdorf
Dan Dierdorf is retiring after this season. But that doesn't mean you should ever stop learning about the man.
• 1 min read
By now, you probably know that Hall of Famer Dan Dierdorf, the long-time CBS broadcaster with the distinguished mustache and the sharp analysis, is retiring after this season, saying "It has become a challenge for me to travel to a different NFL city every week, so it's time to step aside. This has been a wonderful ride as I really have lived the dream."
Before we wish him well and send him off into that good night with the CBS Eye he's leaving blinking in the distance as tears emerge from the ducts below, let's take a look at a time when Dierdorf perhaps wasn't quite as distinguished.
To wit (via Getty Images):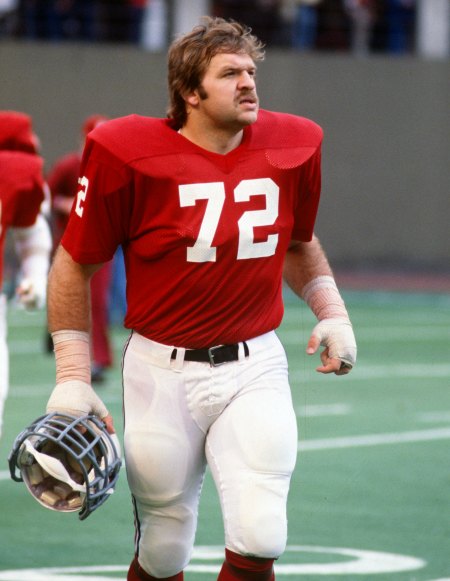 A couple things about Dierdorf:
1) This picture doesn't show it (would it kill Dierdorf to smile?), but he had a nice toothless grin to go with his intimidating exterior. See?
2) For people of my generation, Dierdorf will probably always be thought of as a game analyst (or for that mustache), but he also was one hell of a good football player. He spent his entire 13-year career playing on the St. Louis Cardinals offensive line, and he was a six-time Pro Bowler. He was inducted into the Pro Football Hall of Fame in 2006. So yeah, he had some credibility.
3) As the HOF explains, Dierdorf "possessed size, speed, quickness, discipline, intelligence, consistency ... Equally effective as passing, rushing blocker."
4) As the Los Angeles Times noted 17 years ago, Dierdorf actually grew up within walking distance from where the HOF is located. As Larry Stewart writes, "When Dan Dierdorf was 13 years old in 1962, he and his father, John, watched as Pete Rozelle, then the NFL commissioner, broke ground for the Pro Football Hall of Fame in Canton, Ohio. It was located only a mile from their home on 36th Street, and young Dan used to walk over to watch the structure being built." Pretty cool, sometimes, how life circles back to where it all began.
5) If you put him in the right glasses, trim his mustache just right and place him in the correct light, he almost looks like Mike Ditka.
6) Did you know that Dierdorf was a FAMOUS SPORTS CELEBRITY who enjoyed a bottle of suds every now and again? You do now. But man, you've got to hate it when, during a night of imbibing, you have to break the seal.
Follow Josh Katzowitz on Google+
After a report emerged quoting Irving saying, 'I have made a call,' the Cowboy took to Twi...

Washington is banged-up heading into a divisional showdown with Philadelphia

Kenny Britt might be on the chopping block after his latest blunder
Sending money to help with hometown education isn't anything new for the NFL veteran

Here's every official injury designation for each NFL team for Week 7

Last year's Jets were a disaster, but this year's version has been extremely competitive