If you ranked all 32 NFL owners based on how close they are with their players, Patriots owner Robert Kraft would probably rank No. 1.
So what makes Kraft so likeable to his players?
Patriots kicker Stephen Gostkowski attempted to answer that question this week.
Generally, when a Patriots players gets interviewed in the week leading up to a big game, they keep their answers short and sweet. However, when Gostkowski was asked about Kraft, he did the opposite: He just kept going and going with his answer.
First, Gostkowski loves how the Patriots owner relates to the players' families.
"Mr. Kraft has been around a lot ever since I've been here and it can be intimidating being around a guy who's got so much. But he comes off as a normal guy," Gostkowski said. "He'll come up to you, he called my wife when she had a surgery, sent me a baby gift when I had a baby. He's just a great guy."
The fact that Kraft takes time out of his day to make small gestures like that makes the team seem more like a family.
"They preach family around here and it starts with him," Gostkowski said "As crazy as it is in this business with people getting cut and traded, and year-in and year-out people going different places, they do a really good job of making us feel welcome while we're here because we're here a lot of the time and I think most of that credit should go to Mr. Kraft."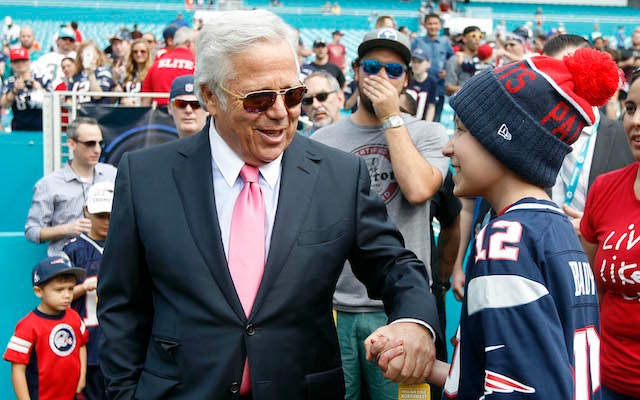 Gostkowski also pointed out that Kraft doesn't just show his kindness after a Patriots win, but also after a loss or after a player struggles during a game.
"I remember having a bad game and Mr. Kraft came up [and] consoled me," Gostkowski said. "He wasn't coming around and [trying] to be a 'hardo' and telling me I need to do better. He's a human being and he's also the owner of this team and when there's a guy up there that you see around and is as invested as he is -- not just monetarily, but emotionally -- it's a lot easier to go out there and play for a guy like that."
Basically, the team loves having him around.
"We love Mr. Kraft, he's always welcome around us in the locker room -- I mean he owns the place, he can go wherever he wants," Gostkowski said. "You know, he's very welcome in the inner circles of the locker room, camaraderie and it's cool to be a part of."
If you're wondering what led Gostkowski to give that entire answer, he was asked what it's like to have an owner who shows up in team meetings every morning. The Patriots kicker then took that as an invitation to list everything that makes Kraft such a good owner.
Gostkowski also could've mentioned that Kraft is a cool guy because he hangs with Jay and Bey.
Robert Kraft shows Gronk how to really party: pic.twitter.com/wwhjBfIrpi

— Luke Russert (@LukeRussert) June 18, 2013
Gostkowski also could've mentioned that time that Kraft celebrated a Super Bowl win by dancing onstage with Rick Ross and Rob Gronkowski.
Gronk + Robert Kraft + Rick Ross = Internet GOLD http://t.co/U7MJ0CJV00 pic.twitter.com/kpOsl8BkxQ

— 120 Sports (@120Sports) February 2, 2015
Or the time that Tom Brady gave a pregame kiss to Kraft.
Lesson learned today: You're not putting up 51 on anyone without a good luck kiss #Patriots http://t.co/qPDKcpusDF pic.twitter.com/XbTcLkljqt

— John Breech (@johnbreech) September 28, 2015
Anyway, Gostkowski and the other Patriots players are clearly a fan of their owner.