More NFL offseason: Mock Drafts | Prospect Rankings | Pro days | Top free agents
The Philadelphia Eagles still haven't specified why exactly the team cut wide receiver DeSean Jackson on Friday. According to a report on NJ.com, the Eagles were concerned with "Jackson's continued association with reputed Los Angeles street gang members who have been connected to two homicides since 2010."
In a statement released on Friday, Jackson denied having any gang-ties. The Los Angeles Police Department backed up Jackson's statement by saying they don't necessarily think Jackson has any ties to gangs and they definitely don't think he's been involved in any gang-related killings. 
"It's kind of like 'Six Degrees of Kevin Bacon.' When people grow up in neighborhoods where you have gang involvement, you don't have to look too far before you find a connection to a connection," LAPD Homicide Det. Chris Barling told the Philadelphia Daily News. "Now, how sinister that connection is, our position is that's for others to judge."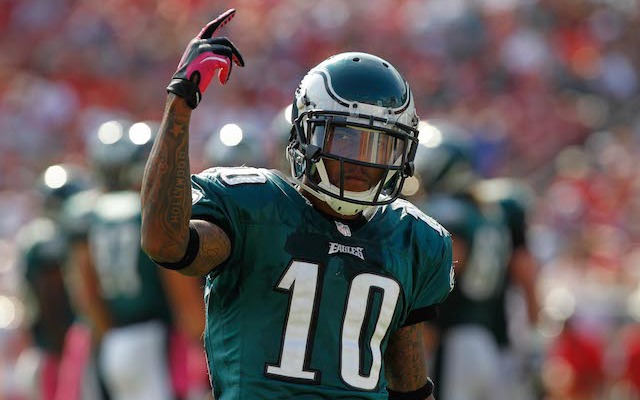 The NJ.com report noted that Jackson is close to Theron Shakir. Shakir, reportedly a member of the Crips, was charged with murdering 14-year-old Taburi Watson in 2010 after Watson flashed a rival gang sign at Shakir and co-defendant Marques Binns. 
During that investigation, the LAPD reached out to the Eagles, who didn't respond. However, Jackson did respond when authorities reached out to him, "[The Eagles] didn't return the call, but we came across a number for him and had a conversation," Barling said. "It was nothing confrontational; he answered our questions."
In 2012, a gang-related killing took place in front of a property being rented by Jackson's sister. Detective Eric Crosson told NJ.com that 'investigators found several documents belonging to Jackson, including a car title, a gun permit issued in New Jersey and credit-card receipts.'
However, Barling noted that Jackson is not being looked at in relation to that homicide or any others, "There's no other investigation that I'm aware of where Mr. Jackson's name has come up," he said. "It's clear he was not involved in the homicides."
Jackson was the victim of a crime in January though when his home was burglarized. In that case, authorities believed that the perpetrators made off with $250,000 in cash. However, a Philadelphia police spokesman told the Philadelphia Inquirer that only $20,000 was stolen from Jackson's place. 
"This was a genuine mistake on our part," the spokesman said. "His mother was giving police what she thought was in the home. Once, they interviewed Jackson, he knows what's in his house, and he said, 'No, that's wrong.' He told them what was missing."
That case is still open.