It is inevitable, come the start of the NFL Draft on April 30, there will be a player or two selected in the first round who virtually no one was chattering about leading up to the event. There will be first-round picks who showed up on nary a mock draft, generated precious little buzz, who teams were loathe to speak about lest they give away a secret or two, and who many in the media overlooked.
In 2015, one such player could be Florida State junior defensive lineman Mario Edwards Jr. You won't find him projected high and he might have mediocre grades from some draft sites, but plenty of evaluators I trust believe he's a legit first-round talent. In fact, I wouldn't be shocked if this kid ends up going somewhere in the teens, depending on the first 10 picks.
Execs I know who've studied Edwards are very impressed with his athleticism. They project a pass rush at the next level, making him potentially much more impactful as a pro than in college, where he was first-team All-ACC in 2014. And in 2012 he was the only true freshman to start on the Seminoles' vaunted defense.
"Why aren't any of you guys writing about Mario Edwards?" one evaluator asked. "I look around the Internet at these mock drafts and I don't think I've seen him in the first round in one of them. He's not showing up in any of them. I think you're missing on him. He's going to surprise some people. I think he goes in the first round. In this [not overly talented] draft, he's definitely a first-rounder for me."
For what it's worth, in my years of dealing with this particular scout, he has been overwhelmingly right. He's a big reason why I called for Deone Buchannon going in the first round before last year's draft. The hard-hitting safety largely was considered a mid-round guy who ended up going 27th overall. And this phenomenon occurs seemingly every year, be it Bruce Irvin or Tyson Alualu or Kyle Long. It's part of the process, and reactions I got from some evaluators regarding Edwards was pretty telling.
Some were loathe to talk about him because, well, they would prefer I not write this column. They would prefer no one shine a light on Edwards. When the same names of defensive linemen show up over and over in mock drafts, you get a lot of smiles in the scouting community. They're perfectly fine with it. They don't want a lot of hype about a kid who they think may be falling through the cracks.
"Everybody [doing a mock draft] pretty much ends up with the same names, but in a different order," said another evaluator who doesn't believe his team is a great fit for Edwards but expects he goes high. "That's usually how it works. So why should I give you a name [outside that group]? Why would a team want to let you in on that? But, since you're asking me, do I think Edwards could be that kind of guy? You could be on to something there."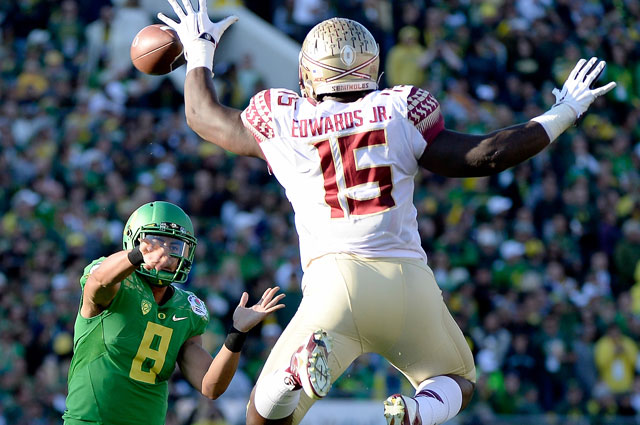 Edwards is raw, and had he stayed in school we might have heard a lot about him before the 2016 draft. But there is no denying the talent, some still untapped (that is the very nature of the draft -- projecting, projecting, projecting). His father was a star at FSU and played corner in the NFL. Edwards was considered perhaps the nation's best defender coming out of high school. He is strong and powerful at 6-feet-3, 279 pounds, and can play with burst and explosiveness. He could be a fit in a 3-4 or a 4-3 scheme, though the scouts I talked to saw him more projected as a 4-3 tackle and believe he will be more of a pass-rushing factor as he develops.
One evaluator who did extensive work on him thought Edwards should be one of the first three defensive linemen off the board, and attributed some overall dropoff in FSU's defense in 2014 to the loss of defensive coordinator Jeremy Pruitt (who left after their national title in 2013 to go to Georgia).
"There was a dropoff across the board from that defense, and a lot of it I think was from losing their coordinator," he said. "He was the man. But if you look at some of those kids over the last two or three years, man, there are a lot of players there. I think Edwards and [Seminoles defensive tackle Eddie] Goldman are first-rounders."
Within the Florida State program, Edwards was viewed as a difference maker still coming into his own. He picked up valuable scheme diversity having to work with three coordinators in three years -- all three coordinators speak very highly of Edwards, I'm told -- and someone who performed often selfless tasks in that defense at a very high level.
"There were some very high expectations on him coming as the No. 1 recruit in the nation, so I guess maybe to some on the outside it might seem like his numbers aren't huge or something like that," said someone who worked closely with him while at Florida State. "But if you evaluate his entire Florida State career, he played a very major role on a team that went 39-3 with him here, and that was just 9-4 the season before he and Jameis [Winston] got here.
"He has great leadership qualities. He was one of the most coachable kids you could work with. You could always count on him on the field and off the field. He did everything that was asked of him and expected of him. He was incredibly well-liked within the program. He's very comfortable with the professional game because of his legacy with his father playing in the NFL. He's built for the league and he will keep getting better."
Certain teams definitely seem to like Edwards more than others, including the Vikings, who pick No. 11 overall. That might be high for Edwards -- plenty of mocks have nose tackle Danny Shelton going there -- though I wouldn't rule it out. And if perhaps you see the Vikings trade down out of that spot, definitely keep an eye on Edwards as a target. It wouldn't shock me at all if the Bengals, 49ers, Cowboys, Lions, Seahawks or Browns invested a top pick in him.
He would fill a need with plenty of 3-4 teams as well, though some have said they aren't sure he would fit at defensive end and doubt he could move to outside linebacker. Others believe he could play inside in a 3-4 in certain packages. Regardless, he has people talking, or perhaps whispering. His 4.74 time in the 40 and video of him doing a standing backflip -- at 300 pounds! -- and his athletic prowess are very difficult to ignore.
Personally, I won't consider it a surprise if he ends up going somewhere between 11th and 19th. After reading this, I suppose neither should you. I assure you in some draft meetings and war rooms, it won't be looked at as a stunner, either, if things play out that way.
>> More 2015 NFL Draft: Mock Drafts | Prospect Rankings