Michael Sam: 'Thank God' Tony Dungy's not a Rams coach
Michael Sam is thankful that Tony Dungy's not the coach of the Rams because if Dungy had been coaching the Rams during May's NFL Draft, Sam wouldn't have been drafted.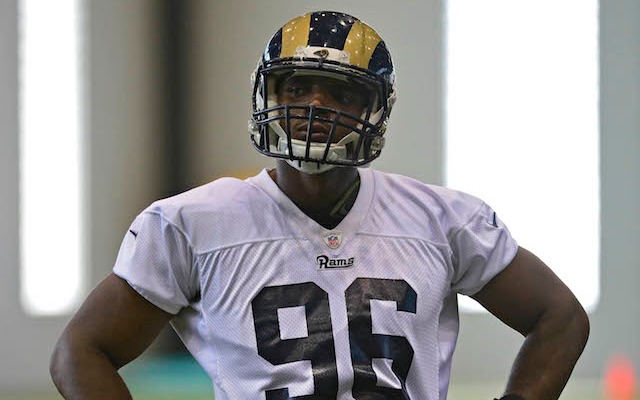 More NFL: Photos |   Videos & GIFs |  Stories | Training Camps | Johnny Manziel watch 
Tony Dungy isn't an NFL coach anymore, but if he were still in the league, he made it clear that his team wouldn't have taken Michael Sam in the 2014 NFL Draft.
"I wouldn't have taken him," Dungy told the Tampa Bay Tribune. "Not because I don't believe Michael Sam should have a chance to play, but I wouldn't want to deal with all of it."
Dungy, who supported Michael Vick and Tim Tebow while they were looking for jobs, alluded to the fact that Sam would be a distraction.
"It's not going to be totally smooth," Dungy said. "Things will happen."
So what was Sam's reaction to learning Dungy wouldn't have drafted him?
"Thank God he wasn't a St. Louis Rams coach," Sam said jokingly after practice on Tuesday. You can see video of the interview here, there was lots of laughter after his comment.
"I have great respect for Tony Dungy," Sam said. "Like everyone in America, everyone is entitled to their own opinions."
Sam also said he doesn't really care what other people are saying, "It is what is, what are you going to do about it."
One coach who doesn't think Sam is a distraction is Rams coach Jeff Fisher. Fisher made it clear on Wednesday during ESPN radio's Mike & Mike that he disagrees with Dungy's comments. 
"Absolutely not," Fisher said of Sam being a distraction. "Let's define distraction. There were a couple of extra cameras during early OTAs. There may have been an extra camera yesterday as rookies reported and went on the field the first time. Mike's a very passionate athlete. He's very focused on trying to make this football team. He worked really hard during the summer, and he's doing a good job."
So Sam's not a distraction to Fisher and he doesn't appear to be a distraction in the locker room either.
Sam was taken with the 249th pick in the NFL Draft and man taken with the 250th pick, Demetrius Rhaney, says his new teammate is funny.
"He's a football player, he's not a bother," Rhaney said on Tuesday, via the Associated Press. "He's laid-back, funny, jokes a lot. Pretty good."
That last line is really the only one that matters. If Sam's 'pretty good,' then he'll make the team and if he makes the team, he'll be a rare commondity: A seventh-round pick who made it in the NFL.
Everything you need to know about the Redskins-Saints matchup this weekend

Here's every official injury designation for each NFL team for Week 11

The Dolphins took another blow amid a rough stretch of football
Our computer model simulated every Week 11 NFL game 10,000 times with very surprising resu...

The NFL on CBS broadcaster also broke down the differences between Dak, Goff and Wentz

The Legion of Boom is getting older and injuries are taking their toll