NFL doc: Barring concussed players 'definitely could be something in the future'
Dr. Robert Cantu, the senior advisor to the NFL's Head, Neck and Spine committee, said that preventing players with a concussion history from coming to the NFL is "definitely could be something in the future."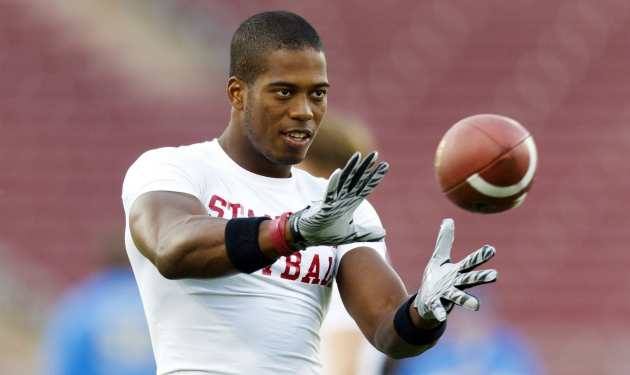 Owusu, who suffered three concussions in three months, wasn't drafted this week. (US Presswire)
Stanford wide receiver Chris Owusu went undrafted during the NFL's lengthy seven-round draft over the past few days. It's not because of his talent -- the
NFL Draft
Scout guys had him pegged as the
35th-best wideout in the draft
. It's because of his concussion history -- three in 13 months -- and that sort of history could eventually prevent players from entering the
NFL
.
At least Dr. Robert Cantu, the senior advisor to all Head, Neck and Spine committees
(Ed. Note: SI incorrectly lists him as a co-chair)
, says that it "definitely could be something in the future" anyway. Cantu spoke with Jim Trotter for an article in the latest
Sports Illustrated
and conceded the possibility of instituting "preemptive measures to keep concussed players out of the NFL" (Trotter's words) "definitely could be something in the future" (Cantu's). The doctor also said, however, that "the concrete data isn't there right now" to warrant doing such a thing. But it's at least, apparently, something that's being considered.
"What's going to help in the future is we'll not only be able to look at [a player's] history of concussions, but we'll be able to see structural changes on imaging studies that aren't available now," Cantu said. "Or there will be bio markets in the blood or spinal fluid that will allow us to identify individuals who have already had brain injuries that we can't detect right now. These things will greatly aid making those judgment calls."
The current NFL process of eliminating players from consideration for playing is simply merit-based: Owusu is an example of how health can be a big factor in determining value for college players jumping to the pro game. (Ask
Washington
running back Chris Polk about this too.) One team's general manager told Trotter that Owusu is "off our board" because of his concussion issues and that "it wouldn't matter if he was RG3, he'd still be off our board."
The possibility of the league stepping in and preventing someone from attempting to play professional football because of health reasons would likely raise some legal issues, but the NFL's already put an artificial age barrier in place for potential prospects, so doing the same for health reasons, based on the premise of increasing player safety and limiting liability, is certainly a possibility on the future.
My colleague
Pete Prisco wrote about Owusu at the combine
and pointed out that, even with Owusu's injury history, it's tough to tell a kid to quit chasing his dream. But the NFL, always a reality-check-filled business, will apparently consider doing that at some point in the future.
Here's an up-to-date look at the 2018 Pro Bowl roster

New England is 3-0 wearing white in Super Bowls under Bill Belichick

Bettors are favoring the Eagles to keep Super Bowl LII close, but the Patriots remain clear...
No one wants to give the Eagles any respect

The three-time Grammy winner will sing before Super Bowl LII on Feb. 4

Here's a look at the NFL's entire postseason schedule for 2018