NFL likely won't change despite loss of 12.5 percent of owners
Although four of the NFL's owners have died in the past eight months, the league continues on unabated.
• 3 min read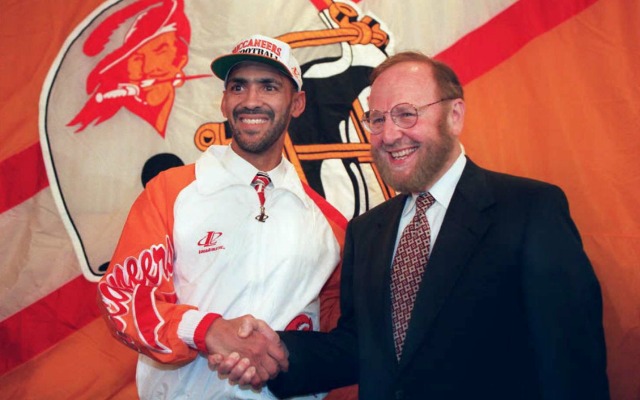 In the past eight months, 12.5 percent of the NFL's owners have died.
First, there was Tennessee's Bud Adams in October. Then, it was Detroit's William Ford in March, Buffalo's Ralph Wilson later that month and Tampa Bay's Malcolm Glazer earlier this month. Each man, in his own way, had been influential in NFL history, and the loss of each elicited sadness and remembrances throughout the league.
These men were old (Adams was 90, Ford was 88, Wilson was 95 and Glazer was 85), but they also were four big reasons why the NFL is the biggest, most popular sport in this country.
So, what happens now? When 1/8 of the ownership is lost in such a short amount of time, does that affect the league moving forward? We know the Bills organization will be sold, and though there are succession plans in place at the other three locations, it wouldn't be such a big surprise to see the Titans franchise changes hands as well.
Basically, with the death of those four owners, does anything change in regards to the way the NFL does business? According to Daniel Kaplan, who covers the league and its owners for Sports Business Journal, the answer is no.
"It's not as if things are going to change dramatically," he said. "There won't be any change, other than with the Bills."
Buffalo will be sold, and among those who are said to be interested are Jon Bon Jovi and Donald Trump. The league says it wants to keep the franchise in the Buffalo-area, but whomever buys it will take over an organization that had been in the Wilson family since it began play in 1960. For the other three, those teams likely will remain in their respective family ownership groups. And that's the way the league wants it.
"The league is concerned with the value of the teams rising," Kaplan said. "It's harder to keep these teams in families, and they like to have the teams stay in family. It's consistency, the knowledge of how things operate. [Giants owner] John Mara, he grew up in the league. [Steelers owner] Art Rooney grew up in the league. It's a lot easier to step in and know every nuance. They are a lot less likely to rock the boat. [Redskins owner] Dan Snyder comes in, and he rocks the boat."
But wouldn't the league be ready for a slightly-different direction, especially as newer owners like Atlanta's Arthur Blank, Jacksonville's Shad Khan and Cleveland's Jimmy Haslam (assuming he keeps his team) seemingly look to make more of an impression on the league. They could bring fresh ideas, have a more-progressive mindset.
Even if that were the case, that probably won't happen.
The league, first of all, is about assimilation. There are no Mark Cuban's among these owners. Secondly, in order for anything to get done, it would need the approval of 75 percent of the owners to make it happen anyway. If there was an owner who potentially would want to take the league in a new direction, it wouldn't take many current owners to stop that from happening. Basically, they would simply vote not to let that potential owner buy the team.
"You need 24 votes to pass resolutions -- nine votes to block," Kaplan said. "The owners all but select the owners that are coming in ..."
"These leagues are collective bodies. For owners like Arthur Blank, they've built and run massive companies. But they come into the NFL, and they're no longer the boss. No one is going to buy a team and suddenly move it in a different direction."
Adams, Ford, Wilson and Glazer made large impacts in their communities and in the historical context of the league as a whole. Adams was instrumental in making the AFL a reality, and Wilson was part of the original group of owners in that upstart league. Glazer was huge in hiring a number of African-American coaches, including Tony Dungy, while Ford had been in charge of his franchise since 1963 and was well known for his loyalty.
The collective loss of that kind of history is sad for the league and for those franchise's fans.
But like life, the NFL will move forward in their absence. And probably not change much of anything in the process.
Here are 10 things to watch in Week 15, including a hot Bortles, a cold Brady and a new Eagles...

A couple of potential playoff teams have trouble covering against cellar dwellers in Week...

Siemian said he knew the injury was serious as soon as it happened
After an injury to Trevor Siemian, Brock Osweiler entered the game and helped the Broncos to...

The 32-year-old running back is done for the year

Brandon Williams was involved in a scary situation in the first half against Denver