NFL rules Jimmy Graham's tagged as TE; Saints star likely to appeal
The NFL has spoken and according to the league, Jimmy Graham is a tight end.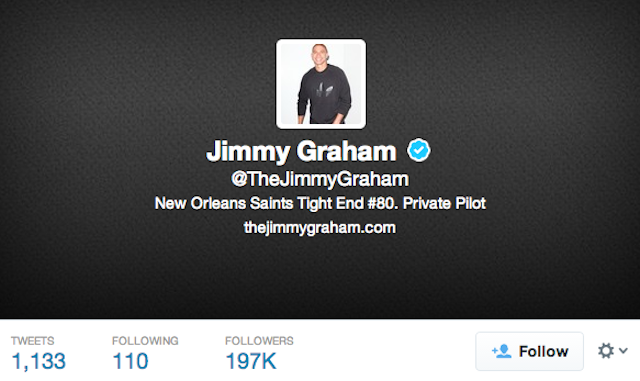 More NFL offseason: NFL Mock Drafts | Prospect Rankings | Top free agents
Jimmy Graham is officially a tight end, at least according to the NFL. The league announced on Monday that Graham will be classified as a tight end -- and not a wide receiver -- for the purposes of the franchise tag.
That's a big financial difference for Graham, who was hoping to be tagged as a reciever. Under the 2014 salary cap, a tight end hit with the franchise tag will make $7.035 million while a receiver will earn $12.312 milllion. That's a $5.277 million difference, a difference that will likely lead to a showdown. 
Graham is expected to file a grievance. If that happens a neutral arbitrator would have to decide which position Graham plays. If Graham wins the grievance, he could be making $12.31 million in 2014, unless he reaches a long-term deal with the Saints. 
If Graham loses the grievance, he could refuse to sign the franchise tender and sit out the 2014 season. It's unlikely that happens, but not impossible. Any player who's tagged has until Nov. 11 to sign their tender. Tagged players also have until July 15 to try and work out a long-term contract, which is probably the best case scenario for both the Saints and Graham. 
Since Graham had the non-exclusive tag placed on him, other teams are free to negotiate with him. If Graham were to sign with another team, the Saints would first have the right to match the offer. Then if New Orleans chooses not to match it, the other team would owe the Saints two first-round picks as compensation. 
It might not be clear if Graham is a receiver or a tight end, but one thing is clear: he's valuable. The 27-year-old led the NFL in touchdown catches in 2013 with 16. Graham has also led the Saints in receptions in each of the past three seasons. 
Dak Prescott was efficient and explosive and DeMarcus Lawrence was dominant in the Cowboys...

The Dallas receiver threw up the X after his score, and he certainly deserved it

The singer sent a message with a verse of scripture on Monday night
The Cowboys owner joined in a demonstration with the Cowboys players before Monday night's...

Look for Ezekiel Elliott and Dak Prescott to rebound after a rough outing in Denver

Quarterback Russell Wilson was one of the chief proponents for the Seahawks staying in the...