Panthers offense too cute early in 2012, resulted in inconsistency, losses
The Panthers offense was supposed to dominate this year, but through three games it's been too inconsistent and too cute for it's own good in a pair of them, and the result has been a pair of losses.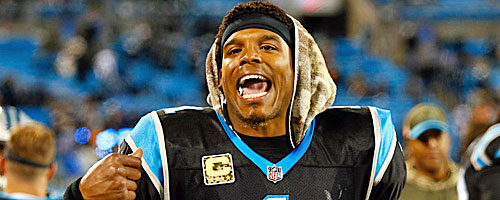 Cam Newton and the Panthers struggle to move the ball all night.
(Getty Images)
Many expected the Panthers to take a step forward and compete for the playoffs and an NFC South title this season. But it won't happen until they develop some consistency on both sides of the ball.
Against the Saints in Week 2, Carolina scored 35 points and looked like an offensive juggernaut. Against the Buccaneers and the Giants, combined, Rod Chudzinski's unit tallied a total of 17. The blame lies in different places: injuries (Jonathan Stewart missed Weeks 1 and 3), execution (sup, Joe Adams?) and playcalling. Chud got too cute early against the Giants and he was downright adorable against the Buccaneers. Versus the Saints? It was Carolina's read-option attack that dominated an overmatched defense and it was reminiscent of 2011.
On Thursday, the only thing that reminded of 2011 was the defense, which got shredded by a crew of Giant next-men-ups. Andre Brown (113 rush yards, two touchdowns) and Ramses  Barden (nine catches, 138 yards) shredded Carolina's defense for awkwardly big numbers in replacement duty. The Giants punted twice all night and repeatedly found open space in Carolina's defense.
The lesson there is that the defense, once again, isn't going to do anything to help the offense. Neither is the special teams: Joe Adams, who's probably not long for returning kicks, fumbled the kickoff to start the second half, and then fumbled a fourth-quarter punt that would've been a touchdown but for NFL rules on advanced muffs. Sound familiar? It should, because it was the big issues that plagued the Panthers last year.
Except in 2011, Carolina's offense was clicking. It looked good on a 13-play, 80-yard drive on the first post-fumble possession of the second half and resulted in Cam Newton diving over the goal line for a touchdown. But other than that, the offense was entirely uninspiring.
"We got beat by a better football team," Panthers coach Ron Rivera said. "We got outcoached and outplayed."
Once Hakeem Nicks was ruled out, the Panthers looked like the obvious pick. But Rivera was right: Carolina didn't come to play and the Giants did. He also added that the Panthers self-destructed in several areas. Those could probably be called special teams, defense and offense.
Chudzinski's a brilliant play-caller and one of the next great offensive minds in the game. He's creative and he helped Newton make the splash he did last year. But two games into 2012, he's clearly gotten a little too creative and it's cost the Panthers. The read option should be a staple of Carolina's offense and it should be used to draw in the defensive backfield of opponents to take shots (Carolina did this against the Saints, when Newton averaged a whopping 12-plus yards per passing attempt).
It was obvious that the cuisine was getting a little too fancy when Carolina opened up with Newton split out at wide receiver and DeAngelo Williams taking the opening snap in a wildcat formation. Why? That would've made sense when Jimmy Clausen was under center, but having Cam back there is what makes the Panthers offense dangerous. There's no need for a statement like that, especially when it doesn't work.
Any chatter about a sophomore slump from Newton is pure idiocy. But if Carolina's offense continues to get try and get too exotic, that will be the perception, and the result will be the Panthers taking a step back as well.
For more NFL news, rumors and analysis, follow @EyeOnNFL on Twitter, subscribe to our RSS Feed watch Pro Football 360 daily at 3 p.m. ET and NFL newsletter. You can follow Will Brinson on Twitter here: @willbrinson.
Ken Norton Jr. didn't even last a week in San Francisco

One bettor in Vegas is going to make some serious money if the Jaguars win it all

The Jaguars, Vikings and Eagles have combined to win exactly zero Super Bowls ever
The Steelers wilted under the pressure of the postseason

The Bears fan is now officially linked up with the Packers quarterback

The Cardinals have the future in mind at quarterback with the dynamic Louisville quarterback...