Rams don't need to jump at trade to replace unlucky Sam Bradford
Sam Bradford can't stay healthy, but the Rams don't have to trade for another team's backup. They can ride it out and draft a healthier QB in April.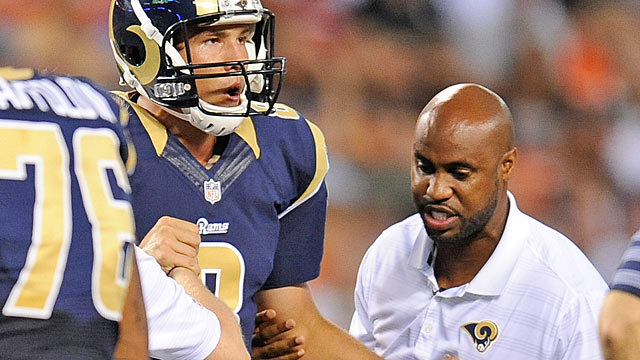 Back in May, when I was sitting in the office of St. Louis Rams general manager Les Snead, our conversation turned to quarterback Sam Bradford, who had been linked to potential trade rumors.
"We aren't trading Sam," Snead said at the time. "He played good football for us before getting hurt last year. All he has to do is stay on the field, and he will be a good quarterback."
That's the problem. He can't stay on the field -- and he won't be on it this season.
Bradford tore the ACL in his left knee Saturday night against the Cleveland Browns, and is lost for the season, turning what looked to be a bright season for the Rams into turmoil. The knee is the same one Bradford tore up last year, which forced him to miss nine games.
It also means the Shaun Hill era in St. Louis begins. Hill has thrown a total of 16 passes the past three seasons as a backup in Detroit.
"There's not a throw he can't make, and he sees well, has great anticipation," Fisher said of Hill. "We're going to cut him loose."
Cue the negative chorus about Bradford: Brittle Bradford. It's not fair to him if you do. Knee injuries happen, and it's just a fluke that it happened again. Fisher said Sunday that it was a "one in one-hundred" chance injury.
I was one of the few who thought Bradford could have a big season in 2014. He finally had a line worth a damn in front of him, plus had weapons around him. That's a curse that has plagued him his entire four seasons with the Rams, ever since being the No. 1 overall pick in 2010. Fisher said Sunday this was the best group on offense that he's had in his three seasons with the Rams.
Bradford threw 14 touchdown passes and four picks last season. Before going down in Week 7, he had seven touchdown passes and no interceptions in his final three games. There was progress. That's why Snead was so excited.
So now what?
As the news of Bradford's injury spread Sunday, the talk of acquiring a quarterback reached a frenzied state. The only name I didn't see was Kurt Warner.
Warner could be the reason why they won't make a deal.
In 1999, the Rams lost starting quarterback Trent Green in the preseason to a knee injury. At the time, a little-known backup named Kurt Warner took over as the starter. Some said the season was done.
All Warner did was lead the Rams to the Super Bowl, win it, and become arguably a Hall of Fame passer.
That's not to say Hill, who takes over as the starter, can do that, or come close in the rough-and-tumble NFC West, but he gives them as good an option as there is out there.
Think about the names being mentioned a potential targets. Mark Sanchez. Ryan Mallett. Kirk Cousins. Tim Tebow.
Are you serious?
It's amazing to me to see how people perceive backup quarterbacks. It's like beer goggles at closing time. You see what you want to see, when reality is far different.
There's a reason they are backups, with few exceptions, including Warner and Tom Brady.
Sanchez had early success with the Jets, and he knows the offense after playing for current Rams coordinator Brian Schottenheimer. He's also been a flop the past couple of seasons, and his confidence appeared shot. Now that he's done some good things with the Eagles this summer, he's hot again? Is he any better than Hill?
It's the same for Mallett, the backup in New England, and Cousins, the backup in Washington. I know there's a call for Cousins to start over Robert Griffin III for the Redskins, but he was ordinary in his three starts last season, and that's being nice.
The last time Hill started a game was with the Lions in 2010. He went 3-7, threw 16 touchdown passes and 12 interceptions. He did complete 61.8 percent of his passes. Sanchez has never come close to that number, Cousins was at 52.3 percent after making his three starts last season and Mallett is 1 for 4 passing in his career.
Don't dare mention that left-handed fullback, either.
So the Rams should just stick with what they have in Hill, and hope like hell that the good defense, a better offensive line and skill players can help them be competitive. The Rams weren't getting to the playoffs with Bradford anyway.
Fisher said the team has made no contact with any other team about a potential trade -- yet.
"I've heard that's there's been speculation that we've been on the phone," Fisher said. "That's not true. It doesn't mean to say we won't. We haven't done it at this point. We'll get together as an organization and see. It makes no sense to jump and react and try and fill the hole at whatever costs."
Fisher is a run-first coach, who thinks that can still win in the NFL. He mentioned that Sunday, but it will take more than that in the tough NFC West.
Even so, it makes no sense to trade draft picks for any of the backups outsiders have linked to them. Sanchez, Mallett and Cousins could possibly get the Rams to .500 (Tebow would have no shot). That's about the best they can expect from Hill.
So play it out this season. Then draft a quarterback next year.
And pray, unlike Bradford, that guy can stay on the field.
---
One of the biggest penalties in Thursday's game was a controversial flag that went against...

If Ezekiel Elliott gets suspended, it likely won't come until Week 5 at the earliest

The NFL is apparently concerned that the Chargers might not be viable in Los Angeles
Everything you need to know for Week 3 of the 2017 NFL season is here

You can find every official injury designation for each NFL team shortly after its Friday report...

The Bengals are the only NFL team Aaron Rodgers has played against without earning a win