Redskins, WR DeSean Jackson agree to terms on three-year, $24M deal
DeSean Jackson will get to face the Eagles two times next season after agreeing to terms with the Redskins on Tuesday night.
More NFL offseason: Mock Drafts | Prospect Rankings | Pro days | Top free agents
The DeSean Jackson free agency tour ended up being a short one. After only one visit with one team, Jackson has decided where he's playing next season. The former Eagles receiver agreed to terms on a deal with the Redskins.
ITS GOIN DOWN !! BURGUNDY & GOLD http://t.co/tPN4g6AbeS

— Desean Jackson (@DeseanJackson10) April 2, 2014
According to ESPN.com, Jackson's deal with the team is for three years and is worth up to $24 million. Jackson will make $8 million in 2014 and a total of $16 million in guaranteed money.   
Jackson flew into Washington on Monday and had dinner with Redskins general manager Bruce Allen. After eating, Jackson spent the rest of Monday night hanging out with DeAngelo Hall and Pierre Garcon. All of the courting worked because by Tuesday night, Jackson decided he was going to stick around. 
After the deal was agreed to, Hall was one of the first Redskins to welcome Jackson to Washington. 
@DeseanJackson10 congrats lil bro welcome to Redskins Nation. @RGIII @PierreGarcon @DeAngeloHall23 @Wale @John_Wall huge making it happen!!!

— DeAngelo Hall (@DeAngeloHall23) April 2, 2014
By signing with the Redskins, Jackson will now get to face his old team twice a year. The Eagles released the 27-year-old on Friday in a move that wasn't shocking, but it was surprising, given the unexpected timing.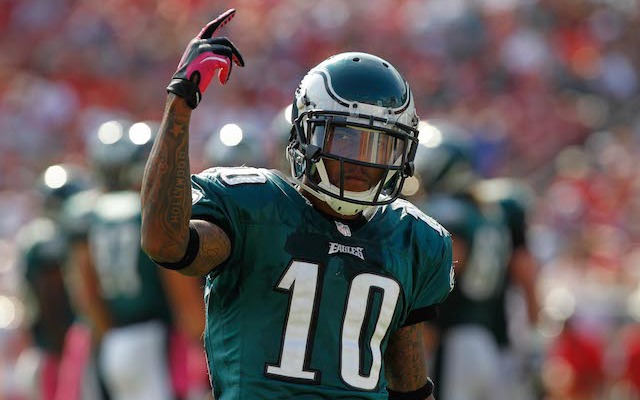 Philadelphia still hasn't commented on Jackson's release, so it's not completely clear yet why the Eagles dumped him. However in the hours before he was cut on Friday, NJ.com reported that the Eagles were 'concerned with his "continued association with reputed Los Angeles street gang members who have been connected to two homicides since 2010."
Of course, there's also a few other reasons Jackson could have been cut. Chip Kelly may not have liked Jackson's locker room demeanor and it's highly probable that money played a factor -- Jackson was owed over $10 million in 2014. 
As recently as March 25, Jackson had spoken with Kelly and came away with the impression that he was going to be staying in Philadelphia. 
Instead, Jackson will join the Redskins coming off of the best season of his six-year career. The former second-round pick caught 82 passes for 1,332 yards and nine touchdowns in 2013. All three numbers were career-highs for Jackson.  
Jackson will join a receiving corps that already includes Garcon, who led the NFL last season with 113 receptions. Joining Garcon and Jackson on what should be a potent Redskins offense are quarterback Robert Griffin III and Alfred Morris, the NFL's fourth-leading rusher from 2013. 
The task of making the Redskins offense work will fall on the shoulders of first-year offensive coordinator Sean McVay. McVay will also get plenty of help from new Redskins coach Jay Gruden, who served as the Bengals offensive coordinator for three years before being hired by Washington in January.  
Here's every official injury designation for each NFL team for Week 11

The Chargers can't seem to avoid controversy this year

The Blaine Gabbert era is upon us in Arizona
Larry Hartstein has the pulse of Bill Belichick's team and just picked Patriots-Raiders in...

Vontaze Burfict is not happy with the officiating situation in the NFL right now

The factory of sadness might end up holding the most depressing parade in football history