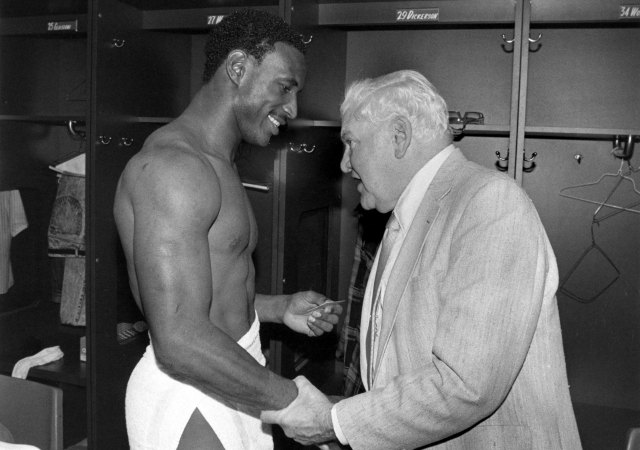 In the history of the NFL, only a handful of trades have involved 10 players or more, and with at least a couple of them, they've ultimately failed.
There was the Herschel Walker deal in 1989 that involved 18 players and sent him from the Cowboys to the Vikings where he played 2 1/2 more seasons and never averaged more than 4.2 yards per carry. There was the 10-player deal in 1959 that then-L.A. Rams GM Pete Rozelle (yes, that one) set up to take Ollie Mattson from the Chicago Cardinals -- which then sunk L.A. to a 2-10 record that season and got coach Sid Gillman fired.
And then there was the Eric Dickerson trade to Indianapolis from the Rams that sent 10 players to L.A. and netted the Colts a running back who had two more really good seasons left in his body before it led to doom for the franchise that had wanted him so badly.
The traded was consummated on the day of Halloween in 1987, and you could see why the Colts needed to kick-start their franchise. They didn't have a winning season from 1978-1986, and during that time, their combined record was a nasty 38-98-1. After moving from Baltimore to Indianapolis in 1984, the Colts had failed to win more than five games in any one 16-game season.
So, the Colts needed something. They needed the best running back in the game. At the time, the Colts were 3-3 and still a contender in the AFC East, and the then-28-year-old Jim Irsay, the general manager, made the deal.
And it wasn't easy to follow. Luckily, Sports Illustrated broke it down:
Three teams were in on the Dickerson deal, which involved a damnably confusing realignment of talent, the repercussions of which are sure to affect the league for years and years, or at least until Mark Gastineau's next sack. The mastermind behind the blockbuster was Jim Irsay, the 28-year-old general manager of the Colts, who also happens to be the son of owner Robert Irsay. Follow this: Indianapolis traded the rights to rookie linebacker Cornelius Bennett, a No. 1 draft choice out of Alabama whom it had not been able to sign, to Buffalo for running back Greg Bell and the Bills' first-round draft picks in 1988 and '89 and their second-round pick in '89. The Colts then sent all they'd received from Buffalo, along with their own first-round draft pick in '88, their second-round choices in '88 and '89 and running back Owen Gill, to the Los Angeles Rams, who in turn packed Dickerson off to Indianapolis. ...

The seeds for the Dickerson deal had been germinating since last summer, when Dickerson began sulking in earnest about the money he wasn't making. The Rams weren't willing to pay Dickerson, the world's best running back -- just ask him -- what he calls "quarterback money." The Colts were, but they were having a deuce of a time signing Bennett, who was demanding Bosworth money. (Buffalo signed Bennett to a five-year contract worth a reported $4 million; in August, Brian Bosworth reportedly signed a deal with the Seattle Seahawks that pays him $11 million over 10 years.) The Nov. 3 trade deadline loomed.
Dickerson was making $682,000 that season in L.A., and he believed himself to be underpaid. The Rams had offered him a deal worth $975,000, but Dickerson thought he was worth even more. And who can blame him? He had set a rookie record with 1,808 rushing yards while scoring 18 touchdowns in 1983, and he was even better the next season, gaining 2,104 yards and 14 touchdowns. He actually led the league in rushing in three of his first four seasons in the NFL.
Already, Dickerson had held out of the first two games in 1985, because of money issues. And it was getting nasty with the Rams, via the Palm Beach Post.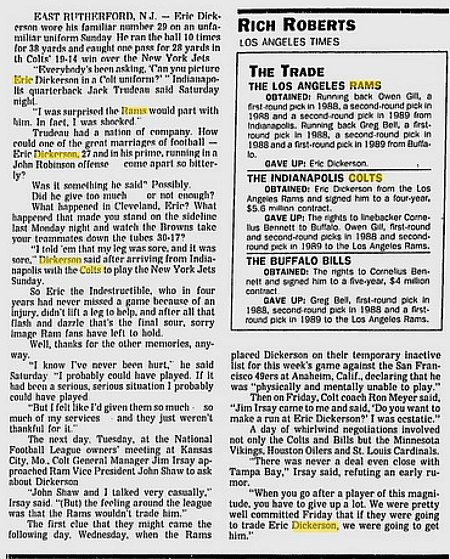 But on Oct. 31, with Dickerson dressed as a Native American to go to a Halloween party -- "I had a great big headdress, feathers, everything," he told SI -- Dickerson got a call from the Colts to welcome him to the team. He caught a red-eye flight to his new job, one that would pay him $5.6 million for the next four years.
And promptly, he got hot again, gaining 1,011 yards in the final nine games of the season while leading the Colts to a 9-6 record and the team's first playoff appearance since 1977. That would be the only postseason appearance for Dickerson in a Colts uniform.
Two years after the trade, the L.A. Times tried to figure out who got the best of the swap:
"So far, this much is known: Each of the three teams, all struggling before the trade, has made the playoffs since, although Dickerson's Colts were edged out last season. The consensus among analysts and league personnel experts interviewed is that all three teams improved themselves by the trade, although the Rams might be the long-term winner. Bennett gives the Bills a menacing presence on defense for years to come; Dickerson remains the best back in football; the Rams have re-stocked their team with top personnel."
It was clear that Rams fans weren't happy with Dickerson, because when the Colts played in L.A. in 1989, Dickerson's former supporters showered him with fake money (via Reddit).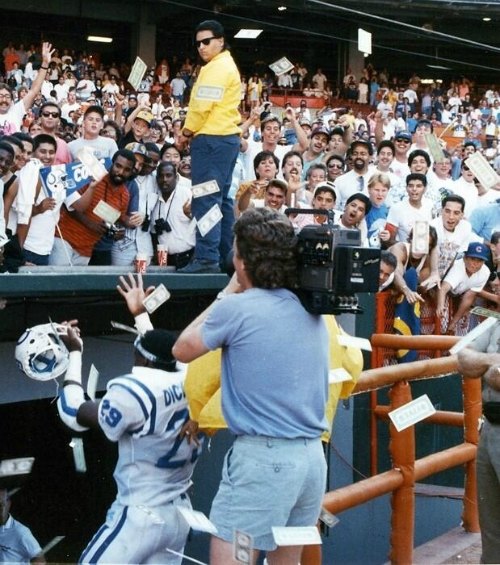 But here was the devastating part for Indianapolis. After Dickerson led the league in rushing again in 1988 with 1,659 yards while helping Indianapolis to a 9-7 season (without a postseason appearance), he played only a combined 21 games in 1990 and 1991 and gained a combined 1,213 yards. Even worse than that, the Colts went 1-15 in 1991. That's when Dickerson was looking to get out of town.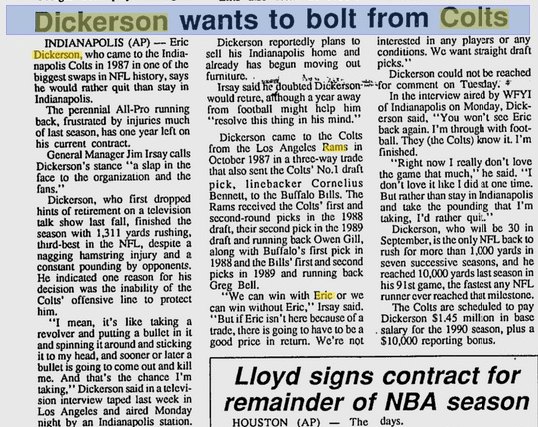 Dickerson didn't end up retiring. He was traded from the Colts to the Raiders for fourth- and eighth-round draft picks, and he'd only play 20 more games in his career.
Earlier this month, though, the Colts honored their old running back by announcing they would enter his name into the franchise's Ring of Honor.
"For me, it means a lot," Dickerson told the team website. "I played in Indianapolis for four years.  We had some good teams there, some really good teams, some great guys.  This is an honor for me, really it is. ... For any player, especially for me, when you play for a team, you hope you do something that is pivotal for that team so that one day they will honor you for your playing career."
But as history has shown, making a gargantuan trade to land a talented running back doesn't always work out in that team's favor in the long term -- just ask Mike Ditka, Ricky Williams and the Saints. Which might be why we haven't seen a trade involving so many players since Herschel Walker in 1989. And might never again.
Follow Josh Katzowitz on Google+