Remember When: Snow game in 1932 helped decide NFL title
The Packers and Bears game of 1932 featured plenty of snow. And plenty of awesome snow photos.
• 2 min read
Last week featured some awesome snow games, the likes of which we rarely get to see. Like, for instance, when it's hard to find the field  or when players have to trudge through multiple inches of snow to get where they need to be on the turf.
Of course, snow days have always been fun, particularly when you can't really see what anybody is doing but you know that a bunch of burly men in leather head coverings are involved in a giant scrum that might (or might not) involve a pigskin of some sort. As seen in the photo below.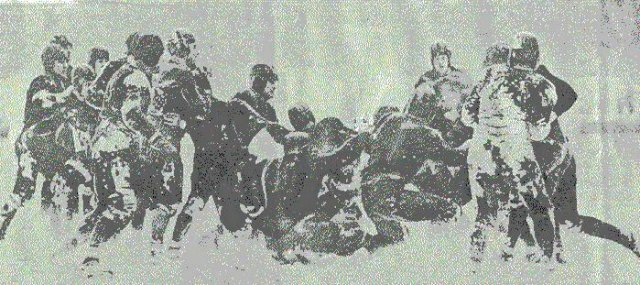 As presidential historian Michael Beschloss -- whose Twitter feed you most certainly should be following -- notes, this game took place in 1932 between the Packers and Bears at Wrigley Field. Reportedly, the field was covered by four inches of snow at the time.
It was an important game for both squads.
The way NFL titles were decided in those days was that whichever squad had the best winning percentage, well, that team was the league champ. No postseason, no title game, no nothing. Heading into the game, the Bears were 5-1-6 (yes, that's six freakin' ties in one season) while the Packers, the reigning league champs, were 10-2-1. The week before, Green Bay had lost to the Portsmouth (Ohio) Spartans, who were 6-1-4 on the season.
As such, the Spartans likely were rooting for the Packers to beat the Bears so that Portsmouth would be crowned NFL champs.
But it was not to be. According to Packers History, it was an even contest through three quarters in what one report termed "impossible conditions" on the field. As the Milwaukee Journal explained, "The boys, most of whom wore gloves, came out of each scrimmage looking like snow men."
But then, Chicago fullback Bronko Nagurski took over the game, recovering a second-half fumble that led to a field goal and then breaking off a 56-yard touchdown run to defeat the Packers, 9-0.
This Packers fumble deep in Bears territory, courtesy of the Journal, didn't help matters.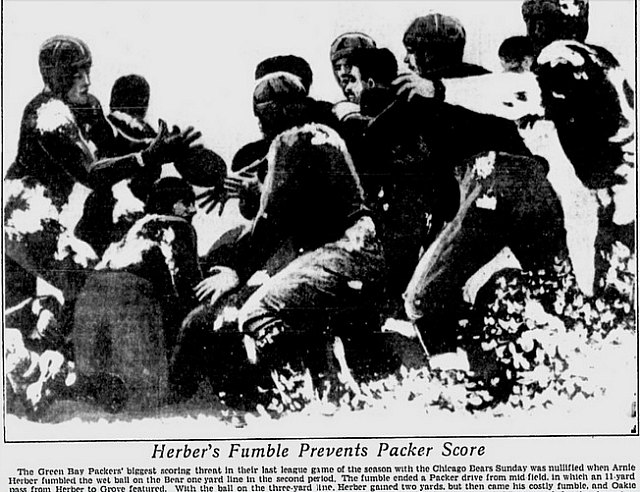 Here was how the disappointed Portsmouth Sunday Times saw the matter (hint: the writer wasn't impressed with the Packers).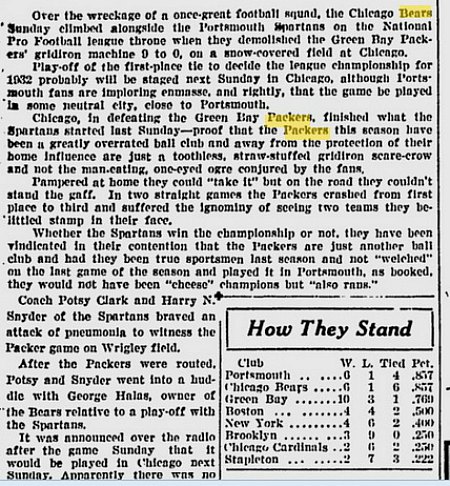 Turns out the Bears and the Portsmouth Spartans (precursor to the Detroit Lions) had to play each other in the first playoff game in NFL history that next week to determine the league champ. And yes, weather was a factor in that game as well. In fact, conditions were so bad that the game was played inside Chicago Stadium on a field that was only 80 yards long. Chicago won this one, 9-0, as well.
So, for all those who hate the idea of two teams playing Super Bowl XLVIII in the ice and snow -- and yes, I think logistically it would be a nightmare -- there's at least one positive to take out of it. At least the game, no matter what, won't be played on an 80-yard field at Madison Square Garden.
Follow Josh Katzowitz on Google+
The Ravens quarterback won't be on the field when the team begins training camp

The Chargers might have just found a new backup quarterback

One NFL owner says he'd have 'no hesitation' signing Colin Kaepernick
The Cowboys receiver made a young boy's birthday wish come true

The new Packers tight end had to find a place to sleep after being locked out of his camp...

Lucky Whitehead says he had an awkward face-to-face meeting with Jason Garrett