Report: Browns WR Josh Gordon could face year-long suspension
According to an ESPN report, Browns receiver Josh Gordon could face a year-long suspension for another failed drug test.
• 2 min read
Draft coverage: Draft picks and grades | Prospect Rankings | Mock drafts | News
Eleven months ago, Browns receiver Josh Gordon was suspended for two games and fined for two more contests for violating the league's substance abuse policy. He's reportedly in even bigger trouble now.
ESPN's T.J. Quinn and Don Van Natta report that Gordon could now be facing a year-long suspension after failing a drug test for marijuana months ago.
"That's something you're going to have to talk to [agent] Drew Rosenhaus about. I really don't know anything about it," Gordon told ESPN. "I'm going to have to find out about [a possible appeal] later. You need to call Drew."
Then, Gordon hung up the phone. Rosenhaus told ESPN that the story wasn't true. According to Cleveland.com and ESPN, the Browns have known about the failed test for two weeks. 
Source tells http://t.co/2S6wzTZ9Xo the #browns have known about Gordon's positive test for 2 weeks.

— Mary Kay Cabot (@MaryKayCabot) May 9, 2014
Browns upper echelon made their first-round decisions with knowledge of Josh Gordon's pending status, is under appeal, per sources

— Chris Mortensen (@mortreport) May 9, 2014
But it gets even more bizarre. Browns coaches, per NFL policy, were told of the news just today.
Sources: Browns coaching staff not aware until @OTLonESPN report about 90 minutes ago. That's policy. Gordon gets due process with appeal.

— Chris Mortensen (@mortreport) May 9, 2014
If true, this would be a major blow for the Browns. They had a headline-making night Thursday in the first round of the 2014 NFL Draft after they grabbed cornerback Justin Gilbert and potential franchise quarterback Johnny Manziel in the first 22 picks.
After he returned from his suspension last season Gordon was outstanding, catching 87 passes for a league-high 1,646 yards and nine touchdowns. Here's what now could happen: 
It's not a year-long suspension for #Browns Gordon: he would be kicked out of the league. Could re-apply after one year.

— Mary Kay Cabot (@MaryKayCabot) May 9, 2014
Here's what Gordon had to say about his first failed test last year.
"In February, I was diagnosed with strep throat for which a doctor prescribed antibiotics and cough medicine," Gordon said last June. "Apparently, the medicine I took contained codeine, which is prohibited by the NFL policy. The policy terms are strict about unintentional ingestion, but the NFL has not imposed the maximum punishment in light of the facts of my case. Therefore, I have chosen to be immediately accountable for the situation."
In NFLDraftScout.com's Dane Brugler second-round mock draft, the Browns are projecting to take Indiana receiver Cody Latimer. Rob Rang, thinks the same, writing, "With Josh Gordon one failed test away from a year-long suspension and Greg Little as likely to drop a ball as catch it, the Browns can't afford to let big, talented receivers slip by."
Earlier this year, the Browns parted ways with wide receiver Davone Bess. 
For an interesting read from 2012 on Gordon, check out Mary Kay Cabot's story where the star receiver talks about his run-ins at Baylor. 
Upon hearing of the report, Cardinals defensive back Tyrann Mathieu offered his support. 
I understand how Josh Gordon feels about now. I felt this way also, all I can say is look in the mirror & find yourself. Be Great.!

— Tyrann Mathieu (@Mathieu_Era) May 9, 2014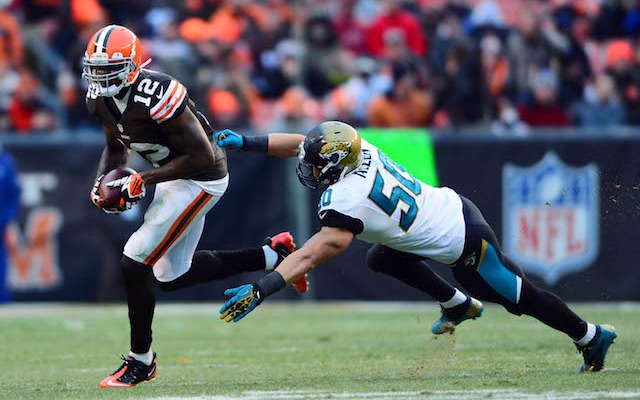 The quarterback also says he's open to exploring politics and a law degree after football

It's time to hook up that jersey shirt of your favorite NFL player with some Black Friday...

Big Ben may not have eye-popping stats but critics are wrong to say he doesn't care
Pugh is staring down a second contract and has learned some important lessons

After tossing five picks in his NFL debut, Nathan Peterman is heading back to the bench

Micah Roberts has the pulse of Bill O'Brien's team and just made a strong play for 'Monday...