Texans WR Jaelen Strong arrested on marijuana possession charge
Strong was riding in a car with Packers cornerback Damarious Randall when he was arrested.
Houston Texans wide receiver Jaelen Strong was arrested and booked on a charge of possession of marijuana just before midnight Sunday, according to the Scottsdale (Arizona) Police Department.
Per a release from the department obtained by ESPN's Rob Demovsky, Strong was riding in a car driven by former Arizona State teammate and current Green Bay Packers cornerback Damarious Randall at the time of his arrest. Strong was released from jail pending charges from the Maricopa County Superior Court, while Randall and the third occupant of the car were released at the scene.
From the Scottsdale police: pic.twitter.com/VdGxYUDqxr

— Rob Demovsky (@RobDemovsky) February 29, 2016
Demovsky also obtained a copy of Strong's mug shot, which can be seen below:
Also here's Jaelen Strong's mugshot from the Scottsdale police: pic.twitter.com/iaNTy048FL

— Rob Demovsky (@RobDemovsky) February 29, 2016
If we take the similar arrest of Le'Veon Bell and LeGarrette Blount as a precedent, one would expect Strong and/or Randall to face discipline from the league, possibly a suspension. (It is, of course, possible that the league does not consider that incident to be analogous to this one and takes some other form of action against Strong and/or Randall, or takes no action at all.)
In August 2014, Bell and Blount were stopped in a car that smelled of marijuana. Bell was arrested and eventually booked on a possession charge, while Blount was allowed to leave from the scene. Bell was then suspended three games (reduced to two games on appeal) while Blount was suspended for one.
As of this writing, neither the Texans nor Packers has commented on the incident.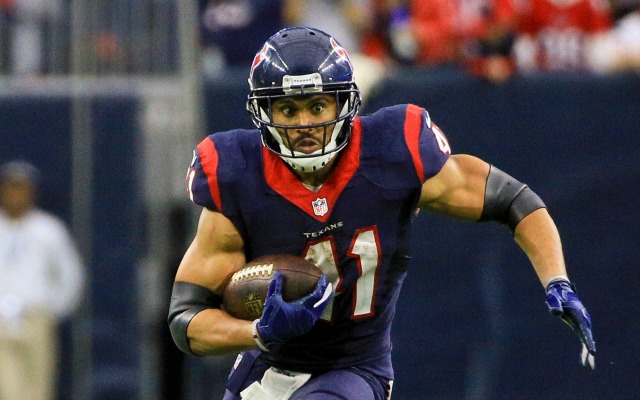 McCown will help the coaching staff work with Bryce Petty and Christian Hackenberg

The Browns have a long way to go to be AFC North champs

Five selections against the spread for the upcoming Week 15 slate of NFL games
Here are 10 things to watch in Week 15, including a hot Bortles, a cold Brady and a new Eagles...

A couple of potential playoff teams have trouble covering against cellar dwellers in Week...

Siemian said he knew the injury was serious as soon as it happened