Back in May the NFL writers and editors at CBSSports.com gathered together to discuss the key figures and moments of every NFL franchise in the Super Bowl era. Before long we were discussing every team's best and worst moments, along with their most-hated players and coaches, as well as some of the more bizarre things each team has been involved in. That spirited discussion produced this series -- the Good, Bad, Ugly and, sometimes, Bizarre moments for every team. We continue with the Philadelphia Eagles.
The Good
Andy Reid's tenure as coach
Despite not winning an NFL championship since 1960 and never winning a Lombardi Trophy, the Eagles are largely considered one of the modern NFL's blue-chip franchises. Credit Reid, who recorded eight of the Eagles' 18 seasons with double-digit wins since the merger.
Reid might be well known for his Hawaiian shirts at the owners meetings and his Kool-Aid man-esque locker-room dancing: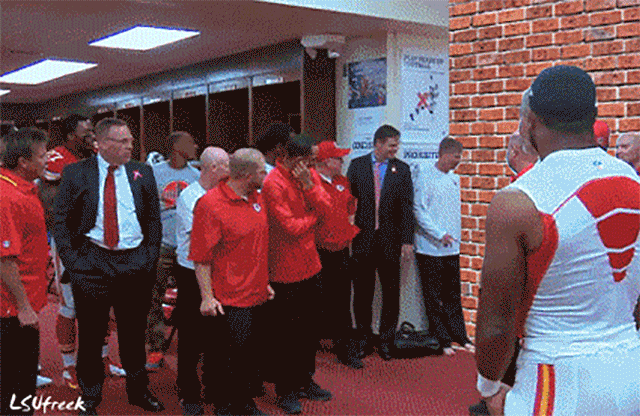 But before he left Philly after a couple bad seasons (12-20 in 2011 and 2012, including a disastrous 4-12 season in his final year), he was one of the most stable and longest-tenured coaches in the NFL.
Reid took over the Eagles in 1999, a year after Ray Rhodes led them to a 3-13 record and an intolerable -183 point differential. A disciple of Mike Holmgren and the West Coast offense, Reid spent years cultivating quarterbacks, kicking things off by drafting Donovan McNabb with the No. 2 overall pick in the 1999 NFL Draft.
This wasn't necessarily, ahem, a popular choice in Philadelphia at the time.
It proved prescient, however, as McNabb eventually developed into one of the elite starters in the NFL for a decent stretch, going 54-19, making four Pro Bowls and averaging 3,196 yards, 22 touchdowns and 10 interceptions from 2000 through 2004.
McNabb, along with Duce Staley and later Brian Westbrook, was the centerpiece for an offense that ranked in the top 10 for points six times in McNabb's 10 years as a full-time starter in Philadelphia.
In his 14 years with Philly, Reid won the NFC East six times and only finished lower than second four times, including Reid's first season.
Bit of irony: that first year featured a controversial No. 2 overall quarterback on the bench for the first part of the season who later stepped in for a struggling team after a bridge quarterback led the way during the first part of the year. It could very well be the same situation in Philly this season. And that bridge quarterback? Current Eagles coach Doug Pederson.
Anyway, Reid was an excellent coach and an above-average personnel man when it came to evaluating talent. Some notable draft picks during his stretch with Philadelphia include: McNabb (1st round, 2nd overall), Westbrook (3rd, 63rd), Todd Herremans (4th, 126), Trent Cole (5th, 146), Jason Avant (4th, 109th), DeSean Jackson (2nd, 49th), Jeremy Maclin (1st, 19th), LeSean McCoy (2nd, 53rd), Brandon Graham (1st, 13th), Nate Allen (2nd, 37th), Kurt Coleman (7th, 244th), Dion Lewis (5th, 149th), Jason Kelce (6th, 191st), Fletcher Cox (1st, 12th), Mychal Kendricks (2nd, 46th) and, of course, Nick Foles (3rd, 88th).
The Foles thing is only partially a joke: the biggest hallmark of Reid's tenure was an ability to groom quarterbacks and then flip them to unsuspecting trade partners who were willing to overpay.
A brief history:
| | | | | |
| --- | --- | --- | --- | --- |
| QB | Drafted | Traded To | Traded For | Games Started |
| A.J. Feeley | 5th round, 2001 | Dolphins | 2nd round pick (2005) | 8 |
| Donovan McNabb | 1st round, 1999 | Redskins | 2nd round pick + 4th round pick (2010) | 13 |
| Kevin Kolb | 2nd round, 2007 | Cardinals | 2nd round pick (2012) + D. Rodgers-Cromartie | 14 |
| Nick Foles | 3rd round, 2012 | Rams | 2nd round pick (2015), 4th round pick (2016) + Sam Bradford | 11 |
Granted Chip Kelly got a lot out of Foles -- who threw for 27 touchdowns and two interceptions two years prior -- and Reid didn't execute the trade. But when you look at the haul for quarterbacks he drafted over the years it's remarkably impressive. McNabb was the only good guy out of the group and he was in his mid-30s when Reid shipped him to the Redskins.
Also worth noting: Reid is the guy who welcomed Michael Vick back to football after his stint in prison. The magic of the "Dream Team" in 2011 later erased some of the magic from Vick's run, but, man, that 2010 team was fun to watch with Vick playing well and Shady running through people.
It's not all roses for Reid, though. He's also well known for botching clock-management situations, something that hasn't changed at all since he arrived in Kansas City.
Once upon a time he simply explained it by saying "I goofed":
"I'm not here to complain about the officials. I'm not here to complain about anybody else. I goofed."
And, describing the same game, said he was surprised how quickly the clock was moving.
"I wasn't surprised that the clock was moving. I was surprised with how quick it was moving with when it was started with the spot."
Clocks only move one speed, and yet Reid has been excessively deliberate in his late-game play-calling and decision-making at times. He also isn't great with timeouts.
But by and large the Eagles under Reid maintained a consistently high-quality roster that typically served as an annual Super Bowl contender. Unfortunately they only ever made the Super Bowl once and things did not go perfectly ...
The Bad
Donovan McNabb puking in the Super Bowl huddle
Another case of clock management creeping up, this time during Super Bowl XXXIX, the Eagles' only appearance in the Super Bowl under Reid and a 24-21 loss to the Patriots.
The Eagles, down 10 points with just under six minutes left, needed to go 79 yards and proceeded to melt four minutes off the clock before taking a shot down the field. They looked frazzled, were running dink-and-dunk plays, and it made people sick to their stomach.
Including -- maybe! -- McNabb. The former quarterback steadfastly denies the allegations he puked in the huddle and wasn't able to help the Eagles run their up-tempo offense.
"No, I didn't puke. It's unfortunate that we still talk about this 11 years after playing in the Super Bowl," McNabb wrote during a Reddit AMA not long ago. "But, no. That did not happen and hopefully we can stop talking about it. Once again, go watch the game tape."
But multiple teammates, including former fullback Jon Ritchie, cornerback Lito Sheppard, and wide receiver Terrell Owens, have all insinuated in odd ways that McNabb did puke.
There isn't clear-cut visual proof of McNabb yakking during the Super Bowl, but it's something he's done before.
Maybe the best way to look at it is hypothetical symbolism for the Eagles only shot at a Super Bowl victory in the last decade or so.
The Ugly
The jail at the Vet
Eagles fans who don't like stereotypes won't like bringing this up, but facts are facts: the Eagles had a courtroom and jail at the old Veterans Stadium because their fans were so frigging rowdy.
Here's some good news, though. Most of the fans getting arrested weren't actually from Philly. So says former Eagles Court judge Justice Seamus P. McCaffery in a 2011 interview.
Eagles Court was a lot of fun and it served a purpose. One of the interesting facts that came out of Eagles Court was that 95 percent of the people arrested were not from Philadelphia. But Philadelphia was getting broad-brushed as the city with horrible, horrible fans.
So how did this start? McCaffery estimates during a Monday Night Football game against the 49ers in 1998 there were "60 fistfights in the stands." Oh yeah, and someone fired off a flare in the stands.
Eagles ownership and management were concerned with the appearance the fan base was portraying and decided to install a court room and jail on the premises.
"The fans -- even by Philadelphia standards -- were just getting out of hand," former deputy mayor Kevin Feeley recalled in 2015.
On the "opening day" of the court, 20 fans were processed. The first one was a doozy.
David Sharp, 38, of Dover, Del., was the first person to appear in court. "All right, guys, I'm a murderer. I killed four people,'' Sharp said as he was led into the courtroom.

He was arrested for challenging security guards who told him not to bring an open alcoholic beverage into the stadium. He pleaded guilty to disorderly conduct and was fined $198.50.
The stadium jail has since been shuttered -- an "Eagles Court" technically exists but not within the new stadium -- and while the Eagles probably improved the quality of fan experience by cutting down on the rowdiness of their fans, they certainly didn't do anything to help the lore of the intense Philly football fan.
The Bizarre
The Bounty Bowl
The Ryan family does not lack for drama when it comes to off-field behavior and they do not lack for intensity when it comes to defensive performance on the field. They got both traits from the patriarch, Buddy Ryan, author of the 46 defense who coached the Eagles coach from 1986-1990.
During Ryan's next-to-last season in Philadelphia, the Eagles played the Cowboys on Thanksgiving Day, with Ryan squaring off against an equally feisty coach in Jimmy Johnson, then in his first year with Dallas.
The Eagles would wax the Cowboys 27-0, but drama emerged after the game when Johnson accused Ryan of putting bounties on his players. And called him fat. Buddy didn't appreciate that.
Known now as "The Bounty Bowl," Johnson was fired up because he believed Ryan put a bounty to knock out multiple Cowboys players, including quarterback Troy Aikman and kicker -- KICKER! -- Luis Zendejas.
The alleged bounty on Aikman was $500 and Zendejas' -- who was cut by the Eagles a few weeks prior to the game -- bounty was a whopping $200. The latter claim got Ryan even more fired up than the weight zinger.
"Why would I place a bounty on a kicker, who can't kick worth a damn,'' Ryan said at the time and repeated later. "The guy was in a six-week slump. I wanted him in the game.''
Ryan still denies the bounties ever happened, but former Eagles wide receiver Cris Carter admitted on ESPN during a discussion of the Saints bounty scandal that he saw it happening.
Carter also said that he was in the Eagles locker room for the 1989 Bounty Bowl, and that he was present when former Eagles coach Buddy Ryan "put the bounties on the guys." Carter said he disregarded those types of bounties, but other players didn't. "I saw guys getting wiped out, guys going for the money," Carter said.
A similar account was described by Zendejas back in 1989.
Ryan has denied offering bounties. But after Thursday's game, Zendejas, who joined the Eagles early last season, spoke of having seen ''Buddy call guys out and give them $100'' for what the kicker called a weekly Big Hit award but what Ryan called a Big Play award.
Opinions about whether money was actually offered differ. But the widely accepted vernacular for the game, along with the, ahem, aggressive manner in which the two teams played, it wouldn't be surprising if it was true. (Boy, aren't Bounty Bowl and Bountygate viewed differently?)
Oh yeah, there was also a second Bounty Bowl, which ended with Verne Lundquist openly talking about dodging "iceballs -- not snowballs, iceballs" on the NFL on CBS broadcast with Terry Bradshaw.
Johnson, in his role on the NFL on FOX broadcast a few years ago, recounted the whole story and, yes, he also got pelted.
A perfect topping on the Philadelphia sundae.
* * *
More Good, Bad, Ugly and the Bizarre
Where's your favorite NFL team? Check the schedule below
AFC East
NFC East
AFC West
June 23: Denver Broncos
24: Oakland Raiders
27: Kansas City Chiefs
28: San Diego Chargers
NFC North
June 29: Chicago Bears
30: Detroit Lions
July 1: Green Bay Packers
4: Minnesota Vikings
AFC South
July 5: Houston Texans
6: Tennessee Titans
7: Jacksonville Jaguars
8: Indianapolis Colts
NFC South
July 11: Carolina Panthers
12: Tampa Bay Buccaneers
13: Atlanta Falcons
14: New Orleans Saints
AFC North
July 15: Pittsburgh Steelers
18: Baltimore Ravens
19: Cincinnati Bengals
20: Cleveland Browns
NFC West
July 21: Arizona Cardinals
22: Los Angeles Rams
25: Seattle Seahawks
26: San Francisco 49ers