Tim Tebow is owned in more fantasy leagues than an actual starting QB
Apparently, there are people out there who think Tim Tebow is going to lead them to fantasy football glory.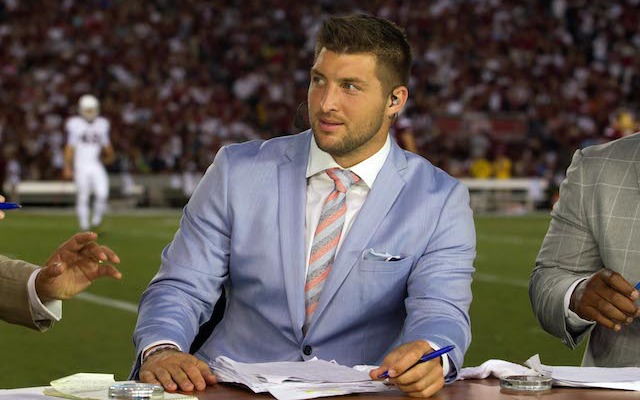 Tim Tebow probably won't throw an NFL touchdown pass this year -- mainly because he's not in the NFL -- but that doesn't mean people aren't drafting him in their Fantasy Leagues. 
Apparently, Tebow is the ultimate sleeper pick in ESPN.com leagues this year.  
In @ESPNFantasy leagues, 1.3% of teams own Tim Tebow, while 0.8% of teams own Jaguars starting QB Chad Henne. Seriously.

— NFL on ESPN (@ESPNNFL) September 2, 2014
And yes, you're reading that number correctly: More people own Tebow than Chad Henne, who is an actual starter for an actual NFL team.
I can think of several reasons why someone might draft Tebow and I can sum those several reasons up into one reason: He has the heart of a champion.
If you do draft Tebow and decide to start him, you can definitely still win your league with my bullet-proof strategy.
All you need to do is get LeSean McCoy and Jamaal Charles as your running backs and then throw in A.J. Green and Calvin Johnson as your wide receivers. If you can land Jimmy Graham as your tight end, that would also help. 
As for Chad Henne, he shouldn't feel horrible about himself: Aaron Hernandez (0.6 percent) is owned in more ESPN leagues than Cardinals wide receiver Ted Ginn (0.4 percent).  
Ken Norton Jr. didn't even last a week in San Francisco

One bettor in Vegas is going to make some serious money if the Jaguars win it all

The Jaguars, Vikings and Eagles have combined to win exactly zero Super Bowls ever
The Steelers wilted under the pressure of the postseason

The Bears fan is now officially linked up with the Packers quarterback

The Cardinals have the future in mind at quarterback with the dynamic Louisville quarterback...