Donald Trump has been in some hot water lately for comments he made about Mexican immigrants during his 45-minute speech where the real estate mogul announced that he was running for president. 
Mexican immigrants weren't the only thing on Trump's mind during the speech though, the 69-year-old presidential candidate also compared Tom Brady and the Patriots to, you guessed it, China. 
"People say, 'Oh, you don't like China.' No, I love them," Trump said during his speech. "But their leaders are much smarter than our leaders, and we can't sustain ourself with that. There's too much -- it's like -- it's like, take the New England Patriots and Tom Brady and have them play your high school football team. That's the difference between China's leaders and our leaders."
If you're keeping score at home, Trump is basically saying that Bill Belichick and Brady are smarter than everyone in the NFL in the same way that China's Communist President Xi Jinping is smarter than leaders in the United States. 
Does that mean the Chinese are deflating footballs? Trump didn't say.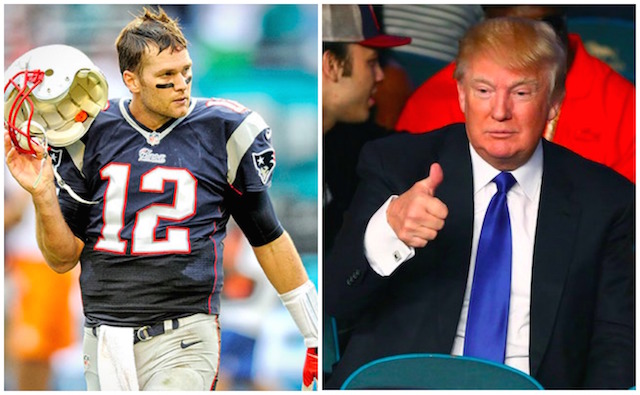 The Patriots-China comparison came in the same speech where Trump said Mexican immigrants were bringing crime to America.
"When Mexico sends its people, they're not sending their best. They're sending people that have lots of problems and they're bringing those problems [to the U.S.]," Trump said in the speech. "They're bringing drugs. They're bringing crime. They're rapists. And some, I assume, are good people, but I speak to border guards and they tell us what we're getting."
The controversial comments caused Hall of Fame running back Emmitt Smith to withdraw as a judge at the Miss USA pageant. The pageant is produced by the Miss Universe Organization, which is partially owned by Trump.
The comments also caused NBC to sever ties with Trump, a move that means the network won't be airing the Miss USA pageant, which is set for July 12 in Louisiana. 
You can hear Trump compare the Patriots to China beginning at the 26:40 mark in the video below.