Beleaguered Maple Leafs trio plays starring role to force Game 7
Dion Phaneuf scored for Toronto, as did Phil Kessel. James Reimer held the Bruins to one goal to force a Game 7. One-time goats to heroes.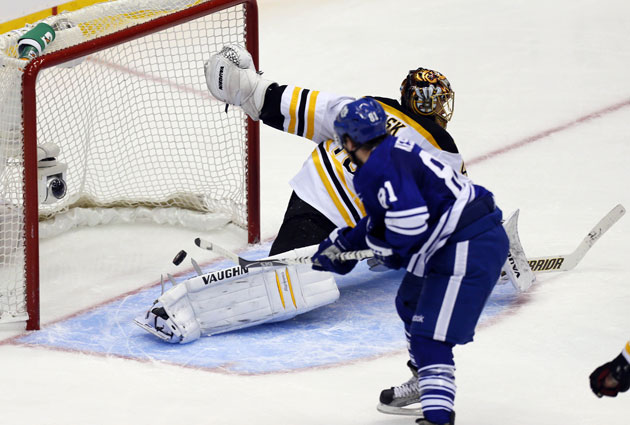 More NHL Playoffs: Scores | TV Schedule | Expert Picks | Odds | Mock Draft | Rumors
One of the best things about playoff hockey is that goats can become heroes in the span of a few games.
We're seeing that situation play out in Toronto right now with a trio of players who have taken some heat over the past few years for whatever reason, no matter how dumb it might have been. Those three players would be Phil Kessel, Dion Phaneuf and James Reimer.
It just so happened that all three had massive roles in the Maple Leafs' 2-1 win in Game over Boston to force a winner-take-all game on Monday night in Beantown. Phaneuf and Kessel scored the only two goals and Reimer kept Boston off the board until the final 24 seconds. Can't get much bigger than that in a game such as this.
Of course it was always a bit absurd the heat these guys were taking. The idea that some advocated for Kessel to be traded was laughable then and even more hilarious now. He has three goals in six games in this series and is simply an electric talent on the ice. He has never been the problem in Toronto.
In Kessel's case it was simply way too much overreacting. In the case of Phaneuf it was always a bit extreme too, but his "mistake" in Game 4 was so noticeable you knew he would take heat. His pinch failed and it sprung the Bruins for the winner.
Ironically, Phaneuf was out of position when he scored on Sunday, too. It's not often you'll find a defenseman parked in front of the crease but Phaneuf was and the puck deflected off of him and in. That's the reward for the risks of moving in and up in the zone.
Then you have Reimer. Remember when the Leafs were concerned about him heading into the playoffs and wanted to get Miikka Kiprusoff to shore up the position? He's been simply amazing in the past two games, holding the Bruins to two goals and with some amazing examples of larceny to boot. It's laughable and almost scary to think how that nearly happened. The Leafs wouldn't still be here without Reimer.
He has been so good that Roberto Luongo is campaigning for Reimer to be Canada's goalie at the next Olympics.
May 13, 2013
The criticism of these three guys has always been a bit on the ridiculous side, especially in the case of Kessel. His goal was only the game-winner on Sunday night, the second in this series for him.
Next up is a Game 7 in Boston where they will all be tasked with playing massive roles again. A series that looked like it might be done in five is going the distance thanks in large part to the big trio.
They have the good times rolling in Toronto.
The North American love affair with Edmonton's superhuman center continues to grow

The defending Western Conference champion Predators are also heating up early in the year

The Oilers' young star remains seriously unfair
David Kelly, a Toronto-born hockey analyst, has strong advice for Edmonton vs. Chicago game...

Gary Bettman says otherwise, for the time being, but Houston could be primed for a team

Here's what you might have missed across the NHL on Wednesday night