Devils, facing near impossible challenge, still believing in themselves
The New Jersey Devils have a task in front of them that not even Ethan Hunt would take on. Mission: Impossible 5 -- Coming From Depths of Hell.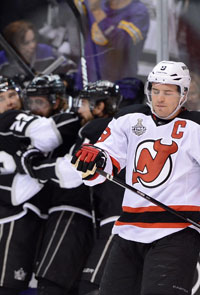 Jersey doesn't want to see much more of this. (Getty Images)
EL SEGUNDO, Calif. -- The New Jersey Devils have a task in front of them that not even Ethan Hunt would take on. Mission: Impossible 5 -- Coming From Depths of Hell.
The Devils are in the hot water that their namesake is used to but temps they aren't familiar with as a team. They have been down in every series to this point, but not like this. Not in a spot where they absolutely must win four games in a row to achieve their goal.
Nor have they been down to a team going as well as these Kings. If the Devils are going to win their fourth Stanley Cup in team history, they will have to beat L.A. the next four times they potentially play. Considering L.A. has two losses in 17 postseason games to this point, I'd take a snowball's odds in Hades over what the Devils face now.
"We're in a huge hole, we didn't expect that, that's for sure," Devils goalie Martin Brodeur said on Tuesday. "But this is what we're facing."
What exactly is that, anyway?
Only one team in the history of the NHL has been in the spot the Devils are in and come back. You have to go back to the Final in 1942 when the Maple Leafs won Games 4-7 to beat the Detroit Red Wings and win the Cup. Just in case it's not clear, that was a long time ago.
When you consider all the numbers, all the statistics, it can be overwhelming. But putting a positive spin on things, is there any solace that can be taken from the fact that it has been done before?
"We haven't talked about the statistics of the situation we're in," Devils coach Peter DeBoer said Tuesday. "Got to stick with it and win one game. That's where it starts."
No, history is not the solace or the point of inspiration for New Jersey. That lies instead in the fact that, despite being down in this series 3-0, the Devils don't feel like it. The series hasn't been as lopsided as the series score indicates in their minds.
"We're down 3-0. I don't think we feel we deserve to be in the hole we're in," DeBoer explained. "I think we played better than the situation indicates. But that's hockey."
David Clarkson was one of many Devils to echo that sentiment.
"All series I think we've played good hockey, there's been some good things that we've done," he said. "We're not going to give up.
"We've got to go shift by shift, play by play and game by game. We play for each other here. We've had a lot of ups and downs; this is one of those I think we can battle back from. We just have to continue to believe in ourselves and our system."
The times are getting so desperate that Adam Henrique, the Devils rookie who has two OT series-winning goals this postseason, has chopped off the playoff beard, leaving behind just a scraggly mustache.
"Why not?" he rhetorically asked. "We're not going to give in or give up, that's for sure."
Well, no, but if they are going to come back, they're going to need to dig into that array of tools to break through. Right now all they are looking for is one win.
"Try to get this thing taken back to New Jersey," Zach Parise said of the team's mindset. "That's all we can do right now. That's all we can think about."
Meanwhile, maybe Lou Lamoriello should take the off day trying to track down Ethan Hunt in Hollywood to come help out. Because this mission, should they choose to accept it, is going to be about as impossible as it gets in hockey.
For more hockey news, rumors and analysis, follow @EyeOnHockey and @BrianStubitsNHL on Twitter and like us on Facebook.
Players are set to give personalized messages for Adidas' former hockey equipment brand

The 40-year-old center is returning to the Wild after a successful run in Pittsburgh

Edmonton locks up its 21-year-old RFA a month after McDavid's historic extension
Even with a new coach and added veteran help, the Canucks have a long road ahead

Unlike expansion teams before them, the Knights have enough talent to entertain right away

Brian Lawton says he 'would not be surprised' if Boston deals its young star to end contract...