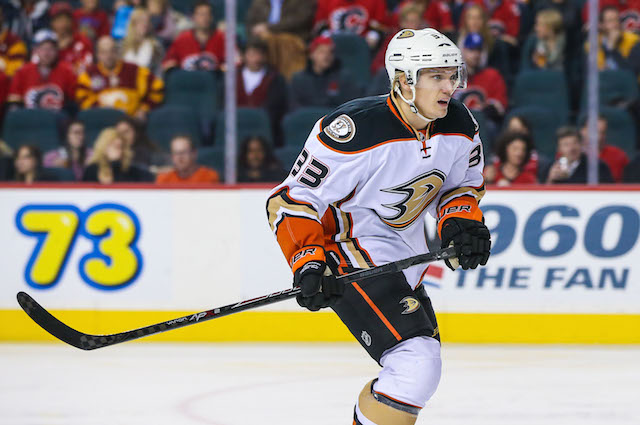 In the summer of 2013 the Anaheim Ducks traded Bobby Ryan, at the time a 25-year-old winger who had scored at least 30 goals in four of the previous five seasons, to the Ottawa Senators in a multi-player deal.
It was a pretty significant trade because a player with Ryan's goal-scoring résumé is pretty rare in today's NHL. It is awfully difficult for a team to trade one of the few who do exist and still come out ahead in the future. But just two years later it's looking like the Ducks managed to do just that, and it's a big reason general manager Bob Murray has been able to build an organization that is not only extremely successful right now, but also has a pretty strong long-term outlook as well.
This is especially true after the Ducks managed to lock up one of the key players in that trade, forward Jakob Silfverberg, to what should be a bargain long-term contract on Friday. 
Along with Silfverberg, the Ducks also received prospect Stefan Noesen and a first-round draft pick in the deal. That pick turned out to be a top-10 selection in the 2014 draft which the Ducks used to select power forward Nick Ritchie, currently one of the team's top prospects.
Ryan has remained a productive player in Ottawa and should still be a top-line player for several more years, but now that he is turning 28 his goal scoring is not quite at the same level it was during his prime years in Anaheim. The problem with that for Ottawa is that he is entering his most expensive years and is starting a new seven-year, $50 million contract this season that averages $7.2 million against the cap through the end of the 2021-22 season. That is a lot of money for somebody who has probably already played his best hockey.
One of the most impressive things about the Ducks' roster right now is the fact they have such a strong, deep team but are also in great shape with the salary cap, still sitting $12 million below the cap for this season (via General Fanager). Not having to pay Ryan more than $7 million a year for the next seven years certainly helps a lot in that area, especially when they received several young assets in return, including Silfverberg.
On Friday, the Ducks signed Silfverberg to a new four-year, $15 million contract extension that will only cost them $3.75 against the cap per season.
What makes that such a great deal for Anaheim -- as well as the trade itself -- is that it is not a stretch to think that at this point in their respective careers Silfverberg might already be the more valuable player. Not only does he save the Ducks nearly nearly $3.5 million against the cap over the next four years, but he is a superior defensive player who is steadily improving offensively. 
Ryan is still the more productive player at this point, but when you add in the defensive side of the game he's probably not worth an additional $3 million against the cap over the next several years. Especially as the two continue to trend in different directions. 
But that is only one part of the trade from a Ducks perspective. 
They also received Noesen, a talented young defenseman taken in the first round of the 2011 draft. He made his NHL debut this past season. Then there's Ritchie, a massive power forward with the skill to make plays and score (62 points in 55 games in the OHL this past season before adding 26 points in 14 playoff games for Sault Ste. Marie) and the size to go up against top players, win board battles and play a physical game. As far as power forward prospects go, he might be one of the best in the NHL right now. 
Obviously he has not made an impact for the Ducks yet, but he represents another wave of talent that can come through the organization and continue to potentially give the team a quality player for very little money against the cap for a few years, an essential part of being a championship contending team in a salary cap league.
That potential is just an added bonus on top of the bargain they are already getting with Silfverberg.
The Ducks received what was probably Ryan's best hockey in the league for five years, and then cashed that in to not only receive some really useful young assets that can help them both now and in the future, but they also solidified their long-term salary cap situation by not having to invest in his current long-term deal. It is moves like this one that have helped make Murray one of the better GM's in the NHL right now.