NHL All-time teams: New York Islanders
The Islanders had one of the great dynastic runs in NHL history and not a ton else. No wonder their all-time team comes from the same era.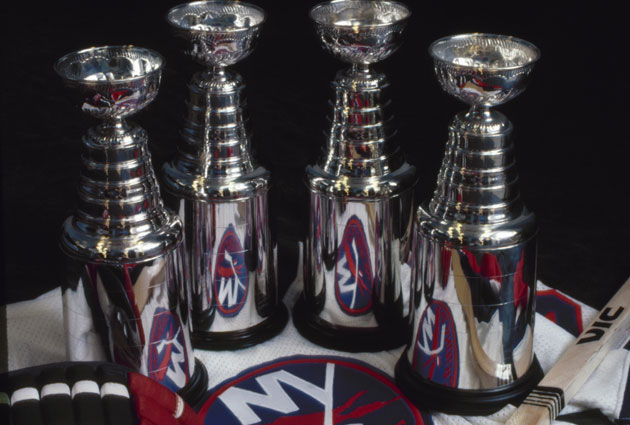 More NHL offseason: Rumors | Top 50 Free Agents | Buyout Tracker | Trades | Transactions
Ah, hockey in the summer, where things come to a grinding halt for about two months in between one long season and another. To fill the void we at Eye on Hockey thought it would be fun to make an all-time team for each of the 30 organizations in the NHL today.
The ground rules: The teams will consist of a center, two wings (regardless of which side), two defensemen and a goaltender. A player must have spent at least 200 games with a franchise to be considered. So Bobby Orr won't be on the Blackhawks' roster or Wayne Gretzky for St. Louis.

The New York Islanders are an odd ball of sorts in hockey history; they had an amazing run, winning the Stanley Cup four straight times and playing for a fifth in the early 1980s but since then have been a franchise with more struggles than successes. It wasn't until this past season that the Isles snuck into the playoffs and some hope was finally recognized.
As you might imagine with a history such as that, the Islanders' all-time team comes completely from that golden era of the franchise. The Isles were able to keep the gang together through all the years and most of them either played only for the Islanders or almost exclusively for them. Long Island was a happenin' place to play.
Then the '90s came and so did these jerseys. I think the franchise likes to pretend they never happened but oh boy did they ever happen.
Now to the franchise's best players who just all happened to wear the best uniforms.
Bryan Trottier: Indeed, this one starts with a bang at center with Trottier. The scary part about how good Trottier was is that he probably wasn't even the best player on the Islanders for all those years in the late 1970s and '80s. Of course that doesn't mean he wasn't a damn good player.
Quite the contrary, Trottier is up there in the conversation of best centermen to ever play the game. He's also certainly right there in the conversation of greatest Islanders, so much so that when it comes to the records, Trottier stands atop most of them. His 1,123 games, 853 assists and 1,353 points are all tops in franchise history; his 500 goals are second.
Trottier was front and center (sadly, pun intended) for the Islanders' four straight Stanley Cup titles, racking up more than 100 points in six of seven seasons from 1978-79 through 1983-84. His trophy case includes a Calder Trophy, the Art Ross in '78-79 that also came with the Hart Trophy as the MVP, the Conn Smythe in '79-80 and the King Clancy in 1988-89. Of course that's to join the four Stanley Cup rings he earned with the Islanders and the two he added with the Penguins in the early '90s.
Mike Bossy: If Trottier wasn't the best Islanders player in all those years, then who was? This guy, of course. Bossy is aptly named because he simply was a boss on the ice, one of the most prolific scorers the NHL has ever seen. Probably the only thing that keeps him from being mentioned with Orr, Gretzky and Howe in the GOAT conversation was the fact that his career was relatively short.
Bossy only played 10 NHL seasons, all with the Islanders. In seven of those 10 seasons he had no less than 117 points -- 117! -- and for his career his lowest point total was 75, in his final season ... in just 63 games. Bossy put up points like it was nobody's business. Let me put it another way; Bossy scored at least 60 goals five times in 10 seasons and only scored fewer than 50 in his final campaign (a measly 38).
It's rather amazing when you realize that Bossy never won a Hart Trophy or an Art Ross Trophy in his career, though he did win the Calder and one Conn Smythe Trophy to go with three Lady Byng Trophies. So he wasn't just great, he was a gentleman too.
Overall Bossy has a franchise-best 573 goals and is second in points with 1,126. Considering he only played 752 games in his career, that works out to a stellar 1.50 points per game, easily the best in franchise history.
Bob Nystrom: This was one of the tougher calls on the team as it came down to a few very good options. This was ultimately a faceoff between Nystrom and Clark Gillies (with Bob Bourne and Brent Sutter not far behind). While Gillies is in the Hockey Hall of Fame, Nystrom was Mr. Islander and, well, how can you compete with that?
If we were talking pure playing/scoring ability than I would have to put Gillies here but Nystrom was one of those heart-and-soul guys throughout his 14-year career, all spent with the Islanders. That's not to say he couldn't put up points, though, as he was a consistent 20-plus goal scorer during his prime years, netting a career-best 30 in 1977-78.
All told Nystrom is third in franchise history with 900 games played and is ninth in points with 513. But don't discount the physical presence he brought with him as well -- his teammates called him Thor, for Pete's sake -- as he ranks fifth in team history with 1,248 penalty minutes as well.
It only helps Nystrom's case that he was Mr. Clutch as well. If there was a big playoff goal to be scored, it was likely going to be Nystrom to score it, like this one to win the Stanley Cup in 1980, the first in franchise history.
Denis Potvin: In that greatest Islander debate above, there was a pretty big name missing; Potvin. Despite the fact that he played on the blue line, Potvin put up numbers that rival any and every forward in franchise history.
Potvin played 14 seasons in the NHL, all with the Islanders, which is good enough for the second-most games in franchise history at 1,060. He served as the captain through the Islanders' dynastic years and was as good a defenseman as there was at the time behind the strength of his offensive prowess. In total, despite playing defense, Potvin scored 310 goals and had 742 assists, placing him third in franchise history with 1,052 points, just a shade under a point per game in his career. It was not unusual to see Potvin score 30 goals or eclipse 90 points, particularly when he was in his prime.
In addition to getting his name on the Stanley Cup four times, Potvin also won the Calder Trophy in 1973-74 and took home the Norris Trophy three times as the league's best defenseman. The conversation isn't really where Potvin stands among Islanders defensemen -- he's so far above the rest it's not even funny -- but where he stands among all defensemen all time.
No matter what Rangers fans still think, Potvin definitely did not suck.
Ken Morrow: A defenseman's defenseman, Morrow is more than an Islanders legend, he's part of American hockey history, too. Morrow was on that famous 1980 American team that surprised the world to beat the Soviet Union in the semifinals and eventually win the gold medal. He then had a quick turnaround and joined the Islanders just in time to win the Stanley Cup, the first player to win a gold medal and the Cup in the same year.
Morrow spent his whole career with the Islanders -- notice a trend here? -- racking up only 17 goals and 88 assists in 550 career games. But Morrow was one of those guys who seemed to live for the big stage, be it the Olympics or the Stanley Cup playoffs. Morrow had 11 goals and 22 assists in 127 career playoff games, including scoring the Cup-clincher for the fourth of four Isles Cup titles.
Just for fun, take a look at how Morrow lived in 1984. Player lifestyles -- and fashion -- have come a long ways.
Billy Smith: There is Smith and then there is the field in Islanders history. There is not much choice. Smith was in New York for all but five games in his career, and it was a pretty long career. In total he played 675 games for the Islanders from 1972-73 through '88-89, backstopping the Isles during their Cup runs. As we all know, all great Cup contenders need a good goalie as the last line of defense. Smith's status as a Hall of Famer backs that up.
It's not much coincidence that Smith had some of his best seasons when the Isles were hitting the peak of their dynasty ways. Smith won the Vezina Trophy in 1981-82 before picking up the Conn Smythe in 1982-83. It's also not much coincidence that Smith has nearly twice as many wins as any other Islanders goaltender with 304 in his career.
Smith split time in the first part of his career with Glenn Resch in the Isles net but it wasn't until Smith took clear control of the No. 1 role in the playoffs that the Islanders took the next step and won the Cup for the first time. It helped he did what he could to keep teams away from his net.
Clark Gillies, Pat LaFontaine, Bob Bourne, Brent Sutter, Derek King, John Tonelli, Pat Flatley John Tavares, Ziggy Palffy, Glenn Resch, Dave Lewis, Stefan Persson, Gerry Hart, Bert Marshall, Pierre Turgeon
The city has already received approval from the NHL to file for an expansion team

Bovada says the two nicknames are favored to be used, with Rainiers coming in third place

Here's everything you need to know to watch the NHL's marquee midseason event
The expansion Golden Knights officially moved into first place in the NHL on Sunday

The former Boston Bruin was the first black player to play in the NHL

Inclement weather led to the Charlotte Checkers and Bridgeport Sound Tigers playing in front...