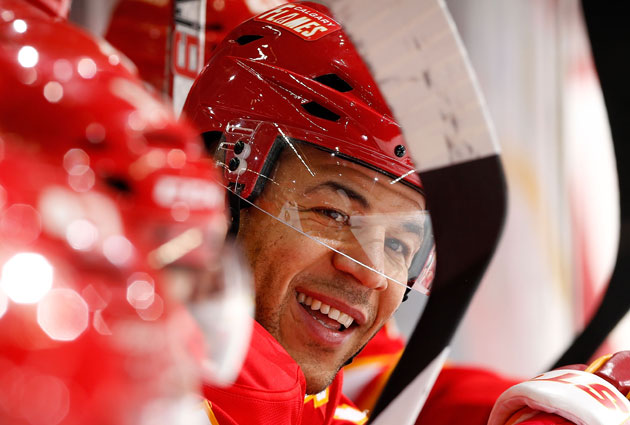 Teams might want Iginla, but would Calgary trade him? (Getty Images)
More NHL: Scores | Standings | Odds | Fight-O-Meter | League Leaders | Rumors
Nine games into the season, the Philadelphia Flyers are struggling not only to win, but to even score. Before Saturday's five-goal outburst against Carolina, Philly had just 16 goals in eight games, or 2.00 goals per game. For a team that doesn't have the best defense in the world, that isn't going to get it done.
That's why Flyers GM Paul Holmgren is seeking some offensive help. From Bruce Garrioch of the Ottawa Sun:
The word is the Flyers would like to make "a big move" to shake up their struggling club. That has proved to be difficult in the current environment.
If that's the case, then Holmgren is the right guy to do it. In recent years he has shown time and time again he's a GM who is not afraid to pull the trigger on a big trade or move. He's as big of a gambler as there is in the GM world.
They have to find a way to make up for the injuries to players like Scott Hartnell and Wayne Simmonds because it's pretty clear the current roster will not provide a solution. So you'd figure that any big move would involve a forward, somebody like, say, Jarome Iginla.
What about Jarome Iginla? He's 35, but he's still a bonafide NHL scorer, a guy who has scored 31 or more goals for 11 years in the league.

And here's the thing: he won't cost you Sean Couturier or Brayden Schenn or Claude Giroux.

Bobby Ryan would cost you one of those three.

The Flyers can't afford to mortgage their future, but they could part with a prospect they just sent back to junior in Scott Laughton.

That would likely get you Iginla.
Panaccio might be a bit naive in the asking price for Iginla if it even came to that. Remember, the Flames have maintained over and over that they don't intend on trading Iginla, but if they remain at the basement of the NHL then at some point don't they have to consider it? I doubt that comes in the immediate future, though, and that's when Holmgren needs help.
Iginla is struggling (relative to his past, of course) along with his Flames teammates. He doesn't have a goal yet this season -- just four assists. The longtime Flame has been the subject of rumors for a while now as the Flames have failed to make the postseason the past three years.
That's one of the tough parts of the short season, there isn't a lot of time before teams decide if they are buyers or sellers at the deadline. Because of the shorter sample size, more teams will see that they are "in it" than normal, likely leading to fewer sellers. That makes the job of a GM like Holmgren a lot tougher.
The Flyers could certainly use some help right now, but it might be tough to find.
For more hockey news, rumors and analysis, follow @EyeOnHockey and @StubitsCBS on Twitter, subscribe to our YouTube account and like us on Facebook.