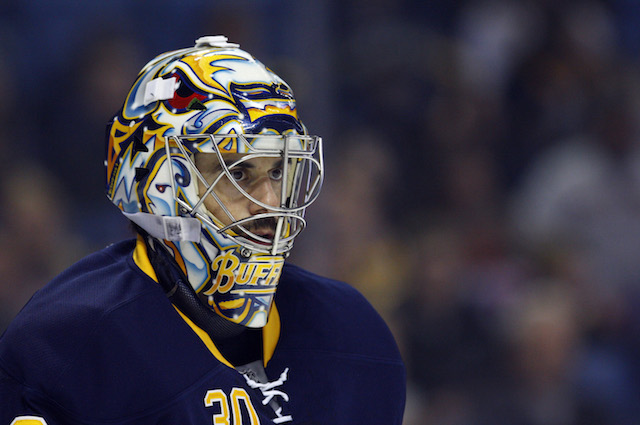 It's been one year since the Buffalo Sabres traded goalie Ryan Miller and forward Steve Ott to the St. Louis Blues just before the 2014 NHL trade deadline.
Thanks to two of their moves on Monday -- forward Chris Stewart going to the Minnesota Wild and goalie Michal Neuvirth going to the New York Islanders -- their return for that trade is still growing. 
And it is going to be several years before we find out exactly what they received for it. If they end up getting anything out of it.
This is another NHL trade chain.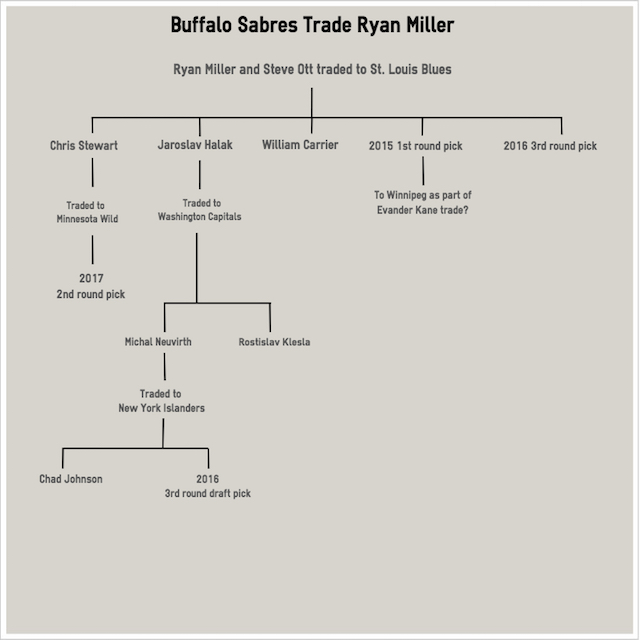 So here is what all of that leaves the Sabres with today as a result of the Ryan Miller/Steve Ott trade: William Carrier, Chad Johnson, a 2015 first-round pick, two 2016 third-round picks, and a 2017 second-round pick. 
That is a lot of draft picks.
Here is how the Sabres ended up here. 
In the initial trade, Buffalo received Stewart, Jaroslav Halak, William Carrier -- the No. 57 overall pick by the Blues in the 2013 draft -- a 2015 first-round pick and a 2016 third-round draft pick.
One week after that trade the Sabres sent Halak, who never played a game for them and was a free-agent-to-be after the season, and a 2015 third-round draft pick to the Washington Capitals in exchange for goalie Michal Neuvirth (who still had one year remaining on his contract) and veteran defenseman Rostislav Klesla. Like Halak, Klesla never actually played a game for the Sabres and is currently playing professionally in the Czech Republic. Neuvirth would go on to split time with Jhonas Enroth in Buffalo to replace Miller (Enroth was also traded this season).
On Monday, the trade chain continued to grow as a result of that deal with the Capitals when the Sabres traded Neuvirth to the New York Islanders for another goalie, Chad Johnson, and a third-round pick in 2016.
The other NHL player the Sabres received as a result of the Miller trade was Stewart. After 66 games and 25 points (11 goals, 14 points) over parts of two seasons, the Sabres also traded him on Monday to the Minnesota Wild -- and retained half of Stewart's salary -- for a second-round draft pick. In 2017.
When it comes to the 2015 first-round pick there is a chance that it goes to Winnipeg as part of the return for forward Evander Kane. Along with Tyler Myers and Drew Stafford, the Sabres will send whichever one of their three first-round picks (their own pick, the pick that previously belonged to the Islanders which went to Buffalo as part of the Thomas Vanek trade, or St. Louis' pick) is the lowest. 
Are you happy with that return, Sabres fans?Carrier is currently playing in the AHL and has 18 points in 55 games in what his first year of pro hockey, but the chances of all of those draft picks working out are slim. Especially when it comes to the two third-round picks in next year's draft simply because they are going to be late third-rounders. The second-round pick is still for another year after that so we are still years and years and years away from knowing what the full return will be.
On the plus side, having the extra first-round pick to throw in to the Kane trade while still having two other ones to hang on to is a really nice bonus. 
There is also the fact that Buffalo only had Ryan Miller in the first place because of a 1999 trade deadline deal with the Florida Panthers for Mike Wilson, who was part of the return Buffalo received for Alexander Mogilny in 1995.
Hockey trades. They can have quite a history. 
More NHL Trade Chains
What the Boston Bruins have to show for 10 years of trading superstar players
What Jaromir Jagr has been traded for in his NHL career