Ryan Suter clarifies, apologizes to Predators, GM David Poile
When Ryan Suter left for the Minnesota Wild, Nashville GM David Poile wasn't happy and said he felt betrayed. Well Suter is clarifying and apologizing to the Preds.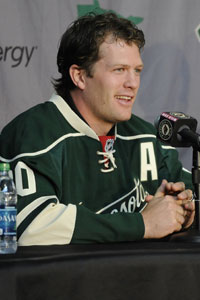 Ryan Suter doesn't think he was dishonest in going to Minnesota. (Getty Images)
All the way until the very bitter end when he chose the Minnesota Wild, fans of the Nashville Predators including their GM David Poile held out hope that Ryan Suter would decide to stay in the Music City. Maybe it hurt more because they believed Suter was going to come back.
Every fan's emotions were probably covered with Poile's reaction. In his press conference after the announcement of Suter going to Minnesota, Poile was angry and unfiltered. He said he was upset and he said he felt like Suter lied, the idea being that Minnesota wasn't set up to be the contender that the Predators are/were.
Suter has been apologetic and thankful to the Preds since leaving. But he isn't apologizing for not being straight-forward, he doesn't believe he was ever misleading. He said as much right after signing, said it again at the introductory press conference in Minnesota and now he has reiterated it once more to Joshua Cooper of the Tennessean.
"I have never tried to hide anything from anybody," Suter said. "I wanted it to work in Nashville, but the decision I made was to move on, and I'm sorry for the hurt that it has brought to David Poile and to the Predators."
One perception of pro athletes that always bothers me is the impression that they don't care about anything but the money, that they are cold and calculating. With a guy like Suter it's easy to say he is a guy with no sense of loyalty and just chased the big bucks without any care for the team he left behind, even deceiving them along the way.
Personally, it doesn't make sense to me when people get upset at a free agent walking away. Does it suck? Sure. Can you be a little bitter? You bet, at least for a short amount of time. But that's the entire point of the system. It's what free agency exists for, to give players the choice of where they want to go and play.
Wild land Suter, Parise
More NHL coverage
The rejection can lead to the feeling that you were bamboozled, it's only natural. Imagine the new-found hate you feel for the girlfriend you once loved who dumped you. Now you see all of her faults and probably more than she even had.
Athletes have lives beyond sports, something that's also easy to forget. There are a lot of reasons why a player would want to play in a certain city. For Suter, Minnesota was appealing.
"It's something that happened. And the fact that I do get to be close to home with my wife and my kid, for me to be close to home, it all worked out," Suter said. "It was no agenda, and that's how it played out."
The fact that Suter continues to go out of his way to apologize to the Preds for making a decision that frankly he doesn't need to apologize for shows something about his character to me. Poile did question it a little bit in his heat-of-the-moment comments which he still didn't really back away from, however him reaching out to the main paper in Nashville to once again say sorry shows something. He could have just said "tough" after his initial statements and moved on.
Even with a few apologies I can't imagine the Predators fans will be too welcoming when Suter comes back to Nashville for the first time next season.
For more hockey news, rumors and analysis, follow @EyeOnHockey and @BrianStubitsNHL on Twitter and like us on Facebook.
NHL fans from all over seem to agree on one thing: Hating Kid Rock

The team tweeted on Monday that Shaw would be re-evaluated in 7-10 days

The Montreal forward was hospitalized after taking a Zdeno Chara slap shot to the head
Tampa Bay is still No. 1 and Vegas is still up there, but a few others are finally catching...

Army filed an opposition to the use of 'Golden Knights' on the last day that it was permitted...

The NBC rinkside reporter is hoping to return in time for the 2018 Olympics