Seth Jones, No. 1 or not, is NHL Draft's most important player
Seth Jones has the potential to be a game-changing prospect for the NHL in more ways than one.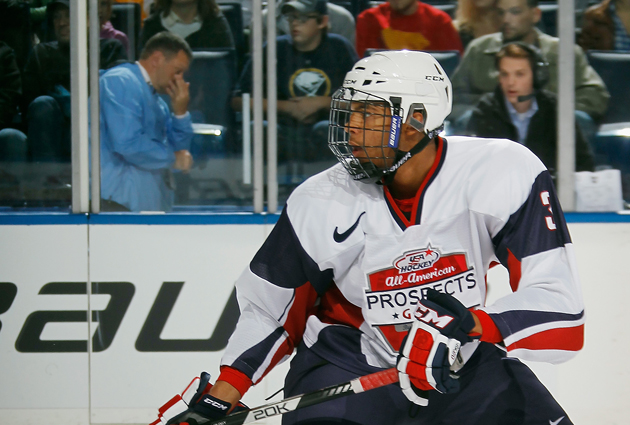 More NHL offseason: Rumors | Top 50 Free Agents | Top 50 Prospects | Mock Draft
Each time a general manager makes a selection in the first round of the NHL draft, his decision will have a profound impact, one way or another, on his franchise and its future. It is very rare for that same general manager to make a selection that changes not only his team, but potentially the league as a whole.
On Sunday afternoon in Newark, N.J., one NHL general manager will approach the podium on a stage overlooking his peers. He will step up to the microphone and by the time he steps away, he'll have made history.
In all likelihood, Portland Winterhawks defenseman Seth Jones will be one of the first two selections in the 2013 NHL Entry Draft. He will become the highest-selected player of African-American descent in the history of the league.
With all due respect to Nathan MacKinnon, who seems to be the favorite to go first overall Sunday and may be the best overall player available, Jones is the most important player in this draft and it's not even close.
By now, you've probably heard his story.
Jones is the son of former NBA player Popeye Jones. He was born in Texas, and spent much of his life there, but took to hockey while living in Colorado. It was right in the middle of the Colorado Avalanche's heyday when Joe Sakic, Peter Forsberg and Patrick Roy were taking the NHL by storm.
Upon learning his sons wanted to play hockey, Popeye Jones, who was playing for the Denver Nuggets at the time, approached Sakic to find out what he should do to get them started.
Sakic's advice was for the elder Jones to get his boys to take skating lessons before trying hockey since they were bound to grow into large men. At their size, it would be important to be good skaters.
That's what the Jones brothers did, learning to skate from a figure skating coach before ever putting on the pads. Thus began the makings of one of the most exciting prospects the league has ever seen.
Jones has been one of the most talked about prospects in hockey since he was 14 years old. That was when Sports Illustrated included him in its "Where Will They Be?" issue. As his unlikely backstory got out, Jones filled more magazine pages, was put in front of more TV cameras and earned his fair share of digital ink.
But Jones isn't just a hyped-up human interest story. There's substance.
He posted 56 points for WHL champion Portland this past season. Jones also helped Team USA claim its first World Junior Championship gold medal since 2004 in January. Before going to Portland, Jones played at USA Hockey's vaunted National Team Development Program, which helps train the top 16- and 17-year-olds in the country and has produced such stars as Patrick Kane, Phil Kessel and Ryan Suter. The NHL's central scouting bureau listed Jones as the No. 1 North American skater, ahead of MacKinnon.
As he is about to enter the NHL, the American defenseman is set to face his greatest challenge and may be unfairly burdened with a level of responsibility not often asked of an 18-year-old.
The NHL will never be known as the pinnacle of diversity, but as Jones and other players of color enter the league, the "white man's game" moniker that hockey so often is tagged with carries less and less weight.
The relative lack of diversity within the league, hockey's most visible entity in the United States, can be a perceived barrier for minorities who wish to play the game. Jones will bear part of the responsibility to try to knock that barrier over.
The NHL has been making efforts for years to reach out to minority communities, but until the product on the ice mirrors society more accurately, it may be difficult. That's why Jones has the potential to be a game-changer.
Anson Carter, who played in the league when black players were less common, believes Jones can be special for the NHL.
"Seth will take it to another level," Carter told the Globe & Mail. "He'll help open the eyes and help bring credibility and awareness to African-American athletes. When they see a player of their own that's born and raised and trained Stateside, I think it'll be a great thing."
Jones is also a child of the NHL's southern expansion. His fandom and subsequent participation in the sport may not have been possible had the Quebec Nordiques not relocated to Colorado and the Dallas Stars not moved down from Minnesota. He very much is the embodiment of the NHL's push to grow the game in the United States.
Now that Jones is on the verge of entering the NHL, he will become a beacon, not just for African-American kids, but players from non-traditional markets throughout the United States. 
All of that makes him a perfect ambassador for the league's future. Who would have thought a black kid from Texas would be one of the best prospects in hockey? He is making what was seemingly impossible 20 years ago a reality.
Jones is aware of it, too. He knows what his story can mean to other people.
"I do know that if I can help set an example for any kids or help them get started in the game, I'd like to do that," he told the Dallas Morning News. "I don't mind trying to be a role model."
The league is undoubtedly also aware of the significance Jones may bring and it looked like the NHL had a storybook scenario on its hands after the draft lottery.
The team that helped foster Jones' love of the game, the Colorado Avalanche, won the draft lottery to earn the No. 1 pick. However, Sakic, who now runs the team's hockey operations, has said they'll most likely take MacKinnon with the top selection.
Though Jones would make more headlines as the No. 1 overall pick this year, he is still a fantastic story and personality for the league to push to the forefront.
The Florida Panthers hold the No. 2 pick in the draft. If Colorado honors what it has said all week in regard to passing over Jones, it's hard to believe Florida would allow him to drop further.
Jones' path to superstardom will not be a smoothly paved road, however. As a defenseman, he will not put up big numbers or make highlight-reel plays that end up on YouTube. Additionally, if he does end up in a weaker market like Florida, there's a chance he could be buried a little bit.
Only he can give the public a reason to take notice and pay attention.
Regardless of the challenges Jones will face, the expectations will be sky-high. If he's proven one thing continually over his young career, expectations merely foreshadow what's to come.
He's ready, and so are we.
CBS Sports HQ Daily Newsletter
Get the best highlights and stories - yeah, just the good stuff handpicked by our team to start your day.
Please check the opt-in box to acknowledge that you would like to subscribe.
Thanks for signing up!
Keep an eye on your inbox for the latest sports news.
Sorry!
There was an error processing your subscription.
Emery, 35, spent time with the Senators, Flyers, Ducks and Blackhawks

The 33-year-old veteran goalie signed a three-year, $21 million extension to stay in Vegas

Chicago frees up immediate cap space to use in another deal, but it comes at a price
Hellebuyck, a restricted free agent, has a deal that will be worth $37 million

The new Maple Leafs star penned an essay explaining the struggle of making a decision in free...

The NHL star and skiing legend have made this their summer