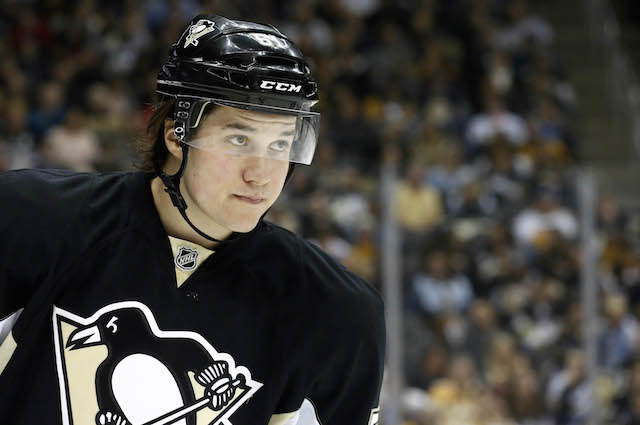 When you think of dominant defensive hockey teams the Pittsburgh Penguins probably are not one of the first teams that come to mind. Likewise, when you think of the Pittsburgh Penguins, dominant defensive hockey probably isn't the first thing that you think of.
Instead, it's probably offense, offense, offense. And maybe more offense.
It's probably time all of that started to change.
Yes, they still have two of the top scorers in the NHL (Sidney Crosby and Evgeni Malkin). And even with one or two holes on their forward lines, it is still probably one of the deepest groups they have had in years and they are still capable of filling the net on any given night.
But what has really stood out about this Penguins team is how great it has been defensively, especially over the past couple of months.
Following Pittsburgh's 1-0 win in Los Angeles on Saturday night, which came just 24 hours after a pretty convincing victory in Anaheim over the NHL-leading Ducks, the Penguins are one of the top defensive teams in hockey.
Part of it is goaltending, where Marc-Andre Fleury is having perhaps his best NHL season to date. Or at least his best season in several years. But a large part of it is the way their defense is built and what it allows them to do.
The Penguins are currently tied for third in the league in goals against per game, and are allowing the fourth-fewest total shot attempts per game during 5-on-5 play.
And they're only getting better.
Since the start of February (a stretch of 16 games as of Sunday) the Penguins have only allowed 21 goals during 5-on-5 play, second fewest in the league over that stretch behind a New Jersey team that has played one less game, and are giving up just 45 total shot attempts per 60 minutes of 5-on-5 play, third best in the league over that stretch and a number that is significantly lower (by almost five attempts per game) than their overall season total.
There are two things that stand out here, not only when it comes to the overal numbers for the season, but also the recent improvement over the past month-plus.
First, they are currently without two of their top four defensemen. Olli Maatta (shoulder) is out for the remainder of the season, while Christian Ehrhoff is sidelined with concussion symptoms.
Then there is the overhaul that has taken place over the past eight months, not only in terms of defensive personnel, but also the of style of play as the team has made several moves that have basically traded size and strength for mobility and puck skills. It all started in July with Brooks Orpik and Deryk Engelland allowed to walk in free agency, where they received offers the Penguins could not -- and should not have been willing to -- pay.
It continued a week ago at the trade deadline. They traded Robert Bortuzzo and Simon Despres, two of the biggest and most physical defenders remaining on the roster, for Ian Cole and Ben Lovejoy. Granted, Cole and Lovejoy can have a physical element to their game, but it's not the only thing they are capable of. They can skate. They can move the puck. They aren't just out there to throw their weight around and hit an opponent after he has already passed it to somebody else (which is something too many of their defensemen did in recent years).
When you look at the Penguins' defense now, with the one notable exception of veteran Rob Scuderi, every option they have is a very mobile player who is capable of making a play with the puck, whether it be jumping into the play in the offensive zone or gaining possession in the defensive zone and helping to quickly get it out to the forwards and get the play going in the right direction.
The X-factor in this group is former first-round pick Derrick Pouliot, the No. 8 overall selection in the 2012 draft and perhaps now the most important piece the Penguins received in that year's trade that sent Jordan Staal to the Carolina Hurricanes.
With Norris Tropy contender Kris Letang forming one of the best duos in the league on the top pairing with Paul Martin, there was some question leading into the trade deadline what the Penguins would do on their second pairing with Maatta sidlined for the remainder of the season. When healthy, Ehrhoff will be one of the options there. But who would be the other? Would they make another significant move to add a top-four defender, or would they be willing to trust Pouliot in his first full season of pro hockey?
Neither trade really addressed that spot, while Pouliot has recently made a pretty convincing argument that he is ready for a major role as he quickly transitions from blue-chip prospect to regular NHLer. Over the past few games his confidence both with the puck and without it has gone to a completely different level. Watching him aggressively jump into the play, challenge oncoming players at the blue line, and skate with confidence with the puck you would never know he is a 21-year-old rookie getting his first taste of NHL action.
Since he was drafted he has always been known more for his offensive ability while having some questions about his play in his own zone. Lately, he seems to be putting everything together. And while his defensive zone play seems to be getting better every game, he is also another mobile, puck-moving option on the Penguins' defense that helps make sure they play the best defensive hockey possible -- not having to play in the defensive zone at all.
If you're quickly getting the puck and exiting the zone, you don't need to worry as much about how you defend in your own zone or how well you can clear the crease or move bodies.
Following a recent win against Columbus, which at the time was probably Pouliot's most impressive game to date (only to perhaps be surpassed by the game he played in Anaheim on Friday night) Penguins coach Mike Johnston briefly addressed that point.
"That's the way he is as a player," Johnston said on March 1. "He can jump into the plays, find those holes, get the puck, and start to work with it. Those types of players, they put the other team back and don't force you to have to defend as much because you escape your zone so quick."
The second part there is the key, and it's pretty much what their entire defense is made up of at this point.
And it will only get better when Ehrhoff returns.
Because it's not a big, physical, imposing unit that isn't known for playing a "heavy" game, there is going to be some concern about how that will hold up come playoff time. But the type of players that tend to play that game often force you to have to defend more and can only lead to more problems.
Even though the Penguins are not scoring as many goals as they have in the past, they have the potential to be more balanced in that area than they have been in recent years. That, combined with the improved defensive play, is the type of thing winning teams are made of.
Data in this post via Hockey Analysis and War-on-Ice