The Lineup: Unlikely heroes version
Just as you get every morning, it's The Lineup. Hitting Friday night's heroes and goats, looking ahead to Saturday's action and glancing around the 'net.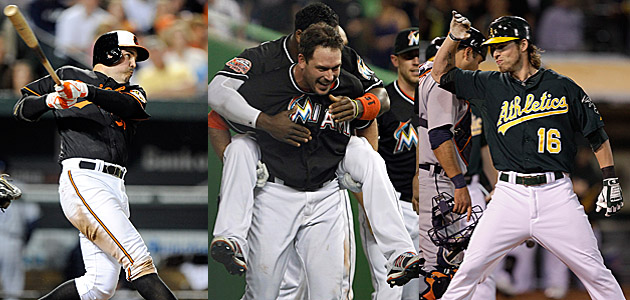 It was a rainy night, with several games being delayed for over an hour, but all 15 scheduled games got played eventually. There were some wild ones --  notably involving NL Central treams (
St. Louis Cardinals
-
Atlanta Braves
and
Milwaukee Brewers
-
Chicago Cubs
). Oh, and this is shocking:
Josh Hamilton
hit two homers. Yeah, I know ... so
weird
.
Full Friday scoreboard, with recaps and box scores for every game
3 UP

Nick Johnson

,

Baltimore Orioles

.
The Orioles are back atop the AL East as Nick Johnson, of all people, hit a go-ahead, two-run homer in the bottom of the seventh
in an eventual 4-3 win
over the
Tampa Bay Rays
. It was his first bomb since May 10, 2010, when he was a member of the
New York Yankees
. He even added a stolen base, his second since 2009.
Josh Reddick

,

Oakland Athletics

.
He hits third for the A's, but he's still pretty under-the-radar nationally. If he keeps this up, though, he'll be a household name soon. Reddick homered twice, scored four times and drove home five in a 4-for-4 performance as the A's crushed the
Detroit Tigers
,
11-4
.
Greg Dobbs

,

Miami Marlins

.
He didn't start, but he entered late in the game as a pinch hitter and stayed put via double-switch. And then Dobbs stepped to the plate with the winning run on third base in the bottom of the ninth, with two out, and got the job done with a single to right center -- as the Marlins
pleased their home fans with a 6-5 victory
over the
New York Mets
.
3 DOWNMother Nature in Arlington, Texas.
The
Texas Rangers
had
C.J. Wilson
on the ropes in the first inning when the sky opened up. After a two-hour rain delay, the
Los Angeles Angels
elected to go with
Jerome Williams
.
Mike Napoli
hadn't faced Wilson yet. If you aren't sure why this mattered to me,
click here
. The good news is we should get to see the matchup Saturday. Keep those fingers crossed.
Ubaldo Jimenez

,

Cleveland Indians

.
He shut down the mighty Rangers last time out, but failed to build on it, as the
Boston Red Sox
destroyed him for nine hits and seven earned runs in 4 1/3 innings.
The Indians lost 7-5
to the Red Sox. Worse yet, Jimenez walked five, as lack of command continues to plague him. The Indians gave up two very promising young pitchers to get Jimenez last July and he hasn't yet come even close to justifying that.
Mike Leake

,

Cincinnati Reds

.
The
Washington Nationals
are a good team, but it's due mostly to their pitching. The offense is banged up and pretty mediocre. But they still tagged Leake for seven hits and six earned runs in three innings
in a 7-3 Nats win
. Leake is now 0-5 with a 7.11 ERA through six starts. The Reds are 15-10 when he doesn't start. And
Aroldis Chapman
is still just the eighth-inning guy.
Sigh.
Comeback Kids, Take II.
The Mets have been one of the best comeback teams in the majors this season, and they did it again Friday against the Marlins, turning an early 3-0 deficit into a 5-3 lead heading into the bottom of the eighth. But the Marlins turned the tables, taking the Mets down late and snapping their five-game winning streak. Meanwhile, the Marlins have won nine of their last 10. So Saturday's matchup between
R.A. Dickey
(4-1, 3.76) and
Ricky Nolasco
(4-0, 2.72) should be a good one, as the two teams try to outdo each other and possibly develop a pretty solid rivalry.
1:05 p.m. ETSnakes own

San Francisco Giants

?
The
Arizona Diamondbacks
entered Friday night with a pretty bad string of baseball. They had lost five in a row and seven of eight. They went out and beat the Giants,
5-1
. That means they're now 4-0 against San Francisco this season. Can they keep up the dominance, or do the Giants reverse the trend? We'll find out when
Matt Cain
(1-2, 2.38) squares off against
Trevor Cahill
(2-3, 3.26) at
5:10 p.m. PT
.
Battle for the East.
Two teams are neck-and-neck atop the AL East right now. Naturally, it's the Rays and Orioles. The O's pulled out a big one Friday night and they'll look to do the same at home Saturday. Struggling future star
Matt Moore
(1-2, 5.71) gets the nod for the Rays while
Brian Matusz
(1-4, 5.91) starts for the home team.
7:05 p.m. ET
Full Saturday schedule, with probable pitchers listed for every game
•
Go ahead, boo him.
Nationals phenom
Bryce Harper
is sure to get booed in every ballpark out of Washington, but it doesn't bother him.
"I love getting booed," Harper said (
Nationals Journal
). "When I'm on the road and I'm getting booed, I like getting booed," Harper said during a quick session with Cincinnati media. "It keeps me in a mellow state. The more I hear out there, the better. Hopefully, I'll keep getting booed here on the road."
Maybe he's already mature enough to realize the boos are a compliment (though that contradicts the
slamming-a-bat-against-the-dugout-wall
thing). Fans don't generally boo nobodies.
•
Bud's successor?
MLB Trade Rumors has a good, thorough look
at who might be the new commissioner when Bud Selig's contract expires after 2014, mentioning names like Rob Manfred, Andy MacPhail and Derrick Hall. It's good stuff, but I'm convinced Selig will live forever and never step down.
•
Attendance update.
Through May 10, attendance is up 4.2 percent across baseball. (
New York Times Bats blog
)
•
Where is the old Bobby V.?
Here's a
good point by John Tomase of bostonherald.com
: Didn't the Red Sox bring in Bobby Valentine to clean up a seeming inmates-running-the-asylum locker room? So why didn't he go after
Josh Beckett
-- not only for golfing when he wasn't healthy enough to pitch, but for saying something as stupid as "we only get 18 days off a year?" I guess Bobby has mellowed out with age. Or he's scared of angering Beckett.
•
Don't Stop Relievin'
... I'll leave you with a parody video by The NOC, in honor of fallen Yankees closer Mariano Rivera.
For more baseball news, rumors and analysis, follow @EyeOnBaseball on Twitter, subscribe to the RSS feed and "like" us on Facebook.
Show Comments
Hide Comments