Candid Coaches: Which high school player will star in the NBA?
After watching AAU basketball and camps for a month, opinions vary on the best high school prospects. But which one has the brightest NBA future?
• 4 min read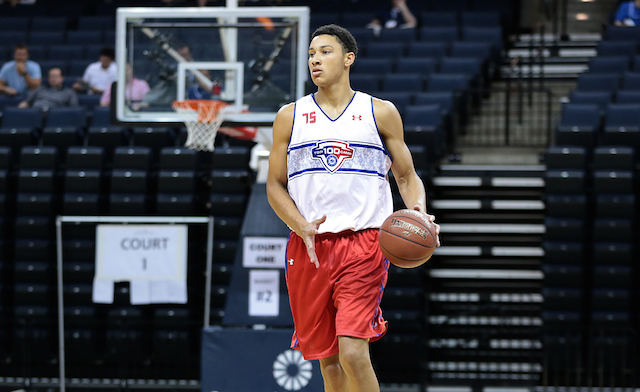 More College Basketball: Early Top 25 (And One) | Coaching changes
CBSSports.com college basketball writers Gary Parrish, Jeff Borzello and Matt Norlander spent the July recruiting period at various NCAA-sanctioned events, where they talked with coaches from all levels. They asked for honest opinions on prospects, players, coaches and issues. They'll be sharing those opinions over a three-week period.
1: Which eligible NCAA player would you take over all others next season?

2: Will a woman be a head coach of a D-I men's program in the next 25 years?
3: Which model best combines the interest for college basketball and the NBA?
4: Should the NCAA remove marijuana from its list of banned substances?
****
Without various AAU tournaments and shoe-company camps, we wouldn't have gotten together with coaches for an entire month of July. It all revolves around high school basketball prospects -- which brings us to our next question. 
It's obviously hard to predict the future, especially when comparing what players of different ages and classes will do five or 10 years down the line, but that's what we're asking college coaches to do. Do they go with the freakish 7-footer with an extremely high ceiling or the skilled forward who is guaranteed to put up big numbers immediately? The ridiculously athletic guard or one with an advanced skillset? Potential or production? 
This one doesn't deal with an issue surrounding college basketball and it's obviously not a yes or no question. Let the debate begin.
Which current high school prospect has the brightest future as an NBA player?
Ben Simmons: 34 percent
Thon Maker: 19 percent
Jaylen Brown: 8 percent
Ivan Rabb: 8 percent
Malik Monk: 5 percent
Josh Jackson: 4 percent
Diamond Stone: 4 percent
Malik Newman: 4 percent
Skal Labissiere: 4 percent
Others receiving votes: Jayson Tatum, Troy Brown, DeAndre Ayton, Stephen Zimmerman, Seventh Woods, Harry Giles, Derryck Thornton Jr., Cheick Diallo
FIVE QUOTES THAT STOOD OUT
On Ben Simmons: "I feel like physically and skillset-wise, he can play right now in the league. And so I feel like he has the best chance to get off to a good start, which is the key to me."
On Thon Maker: "If he stays injury-free, he is going to be the guy Anthony Davis worries about in the league in five to six years."
On Malik Monk: "I think Simmons is the best guess to be a great NBA player, but because of Monk's frame and freakish athletic ability, toughness and ability to defend, I think he could be a Monta Ellis-type."
On Jaylen Brown: "He continues to improve every time I see him. He has that 'it' factor you can't teach."
On Diamond Stone: "Kid was fantastic in the game I saw in Atlanta, powerful inside yet was burying threes that weren't touching the rim, really soft touch. Loved his on-court demeanor in this game."
THE TAKEAWAY (BY JEFF BORZELLO)
Ben Simmons cemented his position atop the class of 2015 during the month of July, consistently dominating whoever was put in front of him. But while he's certainly the best senior in high school basketball, that didn't necessarily mean he was going to be voted the best NBA prospect going forward. (Although we did a post on NBA potential regardless of class last week, and Simmons was No. 1.)
At the end of the day, though, most coaches are of the opinion that Simmons is almost guaranteed to be a successful NBA player. He rarely has an off-game, is a ridiculous passer, and can finish at the rim. Throw in his 6-foot-9 size and ability to do a variety of things on the court, and it's tough to imagine Simmons failing at the next level. The Australia native has already committed to LSU, and Simmons will immediately become one of the best players in the country the minute he steps on campus.
Outside of Simmons, there were some surprises. Thon Maker isn't considered one of the top two players in the class of 2016 by most recruiting analysts, yet he blew everyone else away in terms of NBA ceiling. There's a reason for that. Maker is a 7-footer with range and touch on his jumper, and he's a dominant defender. He's got perhaps the most potential of anyone in high school basketball.
I went into it thinking that Jayson Tatum would get more votes. He's probably the best wing scorer in the country, regardless of class, possessing an advanced scoring arsenal for someone his age. And he continues to grow in size. With that said, he doesn't have the freakish athletic ability of Malik Monk -- who also put up 40-point performances in front of college coaches during July. As a result, Monk had several votes, while Tatum didn't. 
I think two names in the "others receiving votes" category will be heard from in a major way the next few years. Troy Brown and DeAndre Ayton are both 2017 prospects, but I think they're two of the three or four best NBA prospects in high school basketball. Brown is a 6-foot-5 point guard, while Ayton is 6-foot-10, has touch, and can run the floor.
Maybe the biggest takeaway from this whole process is that, while more than a dozen players received votes from coaches, Simmons and Maker combined to receive more than 50 percent of the vote -- and no one else cracked double-digits. There are plenty of talented players in high school basketball, but coaches were clearly most impressed by Simmons and Maker.
These teams went to The Big Dance in March, but could take a step back this season

The success of Chris Chiozza and KeVaughn Allen have the Gators ready to compete for SEC t...

FBI investigation suggests Quinerly received improper benefits from a Wildcats assistant c...
Meet the mid-major coach who refused to vote for the teams involved in the recruiting scan...

The player, now at the University of Portland, says he was injured during a workout which broke...