College Basketball Previews: Drexel still class of the CAA
Drexel enters the season as the odds-on favorite to win the Colonial Athletic Association. The Dragons were snubbed on Selection Sunday last season, despite winning the regular-season title and owning a 19-game winning streak heading into the conference championship game.
• 5 min read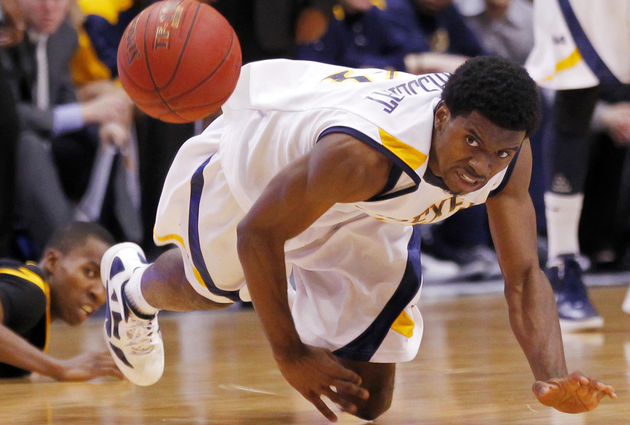 Led by Frantz Massenat, Drexel is still favored in the CAA. (USPressWire)
After two Final Four runs and multiple NCAA tournament wins in the past seven years to become one of the most competitive non-BCS conferences in the country, the future direction of the Colonial Athletic Association is uncertain.
Virginia Commonwealth already left for the Atlantic 10, while Old Dominion and Georgia State are scheduled to depart after this season. Charleston was invited to join the league, although nearly a dozen schools have been thrown around as potential members. Richmond, Va., has been the main hub for the league for years, but it remains unclear if it will continue to hold that position. George Mason seems like it will stay in the league, but there's no VCU or Old Dominion as a dance partner.
In addition to the uncertain future, four teams are ineligible to play in the conference tournament this season. The league won't let Old Dominion and Georgia State because they're leaving next year, and Towson and UNC-Wilmington are banned from the NCAA tournament because of low APR scores.
Enough about the shaky future and the teams that can't make the NCAA tournament; the CAA still has plenty of firepower and could win yet another game in the Big Dance.
Drexel enters the season as the odds-on favorite. The Dragons were snubbed on Selection Sunday last season despite winning the regular-season title and owning a 19-game winning streak heading into the conference championship game. Frantz Massenat and Damion Lee return on the perimeter, giving Bruiser Flint two of the five best players in the league. Double-figure scorer Chris Fouch and defender Derrick Thomas round out the backcourt. The frontcourt doesn't score much, but Dartaye Ruffin and Daryl McCoy are bruisers.
Delaware is back among the favorites for the first time since the Fightin' Blue Hens were in the America East. They haven't finished higher than fifth since joining the CAA, but this could be the year. Devon Saddler is a big-time scorer, while Jarvis Threatt came on very strong down the stretch. Jamelle Hagins is a double-double lock on a nightly basis.  
George Mason and Old Dominion both lose some firepower, but it's impossible to count either team out. Mason has a slew of players primed for breakout seasons, including Sherrod Wright, Erik Copes and Corey Edwards. Old Dominion welcomes North Carolina State transfer DeShawn Painter, who could be a dominant performer.
Northeastern could be a team to break into the top four, as Jonathan Lee, Quincy Ford and Joel Smith are all potential all-league performers. James Madison has talent but seemed to be on different pages most of last season.
The bottom half of the conference is going to be interesting. Towson and Hofstra both bring in several transfers. UNC-Wilmington has Keith Rendleman, one of the best players in the league. And Georgia State always seems to compete. Towson is relying heavily on newcomers, but the Tigers' starting five is as talented as anyone's in the conference. Look for them to improve tremendously on last year's one-win campaign.
Will the CAA have a representative in the Final Four? Doubtful. Does the CAA have an uncertain future? Certainly. But that doesn't mean it won't be another competitive season in the conference.
Coach's take
"The league is so up for grabs. I can see why Drexel would be the clear-cut favorite, but they're not that dynamic. Delaware is more talented, but they're not accustomed to being the targeted group. Northeastern has good players, but I don't think anyone in the league feels, 'We can't win this game.' Hofstra is looking for an identity, Towson will be different.
"There's still that aura around George Mason and Old Dominion. Those teams have been good for a long period of time. But it's wide open. Maybe a few years ago, with a VCU or an Old Dominion, you had to play a really special game to beat the favorite. Now, I think there's three, four, five teams in that group."
The league's best 
Preseason player of the year: Frantz Massenat, Drexel. After leading the Dragons the past two years, Massenat is ready to become a national name. Lefty guard makes plays at both ends; averaged 13.7 points and 4.8 assists.
Devon Saddler, Delaware. One of the best scorers in the country, Saddler has deep range on his 3-pointer but is difficult to stop in the lane. Averaged 18.8 points.
Keith Rendleman, UNC-Wilmington. A double-double machine, we could see Rendleman expand his offensive game this season. Put up 15.3 points and 10 boards.
Jamelle Hagins, Delaware. One of the most productive bigs in the country, Hagins totaled 15 double-doubles en route to 12.4 ppg, 11.4 rpg and 3 bpg.
Damion Lee, Drexel. If Lee plays the way he did in the final games of the regular season -- 7.6 ppg and 6.4 rpg in the last four -- he could win Player of the Year.
Numbers to know 
2. The number of games Devon Saddler didn't reach double figures in points. He hit the 20-point mark on 15 occasions.
13. The number of transfers eligible this season that came from conferences typically rated higher than the CAA. Here's the list: Carl Baptiste, Manny Atkins, Curtis Washington, Jamal Coombs-McDaniel, Taran Buie, Daquan Brown, Shaq Stokes, DeShawn Painter, Jerrell Benimon, Mike Burwell, Bilal Dixon, Tyree Graham, Anali Okoloji.
10. It has been almost a decade since Old Dominion finished outside the top four in the league standings. Could that streak end this season?  
Previously in previews:
No. 14 -- Horizon League
No. 15 -- The Ivy League
No. 16 -- Summit League
No. 17 -- MAC
No. 18 -- Atlantic Sun
No. 19 -- Sun Belt
No. 20 -- MAAC
No. 21 -- Patriot League
No. 22 -- Ohio Valley
No. 23 -- Big West 
No. 24 -- SoCon
No. 25 -- NEC
No. 26 -- Big South
No. 27 -- Southland
No. 28 -- Big Sky
No. 29 -- America East
No. 30 -- MEAC
No. 31 -- Great West
No. 32 -- SWAC
Marvin Bagley, if eligible at Duke this season, projects as the country's top power forwar...

The Big Ten Tournament is a week earlier than usual, so the regular-season schedule may look...

Arizona, Grand Canyon and Tulane are also in Barcelona and have reported to be accounted for...
The Kansas forward is no longer accused of walking out on an $88 tab

Cavaliers basketball coach tapes statement on behalf of his university and his city

Gary Parrish and Matt Norlander discuss all things Marvin Bagley and his immediate future