College Basketball Previews: Davidson looks like Cinderella of Southern Conference already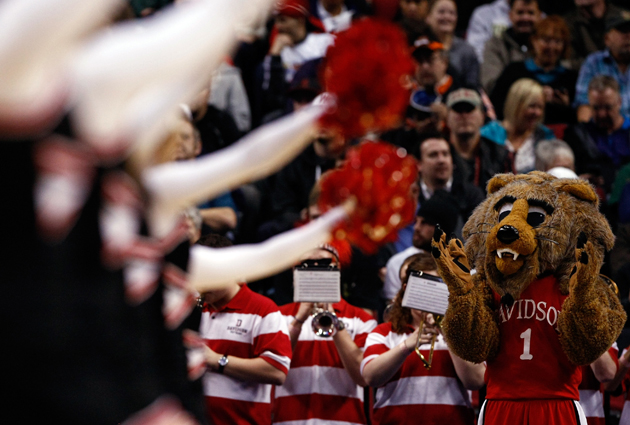 Not only can Davidson win the Southern Conference, but the Wildcats are a good candidate to be cinderella in March. (Getty)
Normally, it's tough so see Cinderella from so far away.
But it's already clear. Davidson has a real chance at winning one or two games come next year's NCAA tournament. The Wildcats made it to last year's Dance, their first appearance since 2008. And now it's looking like this team could have its best assembly ever. Yes, that's even including the Stephen Curry years. Bob McKillop's team is loaded and brings back its two best players in Jake Cohen and De'Mon Brooks, a frontcourt one-two punch that's unlike anything this league has seen in years.
Expect Davidson to win the league, but that doesn't mean it's a gimme. Charleston is firmly in the No. 2 spot both in the conference and in the South Division. First-year coach Doug Wojcik takes over for a guy everyone loved in Bobby Cremins. Wojcik -- the coach at Tulsa the past seven years -- has the benefit of an Olympian on his team (read below), but the real boost could come from sophomore guard Anthony Stitt, who was a starter until he broke his hand last season. Toss in junior forwards Willis Hall, Trent Wiedeman and sophomore forward Adjehi Baru, and there's a core that can certainly compete with Davidson. Baru was a high-level prospect who basically ended up going to C of C because he liked Cremins so much (so I've been told).
Eric Ferguson will take on the load for Georgia Southern, a team that will probably be a notch below Davidson and Charleston. But if the cast plays better than expected, the three-way race could be one of the best small-league heats in college hoops.
Wofford lost two good seniors, but it's a program that has recent success. Its model is most similar in the league to Davidson. In the same way that UConn and Syracuse are similar, you could say the same of those two programs.
On the North end, UNC Greensboro gets Trevis Simpson back, and he's a great scorer. He has a lot of freedom in their offense and, even when he has defended well, he makes good shots. The name to know at Western Carolina is Trey Sumler, who could prove me wrong and make the conference's first team next March. Larry Hunter is WCU's 31-year head coach and one of the most respected names in the game.
Elon returns most of the players who played significant minutes. The core of the team is juniors who have been through the worst, two years ago, and I think this year could be the bridge to a huge 2013-14 for that team. Every year, you see a team or two break through and win its league outright or win its conference tourney because the players have totally righted the ship. That could eventually be the case with Matt Matheny's Phoenix team.
Bennie Seltzer is the new head man at Samford, taking over for Jimmy Tillette, and is the first African-American head hoops coach at the school. Bravo to Samford for breaking through in that regard. It's a strong year for the league. Still, the league is most likely a one-bid conference, but the SoCon usually provides enough interest that it's worth following near the top by mid-February.
Coach's take
"League will be a little better at the top because Davidson, Charleston, Greensboro and Elon should be better. De'Mon Brooks -- just a hell of a player. Very different from Cohen, but both are so good. But Charleston could be more talented as a team than Davidson. I really like Eric Ferguson. He's a 6-7, 6-8 very good athlete that can jump over just about anybody in the league to snatch a rebound. Decent at shooting, but if he has a crack, he can get by or over anybody. He's a verified talent, a junior, and possibly an NBA player. He'll definitely get some (pro) looks. Another spot I look to ... Wes Miller did a great job with Greensboro."
The league's best
Preseason SoCon Player of the Year Eric Ferguson, Georgia Southern. Considered the most talented player in the league by a number of SoCon coaches. He's a dynamite player with a mold very similar to ...
DeMon Brooks, Davidson. ... this guy. I love Brooks' game. He's such a stud junior wing with ability to score and rebound and play without fear. The thinking here is the man listed below and Brooks will be so good, they'll cancel each other other out for POY.
Jake Cohen, Davidson. Cohen's game is even more versatile than Brooks'. He can pass, catch, shoot the 3 and finish inside. And he's almost 7 feet tall.
Andrew Lawrence, Charleston. He's the senior whom I alluded to above. He played in the Olympics for Great Britain over the summer. Put up 13 points and five and a half assists per game last year. Expect those numbers to climb.
Trevis Simpson, UNC Greensboro. Junior shooting guard who redefines the term. He took 38.1 percent of his team's shots when he was on the floor last year. That's the highest percentage in the nation.
Numbers to know
54 -- McKillop and Hunter's combined 54 seasons coaching are more than the other 10 SoCon coaches' careers combined.
36.3 -- This league loves to lob the bombs. A plump 36.3 percent of the shots taken in SoCon play in 2011-12 came from beyond the arc. Even if that number isn't matched this year, it will still come close.
12 -- More reason to love Davidson this year: the team ranked first or second in 12 of 20 KenPom.com tempo-free measurables last season. That sort of league mastery is unseen in most seasons, no matter the level of D-I hoops.
Previously in previews:
No. 25 -- NEC
No. 26 -- Big South
No. 27 -- Southland
No. 28 -- Big Sky
No. 29 -- America East
No. 30 -- MEAC
No. 31 -- Great West
No. 32 -- SWAC