ACC extends media rights deal with ESPN through 2026-27
The new ESPN deal is worth $3.6 billion over 15 years, according to the Sports Business Journal.
• 1 min read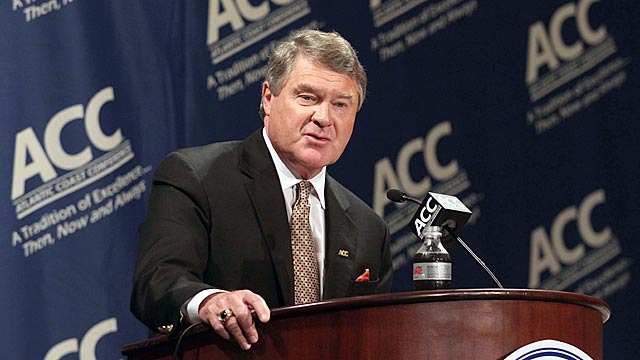 One benefit of the ACC adding
Pittsburgh
and
Syracuse
in conference realignment would be the opportunity to renegotiate their media rights deal with ESPN. On Wednesday, the league announced the extension of their exclusive, multi-platform agreement through 2026-27.
The new deal is worth $3.6 billion over the next 15 years,
according to the Sports Business Journal
. If those figures are correct, the deal should generate about $17 million annually per school. The ACC's previous contract with ESPN, a 12-year, $1.86 billion deal signed in May 2010, generated approximately $13 million per school.
The deal also guarantees three Friday ACC football games per season on ESPN. There will be a standing commitment from
Boston College
and Syracuse to each host one of these Friday showdowns, as well as one game on Thanksgiving Friday.
ESPN will continue to air regular-season games on Saturday afternoon, evening, Thursday evening, and Labor Day Monday. This year, Georgia Tech will travel to Blacksburg to take on Virginia Tech in that Monday night showdown on opening weekend.  ESPN will also continue to broadcast the ACC Football Championship Game in December.
Keep up with the latest college football news from around the country. From the opening kick of the year all the way through the offseason, CBSSports.com has you covered with thisdaily newsletter. View apreview.
Get CBSSports.com College Football updates on Facebook
The Michigan coach had quite a few things to say on Monday after their visit to West Lafay...

The full ranking of all 130 college football teams includes TCU up and a major drop for Florida...

The charges all stem from an investigation into improper debit card charges
LSU at Florida has been picked as the SEC on CBS Game of the Week

It's an interesting move from Florida coach Jim MacElwain to say the least

Florida State's 0-2 start to the season can't be blamed on one specific thing