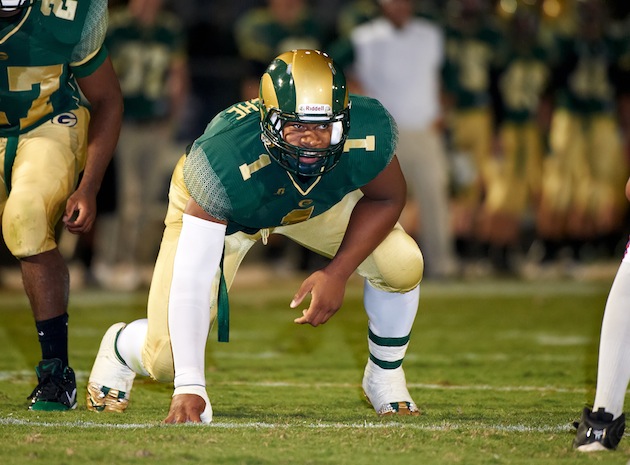 It's an annual tradition for CBSSports.com senior writer Bruce Feldman to gather the names of some of the fastest, strongest and most physically impressive
college football
players to put on his 'Freaks list.' The Eye on Recruiting naturally has its own version and this year's class of 2013 provides plenty of candidates worthy of inclusion.
While we couldn't include everybody, here are the names that run a little faster, jump a little further and bench a little more than their peers (in no particular order):
Loganville (Ga.) defensive end
Robert Nkemdiche
The nation's top player is there for a reason and while Nkemdiche is one of the most polished high school players to come out in years on defense, he lands on the list because he can pretty much do whatever he wants on the football field. The 6-foot-5, 260-pounder has been clocked with a high 4.5, low 4.6 40 time and, in person, physically looks like he could be playing on Sundays despite his youthful looks. Also impressive is the fact that he can play anywhere from defensive tackle (and handle interior lineman given how strong he is), to end to linebacker to running back. Yes, running back, he's quite good at that too. Though the class of 2013's top player isn't quite Jadeveon Clowney, who might be the definition of a man among boys at the high school level, Nkemdiche is not far behind him as a defensive end.
Yulee (Fla.) athlete
Derrick Henry
, committed to
Georgia
With all due respect to Mr. Nkemdiche, Henry might be the overall No. 1 freak on this list if we're ranking them. A running back specimen at 6-foot-3, he tested better than anybody in the country at a recent Nike Combine and has managed to stay just as fast as he was last year despite gaining about 15 pounds of muscle. Considering how big he is, running 4.5 with a vertical jump of 40 inches is kind of scary, especially if you're an undersized linebacker.
While he's dead-set on playing running back at Georgia, there's no doubt he could wind up as a tight end, fullback, defensive end, linebacker and maybe even a box safety. Best of luck to his future SEC opponents on trying to bring Henry down.
Auburn (Ala.) linebacker
Reuben Foster
, committed to
Alabama
Foster is ranked in the top three in this class by just about everybody because he is quite simply a loaded missile coming downhill to tackle ball carriers. If you're looking for an ideal 3-4 inside linebacker, this 6-foot-1, 245-pounder is it. While his pass defense skills in the open field are a work in progress, that might not matter if Foster sacks the quarterback first or destroys the receiver once he catches it. The five-star lives in the weight room too, benching over 350 pounds. Add that to 4.5 speed and a linebacker turns into a missile aimed at opposing ball carriers. Foster might have the best smile in the class of 2013 if you're talking to him but that belies the fact that he's a physical freak that won't let anything by him.
Beaverton (Ore.) running back
Thomas Tyner
, committed to
Oregon
About the only thing that can slow Tyner down is himself, as a recent pulled hamstring has done. When fully healthy however, the lightening-quick running back gets down the field faster than pretty much everyone on the high school level. The 6-foot, 205-pounder has been well known on the track, where he set a state record last year in the 100 meters with a 10.35. In case you're not familiar, that's fast. Add a set of shoulder pads and it's easy to see why Tyner, who is just as quick as he is fast (there's a difference), has rushed for almost 3,000 yards the past two seasons despite missing several games.
Whiterock (Texas) quarterback
Tyrone Swoopes
, committed to
Texas
Mutter the name Vince Young around the state of Texas and and the quarterback is sure to evoke memories of when he was weaving and bobbing through defenses en route to a national title in 2006. While it's been a while since we've seen somebody at Young's size and with his speed at the college level, Swoopes might just be the heir apparent. At 6-foot-5, 200-pounds, the class of 2013's second-ranked quarterback showed off his athleticism last year by turning in the top national rushing performance of the 2011 season when he had 540 yards on the ground. As a quarterback.
He can also beat you with his arm and has already been invited to the Elite 11 in California later this summer. Being called the next Vince Young might be intimidating to some but it might just be the best way to describe Swoopes, who also has the genes to make this list as the nephew of WNBA star Sheryl Swoopes.
North Little Rock (Ark.) running back
Altee Tenpenny
, committed to Alabama
Last year's 'The Opening' brought tons of talented players from all over the country in the class of 2012 to compete at Nike headquarters but nestled among them was a sophomore in Tenpenny. Why was he invited? Oh, just turning in a 4.43 40, 3.91 shuttle, 40.5' power ball toss, and a 35" vertical to capture second place at the Sparq national championship should be a hint. Though he missed all of last season with an ankle injury, he's still on everybody's top 100 lists because he's pure athleticism with a football in his hand. Trent Richardson may have moved on from the Crimson Tide program after setting a host of weight-room records but Tenpenny might be the guy to break them.  
Alpharetta (Ga.) defensive end
Carl Lawson
, committed to
Auburn
After his recent performance at the Charlotte Nike Camp, Lawson makes the cut for the freaks list because he's the definition of "high motor" and speed of the edge for a defensive end. On film, he jumps out at you and his get-off with a hand in the ground is one of the best in this class. At the camp this weekend, the coaches were screaming out, "Track meet!" after Lawson won rep after rep. He's a tad raw but goodness can he move.
Cedar Hill (Texas) wide receiver
LaQuvionte Gonzalez
, committed to
Texas A&M
This speedster out of Texas has a 41-inch vertical jump and is an impressive high jumper on the track team. He lines up just about everywhere on the football field and there's good reason when you see that he might just be the fastest guy in the class of 2013. He's not big at 5-foot-10, 180-pounds but when you can run away from defenders, you don't have to be. Like Tyner, Gonzales is, to borrow a metaphor from another sport, a home-run hitter in a class that has only a handful.
Murrieta (Calif.) athlete
Su'a Cravens
One of the West Coast's top players might also be the most versatile. Some schools are recruiting him as a linebacker, others at safety and others still at running back. Cravens racked up 100 tackles on defense and 19 touchdowns on offense so it's easy to see why but it's likely the big hitter winds up on defense given how well he hits and roams the field. At a recent 7-on-7, he also showed how flexible and fast he was by making some impressive catches while playing wide receiver and showed some remarkable body control for someone at 6-foot-2, 225-pounds.
Celina (Texas) lineman
Jake Raulerson
, committed to Texas
There had to be a lineman on the list and Raulerson was the first name to come up. Though he'll head to Texas as a lineman, the 6-foot-5, 260-pounder could play multiple positions on defense and is a really solid tight end. We've all seen linemen playing games and trying to catch the ball but with Raulerson, he might actually have as good of hands as some of the receivers on his team. Oh and he can squat roughly 500 pounds and has fantastic feet while pass blocking as a lineman.