Orlando-based bowl swaps 'Champs Sports' label for Russell Athletic
A familiar game gets yet another new name.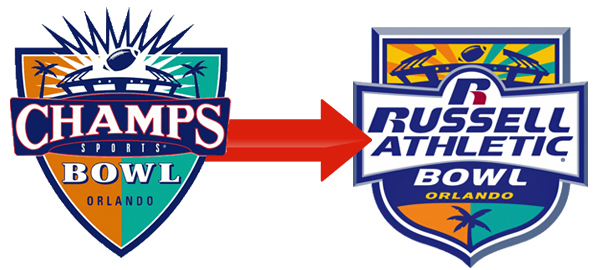 RIP Champs Sports Bowl (2004-12). An entire generation of football fans was vaguely aware of your existence.
According to a press release, the Orlando-based game that's flown the "Champs Sports" banner for the last eight years has been officially rebranded as the Russell Athletic Bowl through at least 2015, per an agreement between Florida Citrus Sports and Bowling Green, Ky.-based Russell Brands, LLC. The 2012 game will go on at 5:30 p.m. ET on Dec. 28, again featuring a matchup of also-rans from the ACC and Big East. Its popular, refreshingly human Twitter feed remains intact.
In one way (and one way only), Russell is perpetuating a rich tradition: No bowl anywhere has survived as many makeovers in as short a period of time as this one. In fact, it's debatable whether the current operation even qualifies as the same entity that was forged as the Blockbuster Bowl at all. In 1990, Blockbuster bought into and renamed the proposed "Sunshine Classic" before the first game, thereby establishing the modern precedent for sponsor-only bowl titles and consigning this particular game to life as an ever-evolving billboard: Every time the bowl changes sponsors, it changes names. As of today, it's changed sponsors six times in 22 years.
Honestly, "Blockbuster Bowl" itself was not so bad. But when the game was crassly rechristened as the "Carquest Bowl" in 1994, the floodgates were opened. It went on to suffer through stints as the MicronPC Bowl in 1998 and the MicronPC.com Bowl in 2000 (see, one is the doomed PC company, the other is the website of the doomed PC company) before being moved from Miami to Orlando in 2001 and rebranded, respectably, as the Tangerine Bowl. At which point — under a different sponsor with a different name and a new location — it becomes unclear that we're actually referring to the same entity. As always, however, if Wikipedia says it's the same game, I'm in no position to argue. The bowl's own website also claims the continuity.
At any rate, Visit Florida operated the Tangerine Bowl (sponsored by Mazda) for three years, until giving way in 2004 to Champs Sports, which ditched the "Tangerine" business and returned the bowl to its unabashedly corporate roots. Champs Sports goes out as the longest-serving sponsor/title in the game's history, and the only one that's inspired anything remotely as interesting as this surrealist preview of last year's game between Florida State and Notre Dame:
You have much to live up to, Russell Athletics.
The team at TheMichiganInsider.com have an exclusive look at Michigan's spring practice

The 'Conference of Champions' won't be in the Round of 32 for the time since 1986

Everything you need to know about Colorado's spring game
Gundy spoke at a Stillwater Public Schools Board of Education meeting

Diaco is the former DC at Notre Dame and Nebraska, and also coached UConn for three season...

Russell passed up on the NFL to return to Auburn to play his senior season in 2018