Upset Bait: Penn State goes long in Lincoln, and more love for Week 11 underdogs
The Eye on College Football crew scans the weekly lines for a straight-up shocker or two -- for entertainment purposes only, of course.
The Eye on College Football crew scans the weekly lines for a straight-up shocker or two --for entertainment purposes only, of course. For more weekend predictions, straight-up and against the spread, check out our expert picks.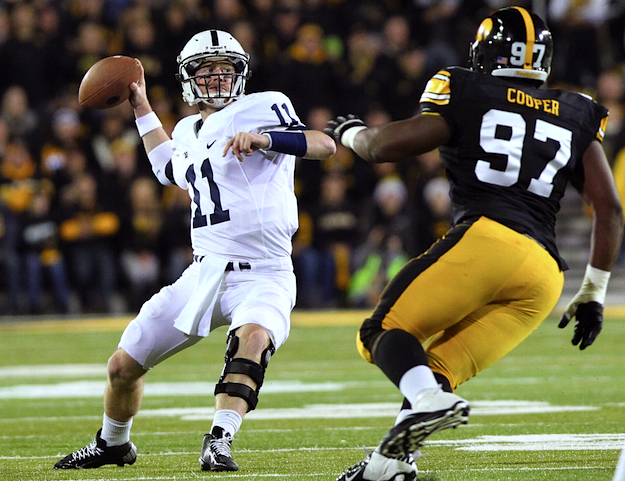 CHRIS HUSTON: West Virginia (+8) over Oklahoma State.


The Mountaineers have been downright awful on offense the past few weeks, but Geno Smith and Co. should snap out of it on Saturday against Oklahoma State. The Cowboys are the one team in the Big 12 that WVU coach Dana Holgorsen is intimately familiar with, and he should use that to his advantage in his game plan.
Meanwhile, the West Virginia defense should have an easier time at it since the Oklahoma State offense is just an iteration of what it sees every day in practice. Look for Smith to bounce back in a big way and the Mountaineers to break a three-game skid.
- - -
Last Week: Missed on LSU (+9.5) over Alabama. Season: 5-for-10.
TOM FORNELLI: Miami-Ohio (+6.5) over Kent State.


There is no secret or special matchup that is inspiring this pick. I'm actually making it in a pretty simple, and no doubt stupid, assumption: The MAC isn't going to finish with a bunch of one-loss teams. Somebody has to fall, just like Toledo did earlier this week against Ball State. And since I don't think Northern Illinois (9-1) is going to lose again, that leaves 8-1 Kent State.
Sorry, nothing personal.
But this is a road game against a tough Miami team that knocked Ohio from the ranks of the unbeaten a few weeks ago. This week, I see a strong passing attack led by quarterback Zac Dysert having enough success against a Kent State defense that isn't exactly stalwart and the Redhawks emerging victorious.
- - -
Last Week: Missed on Mississippi State (+7) over Texas A&M. Season: 4-for-10.
CHIP PATTERSON: Oregon State (+4) over Stanford.


With running back Storm Woods and cornerback Jordan Poyer healthy again, I like the Beavers' chances to take care of business on the road and set us up for a memorable Civil War finale against Oregon. The Cardinal improved their offense last week under backup quarterback Kevin Hogan, named the starter for Saturday's game. With Oregon State under the direction of Cody Vaz, that makes this contest the most anticipated battle of backup quarterbacks all season.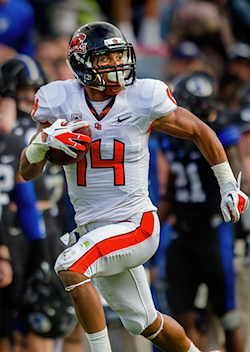 Vaz seemed comfortable again in Oregon State's 36-26 win against Arizona State, this time throwing for 276 yards and three touchdowns. Backup running back Terron Ward ran for 146 yards in the win. With Woods (knee) ready to go, I think the Beavers can match Stanford's strong run game behind Stepfan Taylor. Hogan looked good last week, but Oregon State's entire secondary changes with the return of Poyer, an All-American candidate currently tied for second nationally in interceptions (5).
The winner of this game will get their chance at the Ducks with the Pac-12 North on the line. I don't know if there's an In-and-Out near Palo Alto, but OSU coach Mike Riley should have something to celebrate after a gritty, low-scoring win on the road.
- - -
Last Week: Missed on Maryland (+7.5) over Georgia Tech. Season: 4-for-10.
JERRY HINNEN: Penn State (+7) over Nebraska.


Yes, the Cornhuskers are in control of the Big Ten's Legends Division, and yes, they've been a much better-looking home team than road team. Still, here are their six games against BCS competition:
1. A 36-30 loss at UCLA.
2. A three-point, come-from-behind win over Wisconsin in Badger QB Joel Stave's first action.
3. A blowout loss at Ohio State.
4. A one-point, come-from-behind win at Northwestern.
5. A two-touchdown win over Michigan in which Wolverine QB Denard Robinson missed the entire second half.                                                                                                       
6. A four-point win at Michigan State which easily could have been (and Spartans will tell you should have been) a loss thanks to some friendly calls from the zebras.
Are any of those results particularly embarrassing? Of course, not. Are any of those results particularly impressive, the kind that would stamp the Huskers as championship contenders in a league in which the Buckeyes were eligible? Nope. They're only a shade better than the team that lost as heavy favorites (at home) to Northwestern at this stage last year, and these Nittany Lions -- 4-0 against the spread in road games -- are a much better team than those Wildcats. Lightning might just strike twice.
- - -
Last Week: Hit on TCU (+7.5) over West Virginia. Season: 3-for-10.
MATT HINTON: Virginia Tech (+13.5) over Florida State.


My head says no -- by any measure, Florida State has been a much better team than Virginia Tech over the first two-thirds of the season -- but my stupid gut keeps whispering "do it." Everything I know about these two programs over the last decade is nudging me toward the Hokies: Since Virginia Tech joined the ACC in 2004, it's 27-3 in November and 7-2 in weeknight games in Blacksburg. While the 2012 edition is far behind the usual curve, it has yet to lose at home and hasn't always been as bad as the 4-5 record suggests. In their last two losses, the Hokies actually outgained both Clemson and Miami in terms of total yards, only to have those advantages negated by an uncharacteristic wave of turnovers, breakdowns on special teams and missed opportunities in the red zone.
On the other side, Florida State has had an unshakeable penchant for blowing random games of exactly this sort, especially on the road: In the Seminoles' last 10 road trips as a ranked team against an unranked underdog, they've lost eight of them, most recently at NC State in October. In 2 1/2 years under Jimbo Fisher, FSU has dropped four games that it was favored to win by double digits. Even in the two road games that they've won this year -- at South Florida and Miami -- the Noles have looked sluggish against in-state mediocrities.
If you don't find that particularly convincing in light of Florida State's overall dominance ... well, you're not the only one. Hokies quarterback Logan Thomas, enormously gifted as he is, has been one of the most inconsistent, maddening players in the nation. And the typically suffocating defense has already yielded at least 30 points in four of Tech's five losses. Still, if they can get off to a fast start, curb the dumb mistakes, create a turnover or two of their own and capitalize on their opportunities to score touchdowns -- in other words, the things that have made Virginia Tech the most bankable team in the ACC, year-in, year-out -- the first step in another November turnaround is within their grasp.
- - -
Last Week: Hit on Texas (+7.5) over Texas Tech. Season: 2-for-10.
Oliver's star has already been born, but 2018 is when it will truly be recognized

Craig Kuligowski is reportedly leaving Miami to take the same job with Alabama

BT Potter is about to be very popular in the Clemson locker room
McElwain will coach receivers and help coordinate the offense for the Wolverines

Nathaniel Watson Jr. was involved in a car accident that injured a passenger in early Febr...

The honorable Tom Fornelli presides over the ASU vs. UM case