Adam Scott continues to be the most likable golfer in the world
Adam Scott hit a woman in the gallery with a golf ball, so what did he decide to do to make it up to her?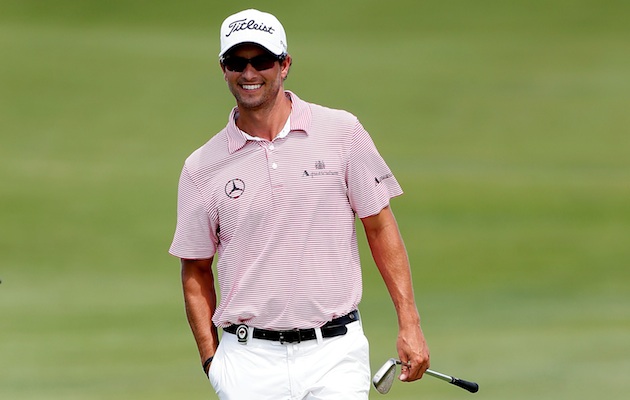 After the round, Adam Scott promises to go help some old ladies with their groceries. (Getty Images)
Life is probably pretty fun if you're a millionaire athlete. Even more fun? When you're a millionaire athlete that makes the ladies scream.
That's British Open runner-up Adam Scott, the handsome Australian with the picture-perfect golf swing and, apparently, some envious manners. Scott, who has posted rounds of 68-75 to sit at 1-under at the PGA Championship, hit a female spectator with his tee shot on the seventh hole in his second round, and instead of going with the typical glove signature like a lot of pros do, Scott went one better.
He got the woman's information and is going to send her some flowers.
Seriously.
After the way he handled his misfortunes at the British and this, is there a guy that is easier to like on tour than Scott? 
Hey Adam, ease up, bro. What the heck are the rest of men supposed to do? You're not even giving us a chance here! 
The good news for all of us was that after Scott walked away from his unfortunate target, caddie Steve Williams broke her cell phone for good measure. That'll teach her, Stevie! 
(cell phone story might not be true)
The rookie gets his first-ever win in just his 14th PGA Tour start

The final event of the European Tour season had an anticlimactic ending, but Fleetwood took...

A PGA Tour rookie looking for his first win will take a nice lead into the final round of the...
Tommy Fleetwood is hot on his heels as the European Tour winds down

A tour rookie is leading a tour veteran by one at the halfway point in Georgia

Jonathan Thomson has had a quite a ride, and it had a happy ending on Thursday