2014 Mets preview: Likes, dislikes
It's time for some likes and dislikes for the Mets: Where might David Wright and Ike Davis fall?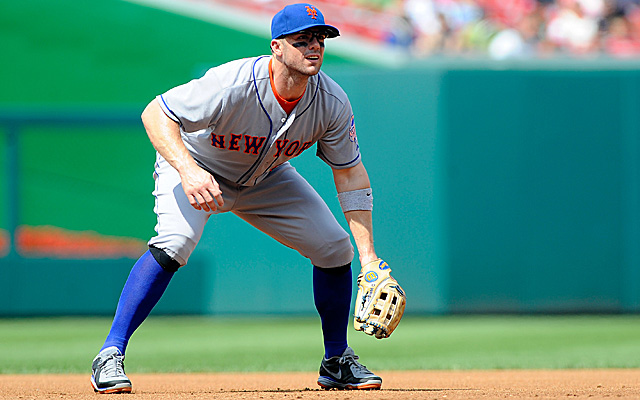 More Mets: Team preview | Over/unders
As part of our preview series, Eye on Baseball will be picking and choosing some "likes" and "dislikes" for all 30 MLB teams heading into the 2014 season. For this installment, we'll run down what we like and don't like about the Mets, who haven't managed a winning season since 2008.
LIKES
David Wright: Is it possible that the most recognizable face on a team that plays in New York has become underrated? I think it might be. He only played 112 games last season thanks to an injury, but in those games he hit .307/.390/.514 (156 OPS+) with 18 homers and 17 steals. He plays outstanding defense, is a great leader and keeps his nose clean off the field. At 31, he still has several years left in the tank as the Mets look to turn things around with him as the centerpiece. What's not to love?
Zack Wheeler's potential: He was the centerpiece of the Carlos Beltran trade for great reason. Once a sixth overall pick in the first round, Wheeler entered last season as a top-10 prospect in baseball according to some outlets. He struck out 420 hitters in 391 1/3 innings in the minors, so we know the ability to miss bats is there. We saw it in the bigs last year, too, as he struck out seven in his six-inning debut and later had a 12-strikeout game against the Padres. Overall, he was a bit inconsistent and control was a problem, but he was only 23. Expect some inconsistency and control problems again, but the good will far outweigh the bad as he grows into what should be the Mets' second part of a great 1-2 punch in the years to come.
The other youngsters: We'll get to see Travis d'Arnaud's progress this season at the big-league level and very well could see what Noah Syndergaard can do. Along with Wheeler and Matt Harvey, these four form the most of the future nucleus to add to the veterans like Wright and Curtis Granderson here in the next few years. Seeing how the mix of youth and vets comes together should be interesting.
DISLIKES
The outfield decision-making process: Juan Lagares is probably never going to be anything resembling an impact bat, but he was one of the better defensive players in the majors last season. Now that the Mets have acquired two outfielders and have decided to start Eric Young Jr. -- whose upside is limited -- Lagares seems ticketed for Triple-A. There's nothing wrong with a sub-par hitter who takes away runs from the other team with his glove. Lagares would help his pitchers greatly with regular playing time.
The Ike Davis problem: After a promising start to his career, Davis lost nearly a whole season to injury before having an atrocious first half in 2012 and an even worse first half in 2013. What's worse is last season he didn't rebound nearly as well as 2012 and concealed an injury. Now he's feuding with reporters in camp as the Mets seem to have missed out on their window to trade him. He's still only 26 and has great ability, as we've seen in stretches, but how much longer can they wait for him to keep it together for a full season? And if they don't play him, they chance missing out on his potential and/or getting very little in return via eventual trade. It's a tough call.
Shortstop: This could change if the Mets just ponied up and spent on Stephen Drew or made a trade (and they still might). In the meantime, though, the Mets have very little upside at all in Ruben Tejada. He was dreadful last season and his minor-league track record was never overly exciting. And reports from camp thus far haven't exactly been glowing. If not Tejada or an outside acquistion, the next option is Omar Quintanilla. This, Mets, is not good.
No Matt Harvey: It sucks far more for Harvey himself, the Mets and their fans -- but all fans of baseball should be disappointed when a talent like Harvey misses a significant amount of time. He is a joy to watch and hopefully he's able to return to form like so many before him have after Tommy John surgery.
Keep it locked right here for everything you need to know about the world of baseball Tues...

There have been several racially charged incidents at Fenway Park this year

Washington's right fielders have sputtered offensively since Harper went down
The good news? Wichita still has a chance to win the series Tuesday night

The 2017 season is going to shatter the all-time collective home run record

Ferrell somehow avoided going to the ground