Alex Rodriguez's refusal to pay lawyers latest in series of bad acts
Alex Rodriguez isn't paying his lawyers, sources confirm, just the latest misdeed in a long list of them.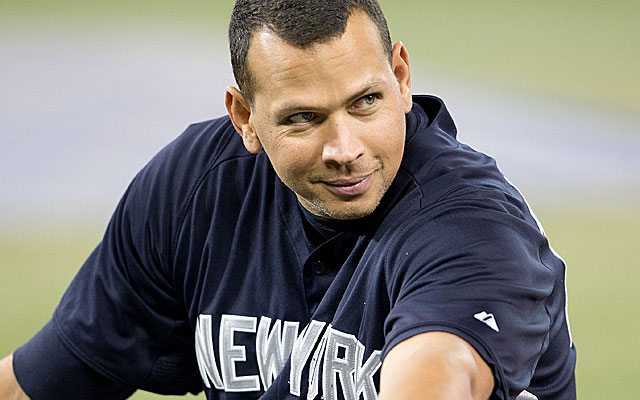 MORE: Spring Training | Scoreboard | Team previews
When Alex Rodriguez was lambasting baseball's powers and his own bosses with the Yankees --suing his Yankees doctor, criticizing beloved late union chief Michael Weiner in court papers and at one point reportedly even leaking damaging information about Ryan Braun and teammate Francisco Cervelli --folks around baseball were speculating that A-Rod's only remaining friends may be his own lawyers.
Now even some of them presumably don't like him much.
A-Rod has refused to pay a large part of his legal bill, sources said, confirming a report in the New York Daily News.
Those sources estimate that he has refused to pay about $3 million out of an estimated $5 million or more in legal fees. Those sources further say he has refused to even return phone calls on the matter, making it clear he has no interest in paying.
Beyond the fact that $3 million is a pittance to him -- he is said to have a lot of money left, plus $61 million more to come from the Yankees -- if he tries claiming malpractice, his lawyer-client privilege will be waived, with the possibility of damaging testimony becoming public. Perhaps at this point A-Rod believes his rep is so bad that he can't be harmed, and he only has his money left.
This conjures up a sorry image, a once great Miami man cuddled up with only cash in a beautiful seaside abode.
Whatever you think of A-Rod's case, or even the outcome that saw him suspended for the 2014 season by the MLB arbitrator, his lawyers did get his original suspension reduced from 211 games, meaning they saved him about $6 million.
Unfortunately for him, most of that money should have gone to the lawyers. But sources suggest A-Rod has tried to keep most of it for himself.
Sad to say, this is par for the course for the man who looked at one like an heir apparent to both Cal Ripken and Hank Aaron for shortstop and home run greatness but now will be recalled almost exclusively for his misdeeds. He will forever be known as the guy who was the most egregious steroid cheat among all the cheats, long after the "loosey-goosey" days of Texas, as he called them. He is a guy who clearly warranted his unprecedented suspension.
But more than that, he's also the guy who won't take responsibility. His attempt at a comeback with the Yankees, who still owe him $61 million for years 2015-17, may depend on him finally owning up to his transgressions, something he seems loathe to do.
Not only won't he own up, he won't pay up.
For A-Rod to get back on the field as a Yankee, he may have to finally admit and apologize for what he did, or at least the cheating part of the story. (The lying goes without saying.) He will probably have to drop his lawsuit against team doctor Chris Ahmad, of course, and stop blaming Ahmad and everyone else for what he has wrought.
Rodriguez was the one who took the "Boli," who cavorted with convicted HGH peddler Anthony Galea and who was Tony Bosch's best steroid customer, before Bosch brought him down. He was the one who lied on 60 Minutes to Katie Couric and elsewhere. He was the one who not only refused to take the stand in his own arbitration hearing but stormed out of the hearing with unkind words for MLB COO Rob Manfred, who headed the successful Biogenesis investigation.
A-Rod, once famous for looking lovingly into a mirror on a magazine cover, badly needs to really understand what looking into a mirror means. He has to get the fact his predicament isn't the fault of Ahmad, Weiner, Manfred, Cervelli, Braun, Bosch, Randy Levine or anyone else. He is the one who did it to himself.
It's a Greek tragedy really. He held the promise to be an all-time great, with baseball ability seen once in a generation, to charm us forever. Instead, he fooled us for a while, but no longer.
Rodriguez could be charming, and for a time seemed to be best friends with Derek Jeter. That lasted until A-Rod inexplicably diminished Jeter's vast abilities in a famous 2001 Esquire article in which he said Jeter never had to lead and wasn't the guy you feared in the Yankees lineup. Rodriguez drove to Jeter's house, offering a teary-eyed explanation, but never really won Jeter's trust back.
Now everyone has caught on. A-Rod is a man who can't be trusted.
A-Rod has been behaving badly for years, though of course it'll be tough to top him blaming Weiner, the extraordinary man who helped overturn Braun's first suspension and guided A-Rod throughout his own mess, at a time Weiner was dying of cancer.
On A-Rod's hit parade of bad acts, the criticism of Weiner is the winner for worst. But leaking the involvement of Braun and even teammate Cervelli in Biogenesis, as 60 Minutes reported, is a distant second.
Compared to those two bad acts, though, the non-payment of legal bills is small potatoes. But it's just another piece of the sorry story of a man born with many skills but without a trace of integrity.
A-Rod lawyers Joseph Tacopina and David Cornwell didn't return calls regarding the matter of non-payment of bills. Tacopina denied that A-Rod was in arrears in the Daily News story, saying, "I have absolutely no fee dispute with Alex." Cornwell, who along with Weiner successfully got Ryan Braun's original 50-game suspension overturned by the previous MLB arbitrator, wasn't quoted in the News story.
A-Rod was represented in the case at different times by Tacopina, Reed Smith, Cornwell of Gordon and Rees, baseball lawyer Jay Reisinger, noted Miami defense attorney Roy Black and Washington lawyers Jim Sharpe and Lanny Davis, plus investigators.
A-Rod P.R. man Ron Berkowitz didn't return messages, either.
What is there to say, really?
We rate the best mustaches from random baseball cards because, why not?

Colon wants to break a Dennis Martinez record

The Twins have been rumored to be interested in Darvish all winter
Rolen is one of the best third basemen of all time, but you wouldn't know it based on this...

Neither Josh Donaldson nor Brian Dozier have talked about a new contract extension

Francisco leads the Dominican Winter League with seven home runs